Investing in dividend growth stocks creates an opportunity to earn progressively higher income returns. Several dividend stocks have just bolstered their dividend payouts, including Darden Restaurants (NYSE:DRI), General Mills (NYSE:GSI), and Worthington Industries (NYSE:WOR).
The above-mentioned three stocks have dividend yields in excess of 2%; market caps in billions of dollars, with the exception of a $1.5 billion-worth Worthington Industries; and payout ratios between 32% for Worthington Industries, and 56% for Darden Restaurants and General Mills. Here is a quick glance at their profiles and the latest dividend hikes:
Click to enlarge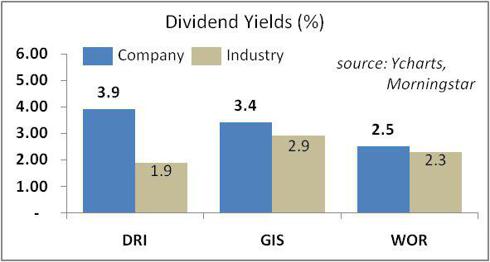 Darden Restaurants is the world's largest company-owned and operated full service restaurant business. Its chains include Olive Garden, Red Lobster, LongHorn Steakhouse, Capital Grille, Bahama Breeze, and Seasons 52. Darden Restaurants has a market capitalization of $6.6 billion. I
Darden has been paying dividends since 1995. Its dividend increased at a spectacular average rate of 31% per year over the past five years. This year, the company boosted its dividend payout by a more modest, but still robust rate of 16.3%. The dividend growth is slowing as the restaurant operator reaches an elevated payout ratio of 56%. The restaurant owner currently pays a dividend yield of 3.9%.
Darden Restaurant's competitor Brinker International (NYSE:EAT), the parent company of Chili's Grill & Bar and Maggiano's Little Italy, pays a dividend yield of 2%. Rival DineEquity Inc. (NYSE:DIN), the owner of Applebee's International, does not pay any regular dividends. Darden Restaurants has seen its earnings per share (EPS) grow at an average annual rate of 7.1% per year over the past five years. Analysts see the company's EPS expanding at an average rate of 12% per year for the next five years. The company's forward P/E is well below the industry's average and almost on par with its own average ratio over the past five years.
Among fund managers, Richard Schimel (Diamondback Capital-see its top picks) has a stake in the company. Other investors include billionaire Steven Cohen and guru fund manager David Dreman.
General Mills was another dividend stock that boosted its payout last week. The company is a $25 billion branded consumer foods business. Some of its popular brands include Betty Crocker, Yoplait, Colombo, Pillsbury, Green Giant, Old El Paso, Hagen-Dazs, and Cheerios.
General Mills pays a dividend yield of 3.4% on a payout ratio of 56%. It has paid a dividend without any interruption since 1898 and has raised it now 8 years in a row. Over the past five years, General Mill's dividend grew at an average annual rate of 11.2%. Last week, the company hiked its dividend by a smaller 8.2%. The latest dividend hike was close to the increase put into effect last year.
The company's peers Kellogg Company (NYSE:K), Kraft Foods (KFT), and Danone (OTCQX:DANOY) pay dividend yields of 3.5%, 3.0%, and 2.8%, respectively. The company has struggled with growing raw materials costs, especially with grains prices, which have put a pressure on margins, despite the higher end-product prices. Still, General Mills saw its EPS grow at an average annual rate of 8% over the past half decade. The company is expected to continue expanding its EPS at a similar rate each year of the next five years.
In May, General Mills announced a plan to cut its workforce by 2.4% and to restructure operations so as to cut costs and boost productivity. The company's stock is trading on a forward P/E below that for the industry on average. The stock is popular with billionaires Steve Cohen, Jim Simons, and Ken Griffin.
Worthington Industries, Inc. also boosted its dividend last week. This company focuses on diversified metals processing, especially on steel processing and manufactured metal products. The company increased its dividend for the second time in a row in two years, following six years of holds on dividend hikes. The latest raise equals 8.3%. Currently, the company is yielding 2.5% on a low payout ratio of 32%.
The steel processor's peers Nucor Corporation (NYSE:NUE), US Steel Corp. (NYSE:X), and AK Steel Holding Corporation (NYSE:AKS) pay yields of 3.9%, 1.0%, and 3.5%, respectively. The company has a high exposure to the construction and automotive industries. It is thus susceptible to the changes in the commercial buildings construction and U.S. residential construction markets.
While the rebound in auto sales bodes well for Worthington Industries, the sluggish construction markets continue to exert pressure on the company's operations. Still, Worthington Industries beat analysts' estimates for the previous quarter. Growth in the quarter was buoyed by acquisitions and higher volumes and average selling prices in the company's pressure cylinders division.
Analyst forecast that the company's EPS will expand at an average rate of 7.7% per year for the next five years, following a modest increase in EPS at an average rate of 4.7% per year over the past five years. The stock is trading on a forward P/E above that of its industry. There has been some insider buying activity in the stock in recent days. David Dreman and Ken Griffin are bullish about the stock.
Disclosure: I have no positions in any stocks mentioned, and no plans to initiate any positions within the next 72 hours.