There are many different strategies to trade and one of them is to look for insider purchases of stocks. Any insider trading from corporate officers, key employees, vice presidents, directors, senior management or significant shareholders must be reported to the regulator or publicly disclosed, usually within a few business days of the trade. Legal insider trading cannot be based on material non-public information; however, most investors believe that corporate insiders may have better insights into the growth of a company and its proceedings.
On July 5, 2012, there were many insider transactions filed at the Securities and Exchange Commission (SEC). Among companies with greater than $250 million market cap, there was only one company (Vistaprint Limited) with more than 5,000 insider share purchases.
Vistaprint Limited (VPRT): Vistaprint Limited operates as an online provider of marketing products and services to micro businesses worldwide. Vistaprint has a market cap of $1.20 billion and is currently trading around $32.55 with a 52-week range of $23.89 to $49.97.
According to SEC filings on July 05, 2012, Smith Thomas W, Member of Section 13(d) Group purchased a total of 10,000 shares at a total value of $325,120. These shares are owned directly by investment accounts established for the benefit of certain family members of Smith Thomas. The reporting person expressly disclaims beneficial ownership of these shares, except to the extent of his pecuniary interest therein, and the inclusion of these shares in this report shall not be deemed to be an admission of beneficial ownership of the reported shares for purposes of Section 16 or for any other purpose. There were four additional insider purchases filed at the SEC since June 30, 2012.
Vistaprint is expected to announce fourth quarter 2012 results on or around July 25, 2012. Out of the last four quarters, Vistaprint has met or exceeded the EPS estimates all the 4 times. Shutterfly (NASDAQ:SFLY), Staples (NASDAQ:SPLS), Office Depot (NYSE:ODP) and R.R. Donnelley & Sons Company (NASDAQ:RRD) are considered as major competitors for Vistaprint.
Over the past three months, there have been a total of 26 insider transactions with 2 Buy transactions. The key financial metrics for VistaPrint are given below: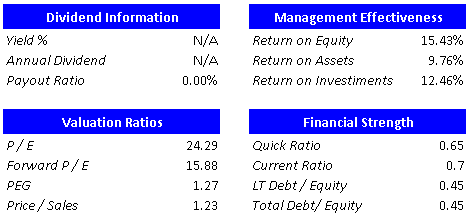 The following chart provides the insider trading summary for 3-month and 12-month periods.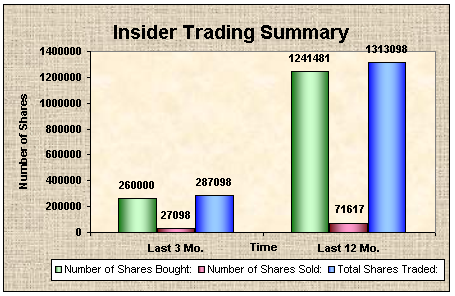 Sources: Some of the data is sourced from Google Finance, Nasdaq,Finviz, Fidelity and SEC.gov.
Disclosure: I have no positions in any stocks mentioned, but may initiate a long position in VPRT, SPLS, SFLY, ODP, RRD over the next 72 hours.
Additional Disclosure: I change my positions very frequently and may initiate either long or short positions in the above mentioned stocks at any time.
Disclaimer: I am not a registered investment advisor and do not provide specific investment advice. The information contained herein is for informational purposes only. Nothing in this article should be taken as a solicitation to purchase or sell securities. Before buying or selling any stock you should do your own research and reach your own conclusion. It is up to investors to make the correct decision after necessary research. The information and data is believed to be accurate, but no guarantees or representations are made.