Zoltek (NASDAQ: ZOLT), a manufacturer of high performance carbon fibers for wind power turbine blades, oil drilling equipment, and aircraft brakes, is an attractive play for those looking for a green company with growth potential and plenty of international exposure.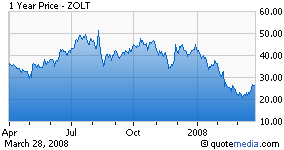 The company owns three carbon fiber manufacturing plants located in the United States and Hungary. Zoltek's Hungarian plant has eight continuous carbonization lines producing intermediate oxidized fibers, carbon fiber textile products and acrylic precursors.
A second manufacturing facility located in Abilene, Texas contains five continuous carbonization lines and auxiliary capabilities, but the plant is currently operating below full capacity representing a $12 million loss in sales and $4 million in lost profits according to company officials. Zoltek's third manufacturing plant is located in St. Charles, Missouri.
This facility is dedicated to the production of technical fibers for aircraft brakes and houses one continuous carbonization line. Zoltek's management has been working very hard to raise production capacity to meet demand in Europe and Asia. If these issues are worked out, Zoltek is posed for even bigger revenue growth and greater operating margins.
In FY 2007, Zoltek achieved revenue growth of 32% with sales totaling $152.8 million and its cash flow from operations rose from a negative $7.6 million in 2005 to a positive 5.9 million. A litigation expense, however, caused the company to recognize a $20 million charge against earnings. This judgment concerned a contractual dispute and had nothing to do with Zoltek's product line, but it did put a negative stamp on an otherwise stellar year.
Zoltek's most lucrative market remains the alternative energy sector, particularly next-generation wind turbines which have replaced fiberglass for carbon fiber. The company has contracts with two of the world's leading wind turbine makers: Vestas Wind Systems (estimated at $300 million in carbon fibers over a five year period) and a similar contract with Gamesa of Spain.
Additional demand is coming from three other sectors—automobile, construction, and oil exploration. The growing demand for carbon fiber is based on its superiority—carbon fiber outperforms every other building material known to man in regards to strength and stiffness per pound of weight.
In addition, carbon fiber composites can also be molded into any shape or mixed with other materials such as thin precast concrete walls. Drilling platforms raising oil and gas are switching to carbon fiber-made tubing and piping to reach greater depths at a lower price. Aker Kvaerner, the leading maker of umbilical systems used in deepwater, has already replaced steel cables with Zoltek carbon fiber composites to counteract deepwater axial loads.
Risks
As mentioned before, despite its leading carbon fiber technology and ample opportunities for growth, Zoltek has a few challenges to overcome. The company needs to get its plants in the U.S. at full operating capacity and management needs to develop better relationships with its end customers and channel partners.
Competition is not an issue yet since barriers of entry are high in this market, but 2008 will be a critical year for Zoltek. In the past Zoltek had to endure severe downturns that affected the demand for carbon fibers but in recent years demand has increased and Zoltek has benefited from the trend. A sudden change in demand (particularly in the wind power sector) could pose a major threat to the company, but that's not a likely scenario given the current high demand for carbon fiber in Europe and the United States. Therefore, management must prevent stagnant production if it wants a stellar performance in 2008 and beyond.
Outlook
Zoltek is definitely on the right path and if you have some patience this can be a great long-term investment. If Zoltek keeps up with demand the company can become a dominant source for commercial grade carbon fiber.
Disclosure: none