I wrote part I of "China Stocks Trading Below Net Cash" on July 2nd; I covered Noah Education (NYSE:NED) and CNinsure (CISG). I will discuss two additional companies in this article:
1. Acorn International (NYSE:ATV) is a media and branding company in China, operating one of China's largest TV direct sales businesses in terms of revenues and TV air time. Acorn's TV direct sales platform consists of airtime purchased from both national and local channels. The company seeks to maximize sales penetration of its products by distributing them through its nationwide distribution network. In addition to marketing and selling through its TV direct sales programs and its nationwide distribution network, Acorn also offers consumer products through non-TV direct sales platforms, consisting of third-party bank channels, catalogs, outbound calls and the Internet. Leveraging its integrated multiple sales and marketing platforms, Acorn has built a proven track record of developing, promoting and selling proprietary-branded consumer products, as well as products from established third parties.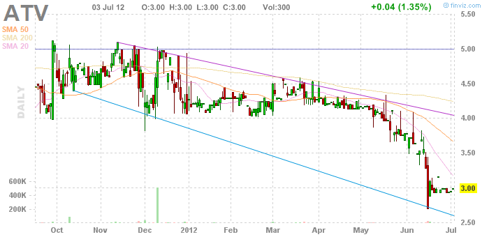 Acorn became public in 2007 through an IPO priced at $15.5 and underwritten by Merrill Lynch and Deutsche Bank.
As of March 31, 2012, Acorn's cash and cash equivalents, including restricted cash and short-term investments, totaled $122.6 million. The company has 30 million ADS outstanding and no debt, which creates net cash of $4.09 per share. Net loss attributable to Acorn was $2.3 million in the first quarter.
Fiscal Year 2012 Business Outlook:
In fiscal year 2012, Acorn intends to further enhance its direct sales platforms and improve the effectiveness of its media spending, thereby generating strong interest in its brands, improving its conversion rate and driving repeat sales. Acorn plans to further diversify its product offerings by introducing smart phones, extending its popular line of fitness products and introducing other new products.

For the full year 2012, the company affirms its guidance for revenues between $380 million and $400 million and net income between $6 million and $8 million.
2. The9 (NASDAQ:NCTY) is an online game developer and operator. The9 operates, directly or through its affiliates, its proprietary massively multiplayer online role playing games, or MMORPGs, and web and social games, including ShenXianZhuan, World of Fighter, Winning Goal and Q Jiang San Guo, as well as licensed MMORPGs, including Soul of The Ultimate Nation, Atlantica and Kingdom Heroes 2 Online, in mainland China. The9 is developing various proprietary games, including FireFall, Era Zero and other MMORPGs and web and social games. In addition, it has obtained exclusive licenses to operate other games in mainland China, including Seoyugi, Rosh, Free Realms and Planetside 2. The9 also established its mobile internet business and launched The9 Game Zone, a mobile social gaming platform in China powered by OpenFeint.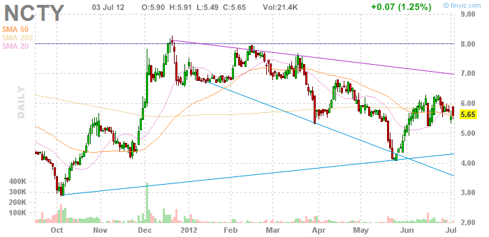 The company became public in December 2004. The IPO was priced at $17. NCTY offered 6 million shares for total proceeds of $103 million. The underwriter was Bear, Stearns & Co. Inc.
The company has $170 million in net cash and 24.5 million shares outstanding, which creates net cash of $6.94 per share. NCTY reported a net loss of $45.2 million for full year 2011.
Conclusion
Here is a table on all eight companies that I have covered in this series. I have currently a position in five of these eight companies. I believe most of these companies will trade at or above their respective net cash levels during the next 12-24 months.
| | | |
| --- | --- | --- |
| Company | Share price on July 3 | Net cash per share |
| (NED) | $1.25 | $2.22 |
| (CISG) | $6.89 | $7.44 |
| (SPU) | $1.51 | $2.55 |
| (NASDAQ:CNTF) | $1.27 | $4.70 |
| (NASDAQ:LTON) | $1.60 | $2.52 |
| (NASDAQ:JRJC) | $1.43 | $3.31 |
| (ATV) | $3.00 | $4.09 |
| (NCTY) | $5.65 | $6.94 |