China (NYSEARCA:FXI) has around 200 million people over the age of 60 now, with 8 million adding to the count each year. At this rate, by 2050, China would have a whopping 400 million people over 60 years old, a number that is greater than the entire current population of the United States. The aging population could turn into an Achilles heel for China's leadership in the coming years and serve well the orthopedic industry.
My previous article "China Orthopedic: Steered by Aging Demographics" discusses on why the market is very attractive. According to Frost & Sullivan, China's orthopedic implant market is expected to grow to RMB16.6 billion in 2015, representing a CAGR of 18.1% from 2009.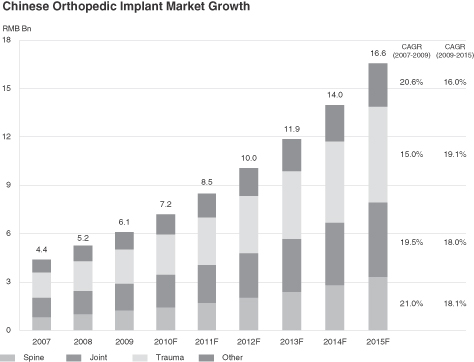 Now let us look the growth drivers for the industry.
1. Aging population: The UN projects that by 2050, over 400 million, or nearly 33%, of Chinese citizens are expected to be over 60 years old, a number that is greater than the estimated entire population of the United States in 2009.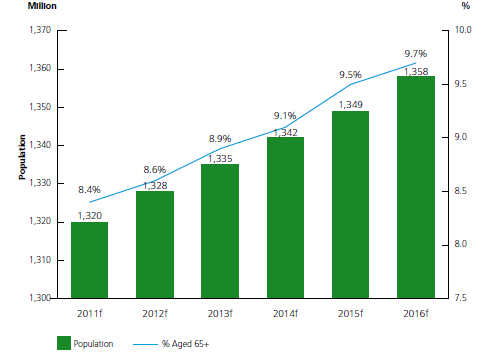 Source: Deloitte
2. Increasing life expectancy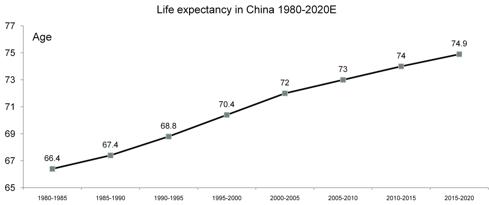 Source: Frost and Sullivan
3. Prevalence of osteoporosis condition: According to China Osteoporosis White Paper (2008), nearly 70 million of the people over 50 years old in China have osteoporosis conditions in 2006.
Prevalence of arthritis in selected countries in 2008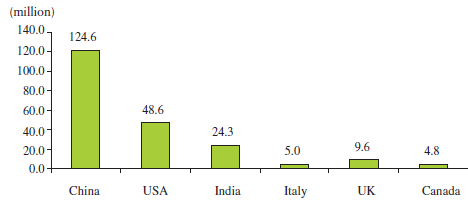 Source: Trauson Prospectus
4. A fast growing domestic economy and increasing disposable income: According IMF, during the last five years in China, the GDP is estimated to reach $ 5.75 trillion in 2010 compared with $2.71 trillion in 2006. In 2010, it was reported that China overtook Japan to be the No.2 country in GDP among the world.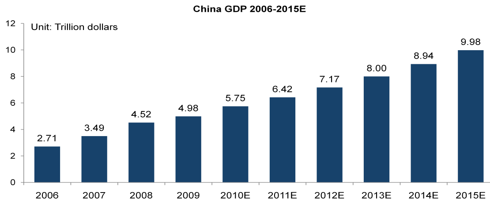 Source: Frost and Sullivan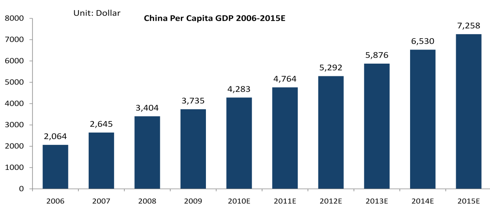 Source: Frost and Sullivan
China's GDP is expected to touch $9.98 trillion by 2015, given its rapid domestic economic growth and rising per capita disposable income. Moreover, this could lead to medical treatment and products becoming increasingly affordable and accessible in China.
5. China's health care expenditure lags its developed peers:
According to WHO, United States per capita healthcare expenditure stood at $7,285 in 2010. This is very low when compared to $108 for China, with more potential for increasing the healthcare expenditure.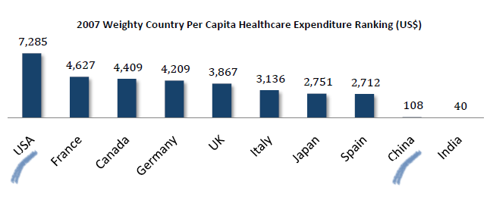 Source: Frost and Sullivan
6. Increasing healthcare expenditures: China's per capita healthcare expenditures, having grown at a CAGR of 19.3% from 2007 through 2010, are forecast to continue rising at a CAGR of 12.2% through 2015, reaching $437 per head in 2016.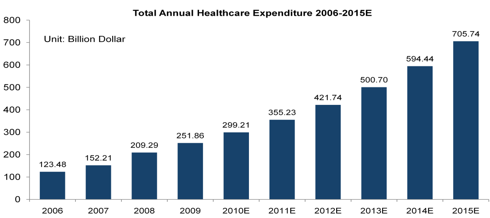 Source: Frost and Sullivan
7. Increasing availability of health insurance:

8. More Qualified Orthopedic Surgeons: The number of registered doctors (including assistant doctors) increased from 1.9 million in 2003 to 2.4 million in 2010, a 3.7% CAGR
Number of Registered Doctors & Assistant Doctors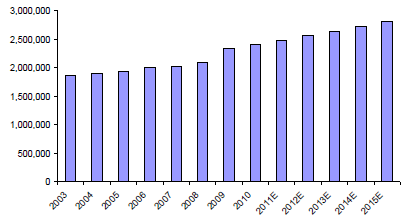 Source: Chinese Healthcare Statistical Digest, Oppenheimer
9. Growing Automobile Ownership and Road Accident-Related Injuries: Road accident-related injuries are one of the top three causes for trauma orthopedic treatment.
Source: CEIC, Oppenheimer
Investment Options
The Chinese orthopedic market is currently dominated by the large US companies like Johnson & Johnson (NYSE:JNJ), Zimmer (ZMH), Wright Medical Group (NASDAQ:WMGI), Stryker (NYSE:SYK) and Medtronic (NYSE:MDT). These MNCs and their subsidiaries have cornered close to 50% of the market share, given their experience, robust product portfolio and R&D capabilities.
China Kanghui Holdings (KH), Medtronic and Mindray Medical (NYSE:MR) are three major domestic players which US retail investors can access. China Kanguhai is an ADR listed on the NYSE with a market cap of $470 mn. The other player, Medtronic, formed a JV with Shandong Weigao Group (Hong Kong listed) to venture into market therapies in the spine and orthopedics sector in China.
Also, there have been have been 2 listed players entering the market through the M&A route. The Hong Kong listed MicroPort Scientific Corporation acquired Suzhou Best for $17 mn in 2010. This was followed by the US listed Mindray Medical (MR) acquisition of Dragonbio Orthopedics for $35.5 mn in June 2012.
One can also look at investing in iShares Dow Jones US Healthcare ETF (NYSEARCA:IYH) and iShares Dow Jones US Medical Devices ETF (NYSEARCA:IHI) to get a broad-based exposure to China growth story.
Please refer to my previous article "Will China Grow Old Before It Becomes Rich? A Demographic Time Bomb", which discusses the demographic problem China faces as a result of one child policy. The aging population could turn into an Achilles' heel for China's leadership in the coming years and serve the orthopedic industry well.
Disclosure: I have no positions in any stocks mentioned, and no plans to initiate any positions within the next 72 hours.