On June 26th, insiders at Hampton Roads Bankshares (HMPR) purchased 71,428,572 shares of stock for $50 million. This cash infusion greatly increases the number of shares outstanding, but has also increased investor confidence in the company. The company's stock price has been rising.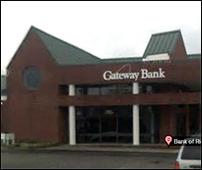 Since 2008, the bank's shares have fallen precipitously. In October of 2008, the company acquired Gateway Bank. Gateway suffered a massive $37.4 million loss from investment in 2008, during the height of the financial crisis.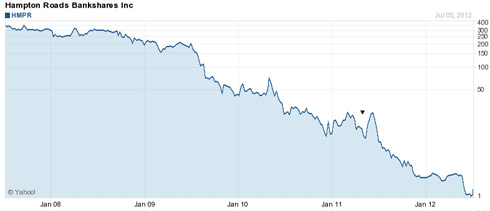 Since the Treasury, under Hank Paulson, decided to wipe out Fannie Mae and Freddie Mac shareholders, the bank has been forced to undergo asset sales in attempt to stay in business. In June 2011, ten of the bank's branches were put up for sale.
In the book Senseless Panic: How Washington Failed America, former Treasury Secretary Paul Volcker, and other writers, wrote that "Wiping out Fannie and Freddie stock was a boneheaded idea. It sent shock waves throughout the world." This is a clear example of at least two community banks that had their business models significantly altered by investing in Fannie Mae and Freddie Mac securities.
It has been a long-held opinion that community bank lending sparks growth in small businesses. The troubling thing about this economic downturn is that community bank assets have been contracting, while the largest "Too Big To Fail" banks have actually grown larger. This has helped to concentrate large amounts of cash on corporate balance sheets, while small businesses are having trouble finding financing for expansion.
Unfortunately, the plight of community banks has fallen on deaf ears in Congress. Since the beginning of 2009, 420 banks have failed, with assets being acquired by other banks, or liquidated by the FDIC.
Hampton Roads Bankshares is set to release earnings on July 23rd, 2012.
Disclosure: I am long OTCQB:FNMA, OTCQB:FMCC.
Additional disclosure: GSE Preferred Stocks Only