America had been blessed with having a vibrant and growing economy post WWII. The baby boom generation of 75 million born roughly between the years 1946 and 1964 helped propel the U.S. economy and their own standards of living(debatable) to its peak, in my judgment, in the year 2000. I say 2000 because it was in June of 2000 that we had a peak in the percentage of our population that was employed in a job. It was 64.9%. Also, the U.S. dollar was very strong giving Americans strong purchasing power in the year 2000. The trend in both the percentage of our population in a job and the strength of the U.S. dollar has been down since.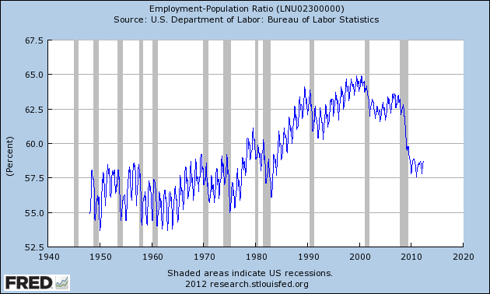 To help stimulate our growth and higher and higher levels of consumption, America took on more debt each and every year in healthy doses all the way up until 2009. While we had a very brief period of aggregate credit contraction in 2008/2009, the most recent rate of credit growth has been minimal, mostly coming from the Federal Government.
The chart below shows year-over-year total credit debt owed, which includes business, financial, consumer, state and federal debt: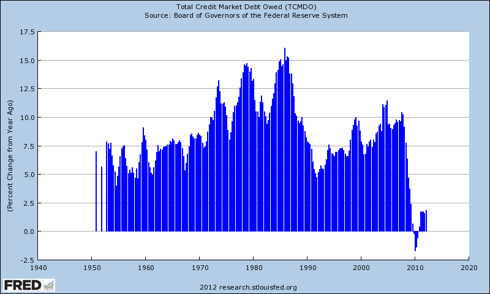 New loans are not being created as much because there is already so much debt in our economy it has simply lost its capacity to take on more. There is also an aggregate demand slowdown in our economy as well, giving little reason then for businesses to take on new debt to expand operations.
The first chart suggests that the employment level is quite healthy at 58.7%, which would be at the high end of the range that we had throughout the 1950s - 1970s or pre baby-boom generation working years. It also suggests that we should not be surprised if the civilian employment-to-population ratio were to fall further still yet.
This brings me to the heart of this article. I created a chart going back to 1970 that includes year-over-year percent change of the following:
Total wage and salary disbursements (blue line)
Consumer Price Index (red line)
Average Hourly Wage Production and Non Supervisor (orange line)
Total Employees (green line)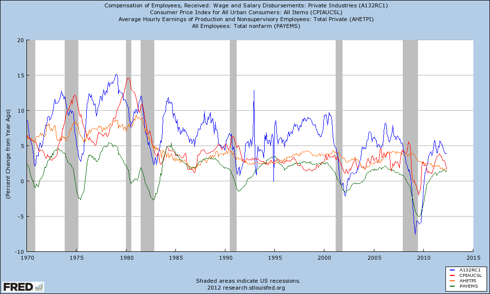 From this perspective, we can see the general up and down nature of rate of change in these categories since 1970.
While it is difficult to predict the future trends, one thing worth noting is the rate of change in wages of production non supervisor workers (orange line) is growing at its slowest rate in at least the last 40 years. The rate is just under 1.4% growth and the trend is down. Something I continue to keep in mind is a report issued last February on the state of my local economy, written by Comptroller Thomas P. DiNapoli "Economic Trends in New York State."
This report pointed out that although New York State had regained 46% of the total jobs lost during the recession up until December of 2011, the average salaries of the jobs created in the prior two years is more than 40% lower than the average salaries of the jobs lost during the recession.
So it's not so much that workers are getting pay cuts, but the newly created jobs are simply lower paying jobs.
Hence, I have a bias that wages remain under severe pressure.
Here is the same chart but going back to the year 2000: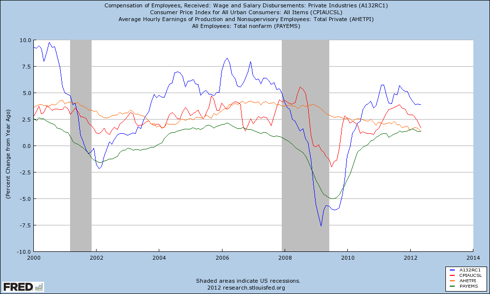 This gives more justice to what appears to be a rollover in the rate of change to these subsets of data.
What I'm looking out for is both weak job numbers coupled with lower wage growth, which I think would give both a blow to aggregate demand and make a strong case for deflation.
Both wages and CPI, or the consume price index, are rolling over as well. CPI goes below zero, that's deflation.
The last time CPI went below zero, back in 2009, workers still got healthy 2.5% raises.
We learned yesterday that retailers posted their weakest sales numbers in three years for June.
Per a news piece by Market Watch:
Total June sales at stores open at least a year - a key performance metric that strips out the impact of new and closed stores - rose 0.1%, missing the 0.5% gain Wall Street was looking for. That was the smallest pace since sales declined in August 2009, according to Thomson Reuters. Sales rose 6.7% a year earlier.
Wage and salaries disbursements represent $6.833 trillion out of $13.334 trillion in total personal income, which is 51.24%. Very low or declining aggregate wage and salary growth will surely put pressure on the economy and more so on the retail sector. Hence the low June sales at retailers.
We should remember Ben Bernanke's 2002 Helicopter speech titled "Deflation: Making sure it Doesn't Happen Here" and appreciate he's going to do all he can to prevent deflation "here," which only makes predicting our investments accordingly that much more difficult.
In conclusion, it's simply difficult to have a strong investment opinion about whether to be long stocks or short stocks or whether to be long bonds or short bonds at this juncture.
If the Fed's actions cannot prevent wages from falling or give a boost to the overall number of people employed, so to get the percent of the population that has a job up, I expect a stock market correction lower and interest rates to rise as risk on the ability to both service and pay back debt in a deflationary environment will become substantially more difficult.
Disclosure: I have no positions in any stocks mentioned, and no plans to initiate any positions within the next 72 hours.