On July 6, Pengrowth (PGH) announced that it would reduce its monthly dividend from 7 Canadian cents (currently $0.068 US) to 4 Canadian cents (currently $0.039 US). This is a dividend reduction of about 42.8 percent. Pengrowth is a Canadian oil and gas company, with roughly equal exposure to oil and gas, and was formerly a Canadian Royalty Trust, or CanRoy.
Pengrowth is the latest Canadian oil and gas company to reduce its dividend, but it may not be the last. Just a few weeks ago, Enerplus Corporation (ERF) also recently announced that starting in July, its monthly dividend will be cut in half, from 18 Canadian cents (about $0.175 US) per share to 9 Canadian cents (about $0.088 US).
In April, natural gas prices declined to generally unexpected lows, and though they subsequently rebounded in late April and into May, they still remain depressed. After natural gas prices trended lower through the first half of June, gas has recently slightly spiked up by over 50 percent.
Crude oil prices spent most of May in a state of free-fall, declining around 20 percent and eventually breaking below $80 per barrel for the first time in a while. Though crude has rebounded from that sharp sell-off, it remains depressed and appears susceptible to further potential weakness.
The effect of these declines in energy commodities has a clear affect upon E&P companies. Due to natural gas exposure, many have estimated that several high yield Canadian energy companies such as Baytex (BTE), Enerplus, Pembina Pipeline Corporation (PBA), Penn West (PWE) and Pengrowth , among others, may have to reduce their dividends due to declining commodity prices, potentially reduced global and North American energy demand, and increased production costs. As a result of these expected cuts, as well as reduced reserve valuations, these companies have sustained considerable equity losses within 2012.
Last month, I noted that more high yield Canadian oil and gas dividend cuts were looming, and that investors have some reasonable basis to foresee at least some subsequent Canadian oil & gas dividend reductions in the wake of ERF's cut. The industry went through a series of cuts in late 2008 and through 2009, with ERF then also being one of the earlier cutters, if not the first, and after one company announced a reduction, it is easier others to follow. Others may follow, still.
Some of PGH's reduction may be in part to a $200 million pro forma capital expenditure reduction that coincided with the NAL acquisition, which was announced on March 23, 2012. As such, PGH may be able to more quickly increase the monthly payout going forward, but such is no certainty.
After cutting its dividend, ERF did continue to decline, but only by about ten percent. This is a minimal decline in comparison to the sharp sell-off that hit ERF prior to its cut. See the recent chart for ERF: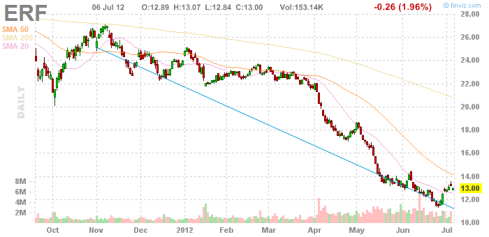 (Click to enlarge)
Further ERF subsequently rebounded and is trading around where it was when it reported the 50 percent dividend cut. A very similar fate may now face PGH shareholders, as those shares have also sustained some significant declines in advance of this 42.8 percent dividend reduction. See a recent chart for PGH: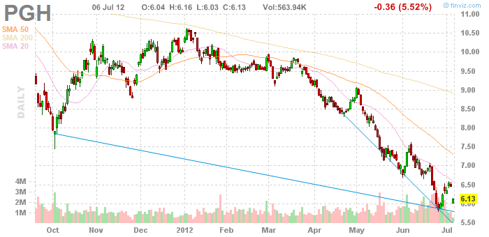 (Click to enlarge)
With any luck for PGH shareholders, the majority of its share decline was in anticipation of this cut and will not be in response.
Disclosure: I am long PGH.