During the dot-com crash years I found myself moving from one company to the next as each company declared bankruptcy. All those lavish parties fueled by ridiculous expense accounts on virtual business plans are now but just a pleasant memory (it wasn't fun at the time). What I do remember were several people who made the decision to go back to school to learn something new and fine tune their skills until employment activity picked up. Many MBA students put their studies on hold to pursue dot-com pipe dreams ended up heading back to finish up B-School.
Fast forward to 2008 and we are entering what looks like will be an extended period of economic weakness. I sat back one day and wondered if school would be a destination of choice for anyone losing their jobs this year. This led me to question whether for-profit colleges are naturally a recession proof type of business, dare I even say a business that experiences growth during economic weakness. Going to school is never a bad thing, especially when the employment market doesn't look good.
This was a sector that had never crossed my mind before as an investment vehicle, so I started off searching for publicly traded educational service sector companies with market capitalization above $1 billion. I wanted to focus on the big players that had the capital and flexibility to scale their business the best way they saw fit. For-Profit colleges that meet these criteria are (symbol, market cap):
Apollo Group, Inc. (APOL, $6.91B)
DeVry, Inc. (DV, $2.85B)
Strayer Education, Inc. (STRA, $2.15B)
ITT Educational Services, Inc. (ESI, $1.83B)
Career Education Corporation (CECO, $1.09B)
The next step was to see how these companies faired during the dot com bubble explosion (March, 2000), through the 9/11 attacks, down to the market bottom around October of 2002. I also wanted to see how these companies faired one year after the market bottom.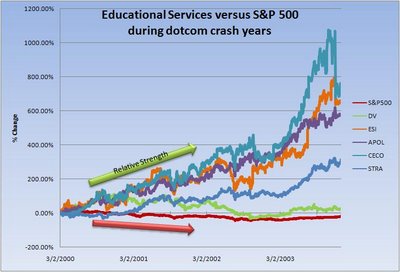 During the dot-com meltdown, the S&P500 index trended down while this set of companies showed relative strength. The weakest of the bunch was DeVry, but that still would have been a good investment when compared to investing in a typical S&P500 index fund. The four other companies (ESI, APOL, STRA, CECO) did extremely well with explosive stock price appreciation, especially after they hit market bottom of October 2002. It was interesting to see this comparison, but it definitely wasn't enough information to make any sound investment decision. What kept me digging further was the ISM Non-Manufacturing Report on Business readings published a few months ago.
The ISM Services Index and Educational Service Sector The Institute of Supply Chain Management came out with horrid 44.6% reading for the ISM Services Index in January (please see my previous article about how to interpret this number). Although this showed contraction for the services sector as a whole, if you had dug into the details of this report you would have picked up the fact that Educational Services reported growth in the following 3 components of the index:
Business Activity
New Orders
Supplier Deliveries (quicker deliveries)
This all looked promising, until I picked up their latest February ISM Services Index readings. The report showed an overall reading of 49.3% indicating the second straight month of contraction in the US service sector [2]. Although much better than January's reading, what brought down my enthusiasm was that Educational Services now showed contraction in the following areas:
Business Activity
New Orders
Employment
What happened? I was hoping to ride on the story of people heading back to school after getting layed off. As grim as that sounds, it may have been a good defensive play given the financial credit mess we are in right now. Oh yeah… the financial credit mess. Is that trickling over and affecting prospective students from borrowing money to go back to school?
What's different this time around? There are several things different this time around for prospective students than in 2000-2002. First off gasoline prices were not as crazy, food costs were in control, and you could still borrow money to head back to school, and get 0% financing on that brand new GM SUV to get you to and from school in style. This time around, several private lenders are suspending loans to students for 2008 [3]. Some lenders are exiting the FFEL (Federal Family Education Loan) program all together, forcing some schools to switch to direct federal lending. This trickles all the way back down to the students who may have a harder time securing financing for their studies. 30 lenders have exited FFEL, while 7 lenders have suspended its private student lending programs [4].
In order to understand what is happening, let's take a step back to see how things used to operate for students applying for loans, and what FFEL is. There are basically two different lenders that students could tap into for loans, directly from the government through the school (not every school participates in this financing avenue, only about 1000 of them) [3], or from private lenders such as Banc of America, and Citicorp who participate in a program known as FFEL (Federal Family Education Loan program). Private lenders used to have very favorable conditions to profit from student lending through government backed subsidies. These subsidies allowed lenders to offer earn healthy profits while also offering discounted rates to students. These subsidies however were cut late last year by approximately $20 billion (half of where it used to be) [5], crimping margins for the private lenders. The other advantage with participating FFEL, were that the loans were protected from default by the government. This put all the risk on the federal government, and almost no risk for the private lender. Private lenders need to come up with the cash to lend, either by digging through their deposits, or by going to the capital markets looking for investors to buy up this student debt. It was just another avenue for investors to park their cash.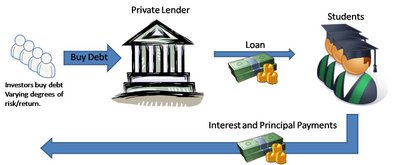 Does this sound familiar? It should, as this is somewhat the similar model used by the banks, and investment houses to make money off the mortgage craze we saw over the past few years. Instead of mortgage borrowers, it is the student population. Students should be a safer bet against loan default compared to subprime mortgage borrowers. The intentions are different as one group is going back to further enhance their skill set and improve long term career prospects, while some within the mortgage group shouldn't even have been taking out loans, or worse, they were speculators who rushed into the real-estate frenzy hoping to "flip" homes backed by interest-only mortgages or ARM's. All the investors who used to buy up student debt are having 2nd thoughts, even though they are backed by good natured students.
One can surmise that when things are going really bad with mortgage backed investments, why take on more with student backed debt? As these investors stop bidding for these investments, the private lenders need to look elsewhere, or raise their payout to improve the risk/reward ratio for the investor. This means higher costs for the private lender to operate in the business, especially when FFEL loans have capped interest rates on what they could charge students. Margins are squeezed to the point where it doesn't make sense to participate.
What are students' options now?
Students can tap the federal government directly, but only if their schools are participating in their direct lending program. They can also go with private loans (no government involvement, higher costs). Private loan qualifications have become stricter, which affects loan applicants at the lower end of the credit range. This in turn may affect enrollment at institutions with a large percentage of revenues coming from this student base.
Which institutions are most exposed to this risk? So why continue looking at these for-profit college stocks? Are all of them exposed to the private lending risk? Just look at the YTD (March.28.2008) performance for these stocks:
CECO , -47.84%
ESI, - 46.27%
APOL, -39.21%
DV, -21.01%
STRA, -11.31%
All of them will be affected in some way, but to what degree? Some of these stocks may have been punished too far and got caught up in the perception that they are highly exposed to the credit crisis. Credit Suisse currently estimates private loan exposure for ITT (NYSE:ESI) and Career Education (NASDAQ:CECO) to be at 29% and 18% respectively [8]. Right off the top we can eliminate these two from consideration.
Next we move on to the Apollo Group, which runs the University of Phoenix. They just reported 2nd quarter earnings on March.27th, and followed up with a 26% drop in their share price the next day. The drop off wasn't because of their reliance on private student loan exposure, as only 4% of their revenues comes from private loans [8]. The company reported that they have added Banc of America as their 5th preferred lender, and that they were looking at contingency backups with respect to direct federal lending. Apollo was basically punished for a class action lawsuit in which the settlement range will be between $121 million and $216 million [9]. The other surprise came in the form of increased SG&A (excluding the litigation charge) of $584 million for the quarter, a 15% increase from the same period last year [9]. The quarterly results weren't impressive, but I'll be keeping Apollo on my watch list as some of the increased expenses in personnel maybe part of a longer term initiative to expand the business.
This finally leaves us with DeVry (DV) and Strayer (NASDAQ:STRA). The management teams for these companies have been able to navigate the current credit mess quite well based on their earnings results. DeVry recently reported 2nd quarter earnings coming in 118% higher than the same period last year [10]. The company's portion of revenues tied to private loans comes in at roughly 5% [12]. The company is in good position to mitigate this risk by having its own student lending program which accounts for 4 to 5% of total revenues [10]. Daniel Hamburger, the President and CEO came out on the latest earnings call to reinforce his position that DeVry students would have access to multiple sources of financing, and that the recent report of Sallie Mae discontinuing discount loan programs (loans for high risk credit students) would not affect new student enrollments since this only accounted for 1% of total DeVry revenues [12].
Strayer on the other hand has only 3% of total revenues tied to private loans. Fourth quarter earnings rose 21% from the same period a year ago [7]. What I like about this company is their focus on academic quality as can be ascertained from their CEO (Robert Silberman) describing their expansion plans, "The single biggest challenge is expanding the University. Expanding an educational institution and maintaining a level of academic quality is not an easy thing to do." [7]. Mr. Silberman came right out on the offensive during the 4th quarter earnings call to give assurances that all vendors participating in the FFEL program and those issuing private loans (including Sallie Mae) have reiterated their desire to increase loan volume with Strayer's students [11].
Good management and focus on quality educational programs have helped DeVry and Strayer stay ahead of their competitors, and so far have kept them out of the FFEL and private lending troubles. Looking at some key performance measures tells the story of healthy operating businesses over the trailing 12 months:
Both companies are trading at high valuations, but investors maybe pricing them as such for their long term growth prospects and quality. DeVry and Strayer deserve a second look for a possible portfolio addition. Could we possibly see sustained stock price growth similar to the dot-com meltdown years? We'll have to wait and see. After this first pass, I'll be doing a deeper dive into both companies operations and financials for my next analysis. Stay tuned.
References