In early February this year, I published a Seeking Alpha article titled "Constructing Your 2012 Dividend Growth Portfolio, Dependable Yield With Managed Risk And Volatility." In that article, I discussed my 2011 Dividend Growth Portfolio and the changes I made to the holdings from 2011 to 2012. This article is a six-month review of the performance of that portfolio.
The Portfolio Meets Its Goals
The first goal is to have a continuing and increasing dividend stream that provides retirement income. To accomplish that, I seek a current yield averaging 4.25% or more on the investment. Capital appreciation should also occur with these stocks over time. As an investor, not a trader, I will call that a long-term secondary goal. The 2012 Dividend Growth Portfolio has met its goals in the six-month period ending June 29, 2012. The amount of $317,898 invested in 24 stocks has yielded $7,255 in dividends, and the stocks have appreciated in value to $322,866, which gives a total of $330,121. That is a 2.28% yield in six months, an annualized gain of 4.46%. The capital gain for six months is 1.56%, an annualized gain of 3.12%. Therefore, the total annualized rate of return is 7.58%.
The table below (Sheet 1) gives a detailed accounting of the dividends received. The suggestion I include a table of this type came from Jeff Paul, Fredrik Arnold, and others. Sheet 2 recaps the values and ratios most often of interest to dividend growth investors: Price, Yield, Five-Year Dividend Growth Rate, and Payout Ratio. I included the Jan. 3, 2012, purchase cost of each stock along with the closing value on June 29, 2012.
Click to enlarge images.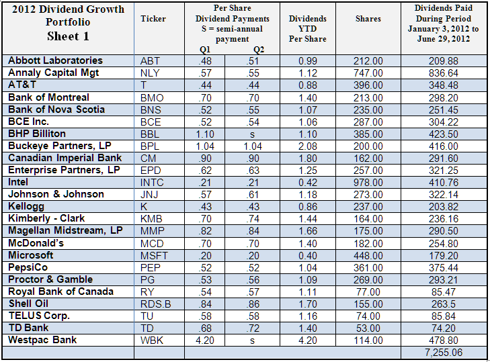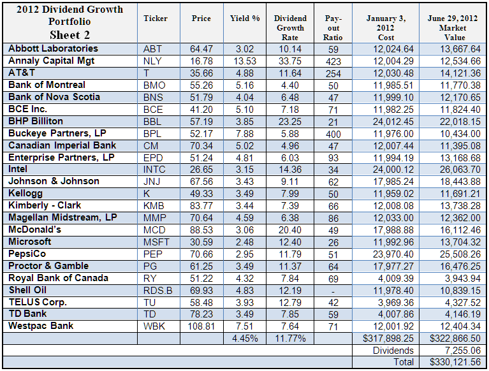 I made an error in the February article by leaving out one of the investments, Buckeye Partners (NYSE:BPL). However, I entered it into my Morningstar Portfolio with a Jan. 3, 2012, purchase date, and performance figures reflect the correction.
Portfolio Characteristics
The portfolio consists primarily of large value stocks with excellent credit ratings. The average market cap is $70 billion. The yield is 4.45% and the five-year dividend growth rate is 11.76%; these are strong figures. The portfolio is, for the most part, fairly valued and the average forward P/E is 12.08. According to some, one of the reasons that large-cap firms can outperform over time is that they can hire the very best management. We can measure, somewhat indirectly, the results of good management by looking at the Return on Assets and the Return on Equity. The average ROA is 8.85 and the ROE is 23.40.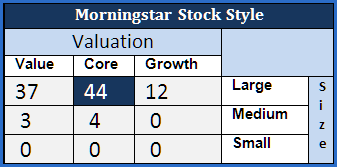 Unorthodox Choices
This portfolio contains many widely held companies familiar to dividend growth investors. These are large blue-chip stocks, among the best companies in the world. They include Abbott Labs (NYSE:ABT), AT&T (NYSE:T), Intel (NASDAQ:INTC), Johnson & Johnson (NYSE:JNJ), Kimberly-Clark (NYSE:KMB), McDonald's (NYSE:MCD), Microsoft (NASDAQ:MSFT), PepsiCo (NYSE:PEP), and Proctor and Gamble (NYSE:PG). This dividend growth portfolio also holds some unorthodox choices.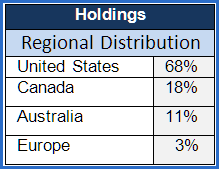 Canadian Banks
The Canadian stocks include Canadian banks and Canadian telephone companies. Canadian banks rate as the soundest in the world in the "Global Competitiveness Report," p. 460, by the World Economic Forum. There have been no defaults of any Canadian Banks in recent history. The same is true of Australian banks, which also rank near the top of the list of sound banks. The yields are excellent and the dividends on Canadian holdings in a U.S. resident's IRA are exempt from taxation by Canadian statue. My December article, "Sound Canadian Banks Offer Opportunity," goes into detail about Canadian banking. One of the reasons I wanted to include a heavy weighting of financial stocks is that they are very fairly valued and are expected to perform well during periods of economic recovery. Altogether, my investment in five Canadian banks totals almost $52,000; they have an average yield of 4.72%. The banks are the Bank of Montreal (NYSE:BMO), Bank of Nova Scotia (NYSE:BNS), Canadian Imperial Bank (NYSE:CM), Royal Bank (NYSE:RY), and Toronto Dominion Bank (NYSE:TD).
The other Canadian offerings in the portfolio are telephone companies. My April article, "Focus on Canadian Telecoms with Large and Growing Dividends," goes into detail about them. Below is a summary of portfolio holdings by sector. Note that sector gains are reported based on indexed ETFs. I used the SPDRs as an index, which differ slightly from iShares. In some of my purchases, especially foreign ones, I do not adhere strictly to buying stocks that have tremendously long records of dividend increases. I give them a close look if they are large, profitable, have a strong balance sheet, and have established a new dividend policy. Intel and Microsoft are two domestic examples, as are the Canadian banks, Royal Dutch Shell, and BHP Billiton.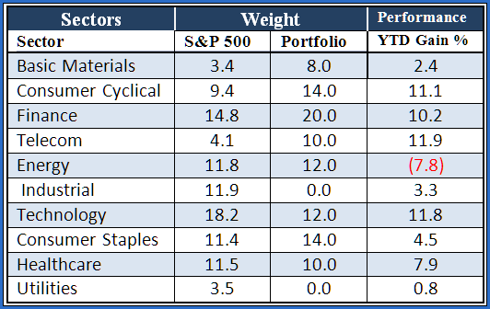 High Conviction Holdings
BHP Billiton (NYSE:BBL): Besides finance, which is overweighted, I have placed an emphasis on Basic Materials. This is a beaten down sector as a result of the continuing poor economy, performing near the bottom of the sector list in 2010 and 2011. This presented unusual buying opportunities last year and the expectation of significant gains as we move into economic recovery. Unfortunately, the recovery seems stalled and manufacturing remains slow; Basic Materials are not in high demand.
BHP Billiton is the world's largest miner and a dual listed U.K. and Australian company. I hold the U.K. version, BBL, which is the most appropriate for U.S. taxpayers. However, I believe Morningstar recognized it as Australian in the Regional Distribution table, which shows Australia as 11% of my holdings.
A key fact about the company is that it has a stated intention of increasing the dividend annually, regardless of economic conditions. That makes this high-beta (1.90, 36 months), cyclical company that's much easier to hold. I am confident about the increasing dividend and I am confident that the company has the plans and people in place to perform very well for many years into the future. Of the 24 stocks in the portfolio, this company has the lowest payout ratio at 21% while yielding a very respectable 3.85%.
Intel Corporation (INTC): This name was once the darling of the dot-com era; it is now a mature manufacturer of essential information processing hardware and leads the industry not only in product design, but also in manufacturing methods and efficiency. Its dominant position in the industry makes it a preferred customer of suppliers of materials and manufacturing equipment, and a preferred partner and favored vendor to its customers. Nearly debt free, a strong balance sheet and powerful cash flow ensure its leadership position both now and in the future. This firm has a low payout ratio of 34% and yields 3.15%.
PepsiCo (PEP): This company is the worldwide leader in salty snacks, a provider of wholesome foods, and a major beverage company. Pepsi dominates its most profitable markets and controls nearly 70% of the U.S. salty snack market, 60% of that market in Brazil, and 45% of it in the U.K. It has great economies of scale and manages its products through direct store delivery. This underappreciated company will be a growing player in emerging markets and a most profitable firm for its stockholders for years to come. While it recently has lost some of its share of the domestic beverage business, it has made management changes to address this problem. Some feel, especially in light of the gains Coco-Cola (NYSE:KO) is making, that it is time for PepsiCo Chairman and CEO Indra K. Nooyi to leave. The payout ratio is a conservative 51%, and the yield is 2.95%.
Undervalued Opportunities
In doing this review, I took a quick look at the valuation of each stock. None are greatly overvalued and most are fairly valued. However, several stand out as somewhat undervalued and I will list them as stocks in which I would consider increasing my position in if I had available cash or was not already invested in them to my limit. Each of these is selling below Morningstar's fair value, and they are 4- or 5-star stocks in that firm's system. Using Morningstar's information like an initial screen, I then looked at each opportunity on F.A.S.T. Graphs as a confirmation of valuation. However, you should do your own due diligence if you have an interest in purchasing them.
Abbott Labs: This firm is undervalued by conventional measures, but there is hesitation by some in acquiring this blue chip because it will soon split into two firms.
Johnson and Johnson is slightly undervalued, and the effects of the new CEO should be positive.
Intel: This could be a good buying opportunity for the leading chipmaker. However, there is always the risk of products going out of favor as the fast changing high-tech industry moves away from personal computers.
BHP Billiton is undervalued; however, the Basic Materials sector and especially miners are not doing well because of the soft world economy. A steady dividend payer and good long-term investment the short-term outlook is less certain. For me, with a large position, it is a hold.
Royal Dutch Shell is positioned and paying a dividend of 4.8%, this firm is part of an industry suffering the effects of declining crude oil prices. I believe a small dividend increase is on the way after a year of no increases. Possibly, it is a good buy. However, Conoco Philips (NYSE:COP) looks like the most undervalued offering in this space and has a comparable yield of 4.7%. I believe that Chevron (NYSE:CVX) and Exxon Mobile (NYSE:XOM) are also selling at a discount.
Westpac Bank is undervalued. With a dividend of nearly 8%, this offering is very attractive. I see little currency risk in one of the world's strongest economies, which is also the home of a very sound banking system. There seem to be no unusual tax issues with the NYSE ADR.
Summary
Most importantly, my personal and portfolio goals have been achieved and the income from this portfolio is meeting my needs. I feel the stock selection criteria used to put this portfolio together served me well; I refer you the February article linked in the first paragraph of this article for more. I feel confident about the solid blue-chip companies that make up this portfolio. They will endure with stability and profitability both in 2012 and into the future. I have made no trades in this portfolio this year and do not intend to make any in the near future.
Disclosure: While my personal portfolio differs in amount of shares from this illustrative one, I hold all 24 firms listed on Sheets 1 and 2 above. I am long ABT, NLY, T, BMO, BNS, BCE, BBL, BPL, CM, EPD, INTC, JNJ, K, KMB, MMP, MCD, MSFT, PEP, PG, RY, RDS.B, TU, TD, WBK.