As of today, my patience with Nokia (NYSE:NOK) seems to be paying off. I have been watching this stock for a potential point of entry, but keep having more bad news coming. So I have been watching it without establishing a meaningful position.
Recently, the news from Microsoft (NASDAQ:MSFT) about Windows Phone 8 didn't help Nokia. As long as many Nokia bulls refuse the accept this, the lack of compatibility in WP8 did hurt Nokia's sales, as I commented in this article. Today, I was surprised to find the sales rank of the black Lumia 900 has dropped to number 22 on Amazon's (NASDAQ:AMZN) bestseller list. This is the lowest I have ever seen for Lumia 900.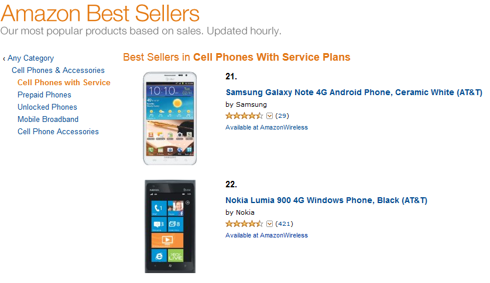 Nokia's share price has a very ugly day as well, dropping decisively to below $2. It is down 4.46% at $1.93 per share when I'm writing this article. Now the notion of "buying Nokia at below $3 is like buying Ford at $2" has almost become a cruel joke for those who started taking positions at $3 - they would have lost more than 1/3 of value in their holdings in a couple of months. At $7.5 billion in market cap, Nokia really starts to look cheap now.
Looking back, a simple straddle option strategy as I described in this article could work. Or alternatively, one can use an option straggle to achieve similar returns. As expensive as the option straddle might have been, it could start to make a profit sooner than we could realize less than a month ago.
Looking forward, two questions shall be answered based on today's Nokia price actions.
1. What caused Nokia's fall today?
It is unlikely to be Lumia 900's sales rank, which tends to change with high volatility. It is also unlikely to be Nokia-related news -- today is a slow news day and nothing directly related to Nokia came out.
The most likely cause is the drop of in eurozone stock markets. Since Nokia is an ADR, it has high volatility in general, at least for the American listing. Recently, on any day that Europe drops sharply, Nokia would take an even larger hit in stock price.
So, today's stock price action, albeit ugly, is not a cause for major concerns, at last for long-term oriented investors.
2. What should we do about Nokia now?
Well, that's a hard question to definitely answer. The most important reason for being optimistic is I do not see any more bad news that the market doesn't expect to come out for Nokia any time soon. The price action of Research In Motion (RIMM) today shows the resilience for stocks that are beaten down badly in the market.
All the uncertainty lies in two things. The first is whether WP8 and the relationship with Microsoft can last. As I argued in this article, the mobile OS market is too important for Microsoft to let Nokia live or die by itself. There isn't much to worry about for the next 12 months. The second issue is whether there is any potential suitor that could force a Nokia buyout. I do not think Apple (NASDAQ:AAPL) will do it, since it will be deemed as anti-competitive and won't bode well with Apple. Microsoft won't do it unless it has to, since as a software centric business, managing a cellphone maker just isn't going to work well easily. A third option is from a minor "wanna-be" cellphone maker, for example China's Huawei or ZTE, to bid on Nokia. By acquiring Nokia, it will be able to get a cutting edge cellphone designer. It will change Nokia completely, possibly starting to support both WP8 and Android. But a third-party bid can create lucrative short-term returns for Nokia shareholders.
In summary, it's ugly but still hopeful. I'm finally close to pulling my trigger and owning a piece of Nokia.
Disclosure: I have no positions in any stocks mentioned, and no plans to initiate any positions within the next 72 hours.