Not many people seem to have noticed, but solar panels (or solar photovoltaic energy) are finally ready for prime time. This won't be any immediate or dramatic takeoff; it is likely to be gradual. There are basically two reasons for that:
Due to drastic drops in panel prices, solar panels are able to compete with other forms of electricity generation in ever more places.
After having conquered more than half of the world production on the back of foreign subsidies, China is now ready to seriously embark on expanding the domestic market for solar energy.
We have noted that the concept of "grid parity," the ability of solar panels to produce electricity at similar rates as electricity from the grid, is rather problematic. However, what is clear for all to see is that the drastic drops in panel prices have made solar competitive with the grid in some places already (those that combine high electricity tariffs and a lot of sunshine).
This area will only expand, meaning that the area in which solar energy doesn't need subsidies will increase, greatly expanding its market. This might not immediately translate into a drastic increase in demand as unlike electricity from the grid, solar panels have almost all costs upfront, but there are imaginative financing schemes popping up to take care even of that hurdle.
China is now launching a major build out of solar electricity generation in the domestic market, aiming for 21GW of installations by 2015, increasing its previous target of 5GW by five-fold. This is exactly what the doctor ordered, as the solar market, despite all the volume growth, is in dire straits.
According to GTM Research:
GTM Research's report, meanwhile, says that production capacity for photovoltaic solar panels is 59 gigawatts for 2012, while only 30 gigawatts are expected to be sold around the world. As panel prices keep falling, some 21 gigawatts of production are seen being retired by 2015. [Investors Business Daily]
Note that the 21GW capacity to be retired is also the exact number of the target for the Chinese market in 2015, which, if materializing, would mean a 42GW swing in demand/supply dynamics with fewer players around to enjoy the spoils.
That same GTM Research report predicts that the tough conditions in the solar industry (almost all producers make a loss at the moment) will last for three more years until that excess capacity goes away. And indeed, we already see solar companies faltering left, right, and center, or postponing new capacity like General Electric (NYSE:GE).
Well, the tough conditions are caused by that overcapacity, and that overcapacity causes price falls (50% last year) that increases demand and causes a lot of companies to fail or withdraw from the market, but this process takes time. China's huge expansion plans would leapfrog it over Germany to become the biggest market, and that would certainly rebalance supply and demand further.
There is also some relief from falling polysilicon costs:
PV (photovoltaic) polysilicon prices are forecast to drop 48% and wafer prices 56% year-over-year in 2012 [sfgate]
There is a polysilicon glut as well, lowering the price of the main input for solar panel makers (besides the thin film ones like First Solar).
The Winners
While the whole industry is in dire straits, and balance sheets are weak in most solar companies, it's relative, not absolute, strength that matters as not every solar panel producer is going under. The strong will profit from the expansion in China and the problems of the weak, as many of these will go out of business and many more will put on halt their expansion plans.
Who are the strongest players? There are basically two criteria:
Cost per watt
Balance sheet strength
Companies that combine low cost per watt and relative balance sheet strength are likely to not only survive, but also prosper. According to NDP Solarbuzz, the top-tier photovoltaic solar companies will already be profitable next year. Which are the top-tier producers? Well, that's not too difficult:
Click to enlarge images.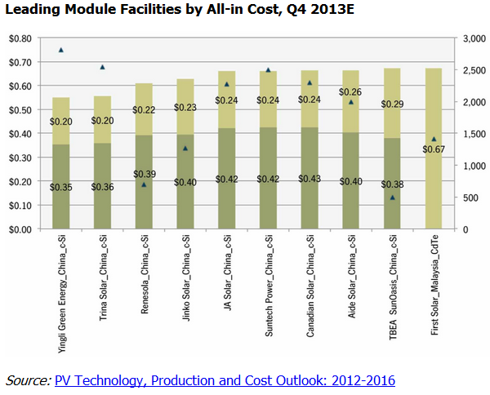 You can see Yingli Green (NYSE:YGE) and Trina Solar (NYSE:TSL) are the most efficient -- that is, the lowest cost solar producers, followed by Renesola (NYSE:SOL), Jinko Solar (NYSEARCA:JKL), JA Solar (NASDAQ:JASO), Suntech (NYSE:STP), Canadian Solar (NASDAQ:CSIQ), Aide Solar, TBEA SunOasis, and First Solar (NASDAQ:FSLR).
Although these are cost estimates for the end of next year, it's remarkable that First Solar, the previous cost leader will fall to number 10. They use a different technology compared to the other companies in the table, thin film Cadmium-Tellurium (CdTe) cells that are less efficient.
Let's look at a few companies. Yingli Green, the expected lowest cost producer by the end of next year, has:
$669.2 million of cash at the end of last quarter;
$2.3 billion of debt (figures from Yahoo);
Analyst estimate 96 cents per share loss this year, and 28 cents loss the next year (Yahoo); and
Cash flow was negative to the tune of a whopping $266 million last year, due to capital expenditures of $769 million. Pacing these seems in order, to put it mildly.
Trina Solar has:
$632.5 million in cash;
$1.14 billion in debt (figures from Yahoo);
Analysts expect $1.05 loss per share this year, but a 15 cents per share profit for the next year; and
Cash flow was still positive last year, but only just ($64 million) and due to net borrowings of $443 million.
From this quick survey we can establish that of the top two solar panel producers (both have an integrated business model, which seems at least partly responsible for the cost advantage), the balance sheet of Trina Solar is the more healthy one (in relative terms). We are therefore pretty sure that Trina is likely to be one of the companies that will survive and prosper in the coming years, as capacity gets taken out and the ramp-up in the Chinese market starts in earnest.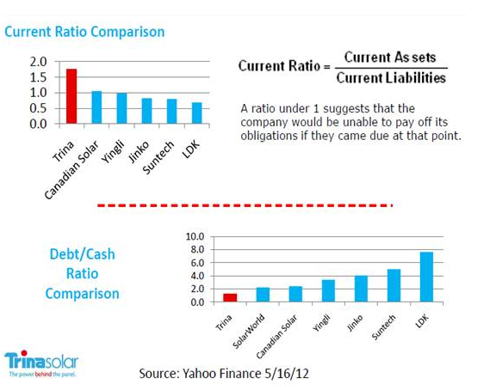 Actually, when writing this we came across this excellent article by Seeking Alpha contributor Robert Dydo, which has an expanded analysis of the balance sheets of solar companies:
In a combination of debt reduction efforts with an increase of cash, Suntech was the best performer along with Hanwha SolarOne (HSOL). The next two were SolarWorld (OTCPK:SRWRF) and Sunpower (NASDAQ:SPWR).
Dydo also notes that while most Chinese solar companies were able to reduce inventories some 25% in Q4 last year, Yingli Green (and First Solar) actually added to inventories.
So we go with Trina Solar, despite a rather ugly Q1 this year where shipments were 10% below guidance and revenue fell 20% sequentially. It is expanding in China, opening two new sales offices there, and set a new world record with its Honey Ultra panel (producing 284.7 watts peak).
Trina just seems to be a bit better managed than many other solar companies. Here is Trina Solar Americas' Director of Marketing Mike Grunow:
Trina has, instead, been 'very conservative and saved.' During that time, we raised significantly less debt than some of our competitors [and] built up our balance sheet to support our product.
It's hard to disagree with that. When the conditions improve (which will be a very gradual process) this company is likely to emerge as one of the winners.
Disclosure: I have no positions in any stocks mentioned, but may initiate a long position in TSL over the next 72 hours.