Oculus Innovative Sciences (OCLS) has received an approval from the SFDA of its Microcyn Technology for treatment of several acute and chronic wounds including ulcers, cuts, contusions and burns.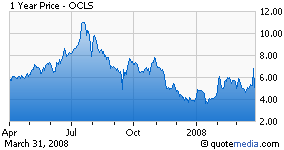 Microcyn is a super-oxygenated form of water that is not toxic, but highly effective against bacteria, viruses, mold and spores. Microcyn combines its anti-infective properties with the ability to promote wound healing.
In China, Oculus completed two clinical trials of the treatment in December, 2007, showing that it accelerated the healing of wounds in burns and chronic wounds.
In 2007, Oculus entered into a distribution agreement with China Bao Tai for Microcyn-based products in China. China Bao Tai claims expertise in launches of new products. The giant Sinopharm enterprise will handle distribution to hospitals and pharmacies. Lianhua Supermarket Holdings Co., Ltd. will distribute the product to supermarkets.
Microcyn is available in the US, though only under the limited indication of a wound cleaning product. In 2005, Oculus received 510(k) clearance from the FDA for the use of Microcyn as a medical device that would promote the moistening, lubricating and debriding of acute and chronic wounds. Currently, the compound is in US-based clinical trials to prove that it is also an effective treatment of diabetic foot ulcers, burns and chronic wounds.
Microcyn is approved for use as a wound treatment in Europe, Mexico and Canada. Oculus reported revenues of just over $1 million in its most recent quarter.
The price of Oculus shares fell $1.79 (26%) to $5.05 Friday after the company announced it had raised $13.9 million by placing 2.7 million shares and 1.3 million warrants with institutional investors. Over the last 52 weeks, Oculus has traded in a range between $3.20 and $11.48.
Disclosure: none.