Central bankers took center stage this past week, as the Bank of England, European Central Bank, and People's Bank of China all moved to provide monetary accommodation to their struggling economies. In the U.S. the Fed was on the sidelines, but weak manufacturing and payroll numbers added to the chorus of a global slowdown. Financial markets, coming off a strong close to the second quarter, faded as economic reality took hold.
Perspective
Stocks: U.S. equities opened the holiday shortened week by extended the prior Friday's gain, but poor economic cut the rally short. The NASDAQ and Russell 2000 managed to salvage a weekly gain, but the S&P 500 and Dow Industrials finished with losses. Seven of the nine major S&P sectors recorded losses, with the industrial, financial and health care stocks dropping more than 1%. The defensive consumer staples led with a gain of just over 0.5%.
Nine of our twelve major foreign indexes recorded weekly gains. While the losers were in Europe and, again, the Shanghai Composite, the weakness in the latter part of the week was widespread. Of note, Brazil's Bovespa and Australia's All Ordinaries both failed at their 50 day moving averages.
Bonds: It was another good week for the bond market. U.S. Treasury yields fell on the week, with the five and ten year notes coming back to levels of early June. Corporate bonds extended their amazing rally - the Dow Jones corporate bond price index again made a new high. Junk bonds avoided the risk aversion in the latter part of the week, and posted gains in each trading session. Munis and TIPS were nearly flat.
Commodities: The commodities were unable to sustain the prior week's rally. The CRB index came up to resistance in the mid 290s and pulled back. Oil stalled beneath the 50 day moving average, and closed under $85. Natural gas, which had put in a 50% rally off the April low, dropped more than 5% Friday. Gold again failed to sustain a move above the 50 day moving average and ended the week under $1,600. Copper also pulled back. Even the powerfully rallying grains, driven by the prospect of crop failures, lost a bit of their momentum.
Currencies: The U.S. Dollar Index came off the technical support level of 81.50, going to a new closing high above 83 - the best weekly finish in nearly two years. The euro and Swiss Franc went to new two year lows. The Aussie and Canadian dollars, rather interestingly, both went to their 200 day moving averages and failed to hold. Sterling fell on the announcement of the BOE's expansion of asset purchases.
Outlook
Last week's economic calendar got off to a poor start, with the first sub-50 reading in three years on the ISM index (the prices paid index dipped below 40) and though it was not all bad news after that, markets could not shake off the gloom. The ISM services index showed a smaller contraction, and factory orders actually beat expectations, but the tone was set. Rather than spurring bullishness, the easing actions by the BOE, ECB and PBOC led to greater concern for global growth. By the time non-farm payrolls were reported on Friday, the market was in no mood for a disappointment...and the number was quite disappointing indeed.
Stocks: In last weekend's article I noted that the market was reading short term overbought, and that, combined with the U.S. holiday, it might be a good week to take off. Things played out much as expected in the stock market. We did see a light volume pull back on the major indexes that relived some of the overbought condition: the NYSE McClellan went to +100, its highest level in two years, and ended the week under 50. At one point last week, more than 70% of the S&P 500 stocks were above their 50 day moving averages; by Fridays' close that number had fallen under 60%.
(Note - we are stepping back to weekly charts for this week's article)
images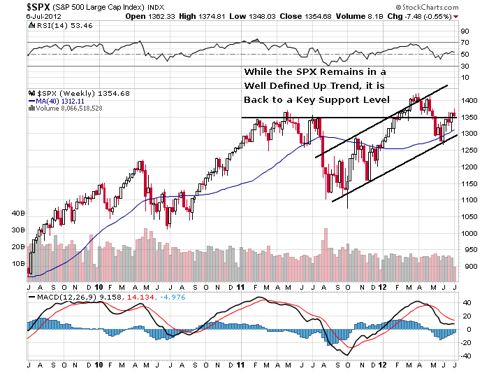 While there continue to be a number of fundamental concerns, both macro and micro, the market is not in bad shape. We are seeing good relative performance in the smaller cap stocks, and leadership is asserting itself: Apple (NASDAQ:AAPL) shares are back above $600, Coca-Cola (NYSE:KO) and Wal-Mart (NYSE:WMT) have broken out to new highs, as have leading health care names such as JNJ and Merck (NYSE:MRK). Also appearing on the new high list are several prominent home builders such as Lennar (NYSE:LEN) and D.R. Horton (NYSE:DHI), as well as REITs such as General Growth (NYSE:GGP) and Annaly Capital (NYSE:NLY).
Among stocks mentioned in last week's article, Conagra (NYSE:CAG) and Potash (NYSE:POT) continue to look strong. The common themes here are dependable earnings in a tough economy, and a preference for dividends in a low yield environment . Investors are rewarding those stocks that can produce earnings and throw off cash. The market also appears to be noticing that the housing market is coming off the bottom. The takeaway for me is to stay with quality and leadership, and avoid speculative names. While I still anticipate choppy summer trading, and would not be surprised to see another leg down in the market, this is a time to identify the stocks we want to own going forward.
Bonds: The economic news continues to send bond yields lower, and prices through the roof. Where it stops nobody knows. Yes, it seems risky to lend to a heavily indebted government for ten years at just a pittance above 1.5%, but that is where the market is. If we are going to take a risk in our income portfolio, I continue to like high yield corporate bonds - even though the spread over Treasuries is back under 6.5%. Of course, I am ever vigilant in watching them. Rule #1 in our income portfolio is capital preservation, which means rule #1 of holding junk is don't take your eye off the ball.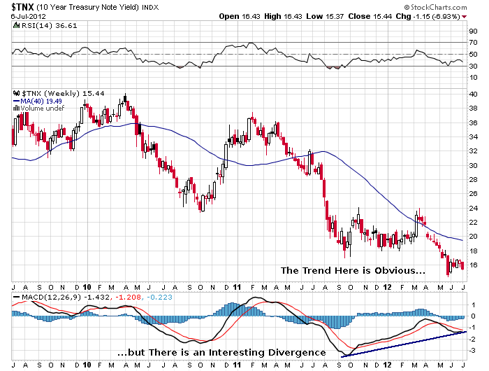 Commodities: Over the last couple of weeks we have seen commodities come off deeply oversold levels. Perhaps some investors will remember the effect of the Fed's QE program in the U.S., look at last week's central bank actions overseas, and anticipate a similar move in commodities. Apart from the grains, I don't see the rallies as much more than a counter-trend move in a larger down trend.
Many readers will by now be familiar with accounts of Chinese buyers failing to take delivery on purchase contracts; I don't have any direct knowledge of such incidents, but it is enough to make me suspicious. The macro data make it seem unlikely that there is sustainable upward price pressure in the commodities. Another reason to be suspicious: the U.S. dollar is advancing again.
Currencies: As mentioned above and covered in last weekend's article, the U.S. Dollar Index came back to support in the 81.50 area following the European summit meeting. At the time, I wrote "it would not be at all surprising to see the dollar roll between 81.50 and 83 for some time, as the fundamental situation has not changed all that much." We saw it break above that range in all of two days - an unusually strong move. In a deflationary world cash is king, and the cash the world wants to own is king dollar. Meanwhile in Europe, as early enthusiasm over the bank funding scheme gave way to more sober reflection, Spanish ten year bond yields moved back up toward 7%. I had previously suggested that any respite would be short lived. Sadly, and predictably, this appears to be the case. For the euro, a re-test of the June 2010 lows, under $1.20, looks increasingly likely in the coming weeks. This could spell trouble for the markets.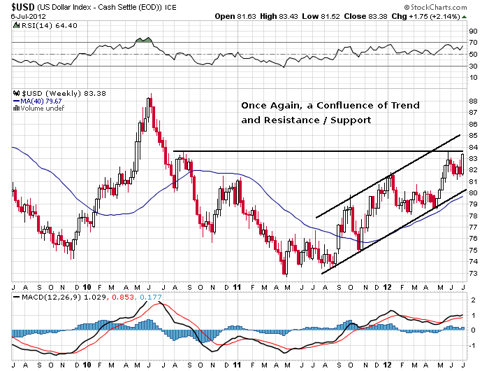 Disclosure: I have no positions in any stocks mentioned, and no plans to initiate any positions within the next 72 hours.