Since my last article recommending buying Herbalife Ltd. (HLF) in May, the shares have rebounded 14% to $51.18 per share. At this level, I continue to be bullish on the stock given its dirt cheap valuation relative to its peers and very healthy fundamentals. My view is supported by six reasons illustrated below:
1. HLF is undervalued relative to the growth prospects. Consensus estimates predict revenues, EBITDA, and EPS to rise by a 2-year CAGR of 12.3%, 11.4%, and 14.7%, respectively, over FY2012 and FY2013. Accounting for those, the stock trades at 0.8x PEG, suggesting a discount to the firm's growth potential.
2. HLF is also substantial undervalued relative to its peers. Compared with other major players in the personal care and health product sector (see below), HLF has a somewhat comparable growth prospects but an absolutely superior profitability. The robust FCF margin help the firm maintain a low debt level and a liquid balance sheet. As such, a valuation premium should be reasonably warranted. However, the current stock price of $51.18 actually implies a 20.7% valuation discount to both the peer average P/E and EV/EBITDA multiples (see below), indicating the market continues over-discounting the negativity brought by David Einhorn.

3. The estimated revenues, EBITDA, and EPS remains in a solid trend as there have been multiple upward revisions over the past 12-18 months (see below), which suggest that there is no material change in the firm that will negatively impact on the future growth.


4. The robust FCF generating capability has helped the firm continue buying back shares and issuing dividends over time (see below). Under the current state of fundamentals, it is expect these shareholder-friendly policies will likely be sustainable and continue supporting the share price to some extent.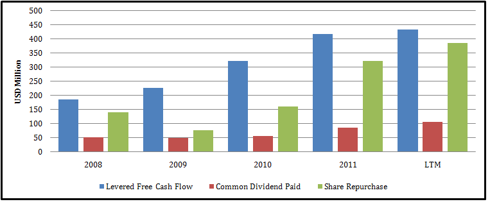 5. HLF has a proven record of beating revenue, EBITDA, and EPS estimates. Over the past 5 quarters, the firm has consistently exceeded market expectations by sizable surprises (see below).

6. Analysts are extremely bullish on the stock. Of the 10 ratings, there are 8 strong buys and 2 buys. The mean target price of $77.56 represents a 52% upside. Caris & Company has recently upgraded its rating to buy from average and raised the target price significantly to $86 from $39.
Bottom line, the substantial undervaluation and strong fundamentals indeed provides investors a solid margin of safety. Thus, I strongly recommend acquiring the stock at the current price or selling an out-of-money put option if a lower valuation is more attractive to you.
Comparable analysis table and free cash flow chart are created by author, other tables are sourced from Capital IQ, and all financial data is sourced from Morningstar, Yahoo Finance, Capital IQ, and Thomson One.
Disclosure: I am long HLF.