U.S. investors can achieve some economic recapture of foreign tax withholding on their foreign dividend stocks through their U.S. tax returns.
However, if foreign dividend taxes are withheld for investments held in IRA's, 401-k's or other tax deferred or tax-exempt accounts, there is no equivalent method for economic recapture of some or all of foreign dividend tax withholding.
Consequently, investors should be aware of which dividend stocks pose the tax withholding problem and which do not. That is primarily, but not entirely a function of the country of domicile of the dividend stock.
This is not to say that investors should avoid attractive stocks merely because of withholding of dividend taxes. Dividends are only part of the total return story. But, if an investor is dividend seeking, then it is a reasonable idea to try to find yield that is undiminished by withholding. To do otherwise, might be to assume extra levels of risk in order to achieve the same net yield as available from a stock that is not subject to dividend tax withholding.
For example, a company subject to 30% withholding, as in France, would need a gross (pre-withholding) yield almost 43% higher to create the same net yield as another stock not subject to withholding. A French company, therefore, all other things being equal, would need a 5.7% gross yield to equal a 4% gross yield from a U.K. company that would not be subject to dividend withholding tax. That yield differential may put the two stocks in different risk levels.
N.B. We are not tax experts. We are investors seeking to minimize taxes. Do not rely exclusively on this article. Do your own research or consult your tax advisor for final verification of any tax matter.
Withholding Rates By Country:
This table, based on a Dow Jones information release, lists countries by the level of dividend withholding tax they impose: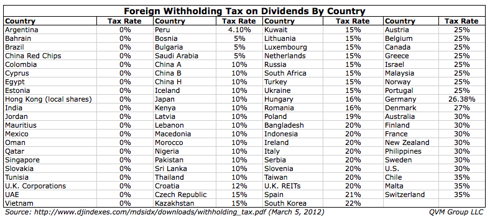 Franking:
The reason we said that the level of withholding is primarily but not entirely a function of the country of domicile, is that some countries may allow for "franking" (Australia does).
Franking, is the partial or full payment of the withholding taxes by the company, with the result that investors experience no withholding or less withholding.
Here, for example, is what the Australian tax authorities say about "franking":
"Non-resident withholding is where payers are required to withhold an amount from interest, unfranked dividend and royalty payments to non-residents. …

Withholding rates are:

• generally 10% for interest

• generally 30% for dividends, unless an international agreement applies - however, the tax treatment of a dividend will depend on a number of circumstances and whether it has been franked.

If a dividend is from a public company and has been fully franked, income tax has already been taken out before being paid to a shareholder. No further amount needs to be withheld. If a dividend is partially or completely unfranked, an amount must be withheld from the unfranked amount."
While we cannot be entirely certain, it appears that BHP (the Australian ADR for BHP Billiton plc) is partially franked. However, since the other BHP Billiton plc ADR (BBL) is U.K. based, paying a higher net yield (not subject to dividend tax withholding), we would tend to chose BBL over BHP in the mining space.
BBL has a 3.8% yield, while BHP has a 3.30% net yield after withholding, according to Morningstar -- the result of withholding and perhaps some franking.
Dual Listing Companies:
That dual listing approach can also be useful in cases not involving franking. For example, Royal Dutch has dual listings, with one share class in The Netherlands (subject to 15% withholding) and the other in the U.K. (not subject to withholding). The result is a higher net yield for the U.K. shares. That may be relatively unimportant to investors in regular taxable accounts, but for tax deferred or tax exempt accounts, the withholding is lost when owning the Netherlands domiciled shares.
RDS.B is the U.K. share class, and RDS.A is the Netherlands share class of Royal Dutch.
RDS.B has a 4.88% projected yield according to Morningstar, whereas RDS.A has a projected yield of 4.31%. The former does not have withholding, but the latter does.
There are not many of these dual listed situations, so the issue will usually be to determine if the withholding costs of a stock domiciled in a country requiring withholding is overshadowed by the capital appreciation of the stock. If not, then selecting a stock from a non-withholding country may make more sense -- particularly for dividend oriented investors.
Broker Choices for IRA Accounts:
Some countries, such as Australia, withhold lower rates for tax-deferred accounts than regular taxable accounts. Australia, for example, appears to withhold 30% on regular accounts and only 15% on verified retirement accounts.
There is the rub -- how to verify that an account is a valid tax-deferred retirement account.
If your broker takes care of that then all is well. If the task is up to you, then you may as well forget about it unless you have invested very large sums.
Presumably, brokers like Schwab and Fidelity have been pre-certified by Australia to represent that an account is a valid tax-deferred account. They get the job done efficiently and invisibly.
If, per chance, you use a broker who does not do that (we have heard there are some, but don't have direct knowledge of that) then you would be highly challenged in terms of a learning curve, time and expense to get the job done yourself -- making the more favorable rate virtually unattainable.
Just to be safe, if you use a small Brand X broker, ask to make sure they take care of that for you.
List of Dividend Stocks Without Withholding:
Should this issue be of interest or concern to you, we have compiled a list of all non-U.S. stocks available in the U.S. that are from zero withholding tax domiciles, and that also have a 3-month average daily dollar trading volume of at least $10,000, and that as of 06/29/2012 had a yield of at least 2%.
None of these names are either recommendations to buy or sell. They are solely and merely a listing of those stocks that meet the criteria itemized above, for those seeking to avoid foreign dividend withholding taxes in tax deferred or tax exempt accounts.
Ticker
Company name
Country
YPF
YPF SA (ADR)
Argentina
TEO
Telecom Argentina S.A. (ADR)
Argentina
TK
Teekay Corporation
Bermuda
PRE
PartnerRe Ltd
Bermuda
NAT
Nordic American Tanker Ltd
Bermuda
FRO
Frontline Ltd.
Bermuda
MRVL
Marvell Technology Group Ltd.
Bermuda
ALTE
Alterra Capital Holdings Ltd
Bermuda
ENH
Endurance Specialty Holdings
Bermuda
AXS
Axis Capital Holdings Limited
Bermuda
GLNG
Golar LNG Limited
Bermuda
AHL
Aspen Insurance Holdings Ltd
Bermuda
AGO
Assured Guaranty Ltd.
Bermuda
SFL
Ship Finance International Lim
Bermuda
LAZ
Lazard Ltd
Bermuda
TGP
Teekay LNG Partners L.P.
Bermuda
SDRL
Seadrill Ltd
Bermuda
TOO
Teekay Offshore Partners L.P.
Bermuda
VR
Valid

U.S. Holdings, Ltd.

Bermuda
BIP
Brookfield Infrastructure Part
Bermuda
TGH
Textainer Group Holdings Ltd
Bermuda
TNK
Teekay Tankers Ltd.
Bermuda
ELP
Comp. Paranaense de Energi
Brazil
SID
Comp. Siderurgica Nacional
Brazil
BAK
Braskem SA (ADR)
Brazil
ABV
Companhia de Bebidas das
Brazil
VIV
Telefonica Brasil SA (ADR)
Brazil
GGB
Gerdau SA (ADR)
Brazil
UGP
Ultrapar Participacoes SA (ADR
Brazil
PBR
Petroleo Brasileiro SA (ADR)
Brazil
CIG
Companhia Energetica Minas
Brazil
FBR
Fibria Celulose S.A. (ADR)
Brazil
BRFS
BRF Brasil Foods SA (ADR)
Brazil
OIBR
Oi SA (ADR)
Brazil
VALE
Vale SA (ADR)
Brazil
SBS
Comp. de Saneamento Basico
Brazil
ITUB
Itau Unibanco Holding (ADR)
Brazil
BBD
Banco Bradesco SA (ADR)
Brazil
GOL
Gol Linhas Aereas Inteligentes
Brazil
CPL
CPFL Energia S.A. (ADR)
Brazil
TAM
TAM S.A. (ADR)
Brazil
CZZ
Cosan Limited(ADR)
Brazil
BSBR
Banco Santander (Brasil) (AD
Brazil
HLF
Herbalife Ltd.
Cayman Islands
CIB
Bancolombia S.A. (ADR)
Colombia
EC
Ecopetrol S.A. (ADR)
Colombia
CHL
China Mobile Ltd. (ADR)
Hong Kong
CEO
CNOOC Limited (ADR)
Hong Kong
FMCN
Foc

us Media Holding Ltd (ADR

Hong Kong
ASR
Grupo Aeroportuario del Sures
Mexico
CPA
Copa Holdings, S.A.
Panama
BT
BT Group plc (ADR)
United Kingdom
ESV
ENSCO PLC
United Kingdom
GSK
GlaxoSmithKline plc (ADR)
United Kingdom
RIO
Rio Tinto plc (ADR)
United Kingdom
BCS
Barclays PLC (ADR)
United Kingdom
VOD
Vodafone Group Plc (ADR)
United Kingdom
UL
Unilever plc (ADR)
United Kingdom
BTI
British American Tobacco PLC
United Kingdom
AZN
AstraZeneca plc (ADR)
United Kingdom
DEO
Diageo plc (ADR)
United Kingdom
HBC
HSBC Holdings plc (ADR)
United Kingdom
BP
BP plc (ADR)
United Kingdom
NGG
National Grid plc (ADR)
United Kingdom
OTCPK:AAUKY
Anglo American plc (ADR)
United Kingdom
PUK
Prudential Public Ltd Comp.
United Kingdom
OTCPK:TSCDY
Tesco PLC (ADR)
United Kingdom
PSO
Pearson PLC (ADR)
United Kingdom
CUK
Carnival plc (ADR)
United Kingdom
WSH
Willis Group Holdings PLC
United Kingdom
IHG
InterContinental Hotels Group
United Kingdom
BBL
BHP Billiton plc (ADR)
United Kingdom
XRTX
Xyratex Ltd.
United Kingdom
RDS.B
Royal Dutch Shell plc (ADR)
United Kingdom
This chart identifies the industry for the same list of stocks.
Ticker
Ind

ustry

YPF
Oil & Gas - Integrated
TEO
Communications Services
TK
Water Transportation
PRE
Insurance (Property & Casualty)
NAT
Water Transportation
FRO
Water Transportation
MRVL
Semiconductors
ALTE
Insurance (Property & Casualty)
ENH
Insurance (Property & Casualty)
AXS
Insurance (Property & Casualty)
GLNG
Water Transportation
AHL
Insurance (Property & Casualty)
AGO
Insurance (Property & Casualty)
SFL
Water Transportation
LAZ
Investment Services
TGP
Water Transportation
SDRL
Oil Well Services & Equipment
TOO
Water Transportation
VR
Life Insurance
BIP
Electric Utilities
TGH
Rental & Leasing
TNK
Water Transportation
ELP
Electric Utilities
SID
Misc. Fabricated Products
BAK
Chemical Manufacturing
ABV
Beverages (Alcoholic)
VIV
Communications Services
GGB
Iron & Steel
UGP
Retail (Specialty Non-Apparel)
PBR
Oil & Gas - Integrated
CIG
Electric Utilities
FBR
Paper & Paper Products
BRFS
Food Processing
OIBR
Communications Services
VALE
Metal Mining
SBS
Water Utilities
ITUB
Regional Banks
BBD
Money Center Banks
GOL
Airline
CPL
Electric Utilities
TAM
Airline
CZZ
Oil & Gas Operations
BSBR
Regional Banks
HLF
Personal & Ho

usehold Products

CIB
Regional Banks
EC
Oil & Gas Operations
CHL
Communications Services
CEO
Oil & Gas Operations
FMCN
Advertising
ASR
Misc. Transportation
CPA
Airline
BT
Communications Services
ESV
Oil Well Services & Equipment
GSK
Major Drugs
RIO
Metal Mining
BCS
Regional Banks
VOD
Communications Services
UL
Food Processing
BTI
Tobacco
AZN
Biotechnology & Drugs
DEO
Beverages (Alcoholic)
HBC
Regional Banks
BP
Oil & Gas - Integrated
NGG
Electric Utilities
AAUKY.PK
Metal Mining
PUK
Insurance
TSCDY.PK
Retail (Grocery)
PSO
Printing & Publishing
CUK
Recreational Activities
WSH
Insurance (Miscellaneo

us)

IHG
Hotels & Motels
BBL
Metal Mining
XRTX
Computer Storage Devices
RDS.B
Integrated Oil & Gas
This table provides the web address of each of the companies listed above.
Disclosure: QVM has positions in GSK, BTI, VOD, BBL and RDS.B as of the creation date of this article (July 7, 2012).
General Disclaimer: This article provides opinions and information, but does not contain recommendations or personal investment advice to any specific person for any particular purpose. Do your own research or obtain suitable personal advice. You are responsible for your own investment decisions. This article is presented subject to our full disclaimer found on the QVM site available here.