Smith & Wesson (SWHC) designs, manufacturers, and markets revolvers, pistols, rifles, shotguns, and handcuffs. The company distributes the products to law enforcement (9%), military (5%), and retail stores (78%) primarily in the US (92%), Asia (4%), and Europe (3%).
Investment Thesis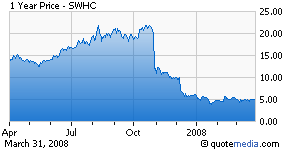 SWHC is compelling based on the value of their existing business coupled with their sizable opportunities for future growth of which the market is attributing essentially zero value. SWHC has the most recognizable brand in the firearm industry and is using this brand awareness to expand sales in long guns, law enforcement, and military. The stock has been killed (-76%) since November after the company missed Q2 FY 2008 earnings and suspended guidance for FY 2008. The shortfall was due to an inventory build at the retail level as unseasonably warm weather shortened the hunting season and consumer spending slowed. I estimate the stock is worth $6-7 for the existing business with significant upside if they win military or law enforcement orders as discussed below.
Stock implosion evaporated future growth valuation, business appears to be stabilizing
The recent sell-off in SWHC has evaporated the premium valuation that the market was attributing to future growth opportunities which I think are sizable. I estimate the valuation here is fairly attractive for the existing business and is ignoring much of the potential upside from long gun expansion, police orders, and military orders. SWHC is yielding FCF% of 8.21% for next year and is trading at 15x earnings and 7.3x EBITDA. Keep in mind that this year (FY 2008) is not a good indicator of SWHC's true earnings power because of the retail inventory glut which prompted aggressive promotional activity and an extended plant shutdown in Q3 which negatively impacted gross margins by -3.7% in Q3 (from 28.7% to 25%) . Our FY 2009 forecast is conservative based on street estimates and I think captures the baseline earnings power of SWHC. I am comfortable paying 15x earnings for a company that is growing EPS +35% and EBITDA +19%. The below valuation ignores the possibility of future police and military orders which I will discuss later.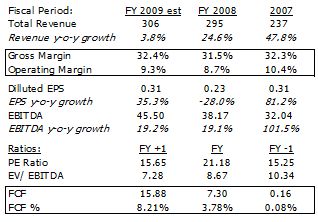 Last month, SWHC reported Q3 earnings and the company appears to be stabilizing (see conference call transcript). SWHC reduced inventories and noted encouraging buying patters in January and February. However SWHC did say they plan to keep the current promotion (rebates) in place for Q4 which will pressure margins. I estimate the promotional rebates compressed Q3 gross margins from 32% to 25%. The stock has been crushed over the past few months as jittery investors ran for the exit fearing the worst once SWHC suspended guidance. It appears the business is stabilizing and I believe the stock has put in a bottom.
Competitive advantages should help expansion, Huge market potential
Competitive advantages include a leading market share in revolvers and pistols, strong brand awareness stemming from the company's 150+ year history, and innovative new products. SWHC is using their prevalent brand awareness to expand into long guns, military, and law enforcement. The US firearm market is very big and offers SWHC plenty of opportunity to grow sales. Traditionally SWHC had focused primarily on hand guns but the February 2006 launce of a tactical rifle and the January 2007 acquisition of Thompson have provided SWHC with entry into the long gun market. SWHC recent release of the Military & Police (M&P) tactical rifles and pistols has been well received. SWHC has won 90% of the tactical riffle contracts and 80% of all law enforcement and evaluation processes and has been selected by 309 law agencies. As you can see below, the US market is large and SWHC still has plenty of room to grow market share.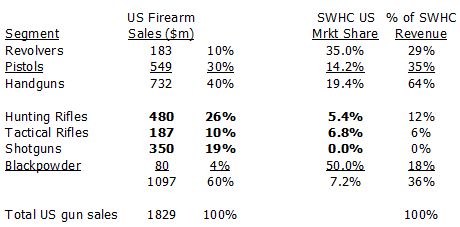 There is a lot of room for SWHC to grow especially in hunting rifles, tactical rifles, and shotguns. SWHC launched its first shotgun model in April 2007. The terminal year in my DCF model (2015) assumes $535m in revenue which equal a ~27% market share of the US firearm industry in 2007 dollars. I think this is reasonable given that SWHC currently has a 35% market share in revolvers and I expect the US firearm market to grow sales over the next seven years.
Law enforcement presents future growth opportunities
SWHC introduced the Military & Police Series in January of 2006 and since then the tactical rifles and pistols have been well received. The M&P pistol is a relatively innovative product within the industry and is differentiated by interchangeable grips that come in three sizes to better fit the shooter's hands. The new firearms have an extremely high win rate with law enforcement agencies which bodes well for future orders. SHWC won 90% of the tactical riffle contracts and 80% of all law enforcement and evaluation processes and has been selected by 309 law agencies. Recently SWHC M&P pistols were selected by the Colorado Springs PD, Atlanta PD, and Colorado State Police. During Q3 2008, sales for M&P pistols saw yr/yr growth of +43% and tactical riffles increased +67%. During 2007, SWHC saw sales increase +126%. In terms of market share, SHWC currently has 10% of the US law enforcement market (Glock 22 is the market leader) whereas at one point SHWC had over 90% of the market.
Potential US military contracts, SWHC front runner for Air Force contract
The US military is expected to select a new standard sidearm in .45 caliber sometime in 2008 to replace the Beretta 9mm pistol. Such a contract, should all four branches replace the Beretta ,would represent nearly $500m in revenue over a 3-5 year period to the winner of the contract. The Air Force included in its 2009 budget request sent to the House Armed Services committee a request for 110,600 handguns with "improved ergonomic design and high caliber effectiveness" at $1,157 each (~$116m total). Given the success of the M&P line with law enforcement I think SWHC is a front runner for this contract. Keep in mind that company wide sales are ~$300m and the market cap is $200m so a contract of this magnitude would really move the needle. As I mentioned earlier, the recent sell-off has evaporated any implied growth premium for these contracts so any order would be incremental upside.
High short interest, insider buying
As icing on the cake, SWHC has a fairly high short interest (16.7% of the float) which could add fuel to an upward move. Additionally, company insiders have started buying shares (albeit slowly). Four insiders (CEO, CFO, and 2 VPs) have bought a combined 24k shares within the past two days at average cost of $4.80. Clearly this is a very small purchase but an encouraging sign nonetheless. There were no insider buys after Q2 2008 earnings.
Inventories remain at the retail level negatively impacting sales and prolonging promotional activity. I expected Q4 margins to be hurt by continued rebates but the company indicated that inventory was being worked down.
Law enforcement orders slow. With the combination of only 10% of the market and the extremely high win rate for the M&P series, I think SWHC will continue to win law enforcement orders
The military opts to keep the Beretta or SWHC does not win the contracts. At under $5 a share I do not think there is any value attributed to these future contracts so this risk looks minimal.
Increased regulations regarding gun ownership, legal specifications, and availability.
Timeline (click to enlarge image)

Disclosure: I am long SWHC.