OncoSec Medical
OncoSec Medical (NASDAQ:ONCS) focuses on developing anti-cancer agents delivered to patients through electroporation technology at tumor sites. This electroporation technology dramatically improves the permeability of the patient's cell membrane and subsequently allows for an exponential increase in the uptake of drug. Furthermore, the electroporation delivery technique is advantageous over other delivery techniques in that it has minimal carrier issues and is cost effective for the patient.
images

Source: http://www.vgxi.com/eng/technology/electroporation.php
The company has both core and non-core assets that appear to be quite promising. The core assets and main investment drivers for OncoSec are all grouped into the Interleukin-12 (IL-12) immunotherapy program which delivers IL-12 DNA plasmid with the help of OncoSec's own electroporation devices.
The IL-12 program currently has three phase II product candidates in clinical development. Intervening data points for all three candidates should be available by the fourth quarter of this year. Also regarding the feasibility of the IL-12 program, it is worth noting that IL-12 has had past success via Dr. Steven Rosenberg's studies at the National Cancer Institute in Bethesda, Maryland.
If the company can demonstrate efficacy in these phase II interim updates, the value of the IL-12 program should increase significantly and the stock price might very well double or triple given the past price action as well as the extreme volatility associated with ONCS shares.

Source: clincaltrials.gov
In addition to the IL-12 program, ONCS also has a promising non-core asset in its OMS ElectroChemotherapy program. The program, which utilizes a chemotherapeutic agent called bleomycin, is currently in a Phase III trial and has shown validated success as an alternative to surgery and radiation treatment options. This success is likely to lead to future corporate partnering opportunities and unlock new commercialization opportunities as stated in the company's letter to shareholders two months ago.
Current price targets for the company are set at $2.00 and $2.50 per share by analysts at Noble Financial Capital and Vista Partners, respectively.
Vical
Vical (NASDAQ:VICL) is a biopharmaceutical company focused on developing vaccines to treat oncology and infectious disease indications by utilizing a plasmid DNA (pDNA) creation technique. On a very basic level, Vical's technology combines genetic material with empty plasmids to construct new plasmids which are then used as the basis for a vaccine.
Vical's core pipeline asset is Allovectin-7, which is a DNA vaccine currently in Phase III trials to treat malignant melanoma. The company is partnering with AnGes, a Japanese pharma company, and Teva to develop Allovectin-7. AnGes is funding the clinical trial expenses for Allovectin and owns the substantial marketing rights to the vaccine in both Japan and Asia.
Teva, on the other hand, was granted an exclusive sales and marketing license for the vaccine in Israel in exchange for milestone payments. Vical therefore still retains the rights to Allovectin in the US and EU.
These partnerships along with many others demonstrate Vical's excellent management team and will be key going forward as the Phase III data becomes available. This Phase III data will likely be made public in late 2012 as cited by CEO Vijay Samant in a presentation at the Citi 2012 Global Healthcare Conference in late February.
There are several non-core assets that could also provide upside to the company's equity value. For instance, the company has two additional independent vaccines in their development pipeline as well as six other collaboration products that are either being developed or already being marketed. The most promising of these non-core pipeline assets seems to be the TranVax vaccine in development for the treatment of Cytomegalovirus (CMV) infections.
In 2011, Vical granted exclusive, worldwide, royalty-bearing licenses for TransVax to Astellas Pharma. The agreement provides Vical with $130 million in total upfront and milestone payments through the vaccine's launch as well as double-digit royalties on net sales of the vaccine. Of the $130 million, $25 million has already been paid, $10 million may have already been paid upon finalization of Phase III trial design in the first half of this year, and potentially $95 million in cash payments will be made via the achievement of further milestones.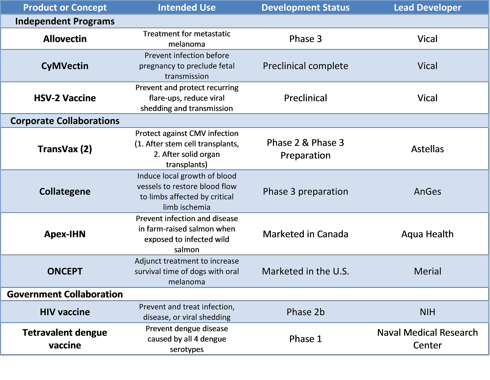 Source: Adapted from 2011 10-K
Of the five analysts covering Vical, four have buy or outperform ratings with price targets ranging from $5.00 to $9.00 with a mean target estimate of $7.00 per share.
In addition to favorable analyst ratings, it is also worth noting that Vical has a fairly strong balance sheet. Vical has just $1.9 million in long-term debt and has roughly $91 million or $1.06 per share in cash. Such a strong liquidity balance should bode well for Vical heading into the second half of 2012.
Sangamo Biosciences
Sangamo Biosciences (NASDAQ:SGMO) is a biopharmaceutical company whose primary focus is to develop and commercialize zinc finger DNA-binding proteins (ZFPs) which can then be engineered to produce certain therapeutic outcomes. The company is still in the research or pre-clinical phase for the majority of its pipeline assets but has several ongoing clinical trials for its SB-728 product candidate.
SB-728 is a drug aimed at treating HIV/AIDS and could be a huge breakthrough in the battle against the disease that is estimated to affect over 33 million people worldwide. The results from the Phase I clinical trials proved the drug's efficacy as well as its safety. Ongoing Phase II and I/II clinical trials will help determine if the drug continues to be successful in a larger sample size. Nonetheless, the market opportunity for Sangamo's SB-728 is tremendous.

Source: 2011 10-K and Clinicaltrials.gov
The CDC estimates that in the US alone there are over 1.2 million people living with HIV/AIDS and over 50,000 new cases each year. Current treatment for HIV infection involves preservation strategy of antiretroviral drugs engineered to decrease viral replication and keep the infection in line. About 30 antiretroviral drugs have been approved by the FDA and none of them can completely eliminate HIV from the body. As a result of the potential for Sangamo's SB-728-T program, several analysts have assigned premium price targets to the company's stock.
Five analysts currently cover Sangamo and of those five, the price targets vary from $4.00 to $9.00 with the mean target being $7.00 per share.
The following chart consists of comparable metrics for ONCS, VICL, & SGMO, respectively:

Source: Company 10-Ks
Disclosure: I have no positions in any stocks mentioned, and no plans to initiate any positions within the next 72 hours.