I believe in making money. This requires avoiding the naysayer noise. Apple (AAPL) continues to lead the market in smart phones and tablets. Contrarians suggest Apple's growth days are over. The stock has increased from $20 to $600 over the past 12 years. Retirement income investors, based upon Apple's blue chip status, clearly have a vested interest in holding a reasonable allocation to Apple shares. The question is how to generate a monthly income with Apple's growth story. A reasonable allocation of retirement funds can generate a positive income stream. I'll highlight this method referred to as a synthetic covered call investing income strategy.

If making money was easy, then everybody would be a millionaire living in the Bahamas. Retirees can still assess if a synthetic covered call strategy is appropriate for their retirement account.
Anticipated Earnings and Revenue Growth
Analysts, per the below table, have used an earnings per share growth rate of 21%. This number has driven an estimated Apple per share valuation of $1,378.24 in 2014.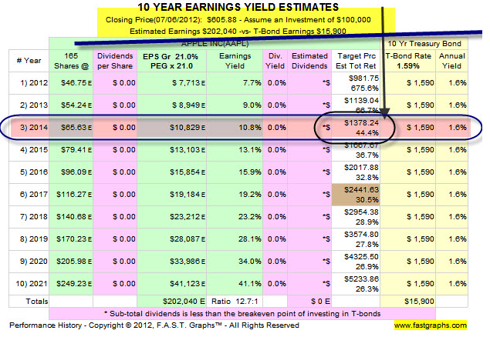 The table can't forecast unexpected competition or economic slowdowns. There is risk with every investment.
Valuation
Apple's valuation continues to trail its earnings per share growth rate and revenue growth rate.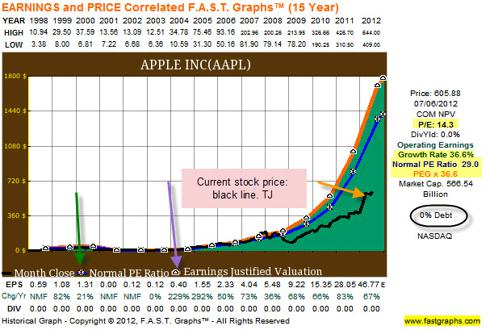 Apple is trading at a 14.3x price to earnings multiple. This is less than the operating earnings growth rate of 36.6%. If the cash per share is removed, the price to earnings multiple would be closer to 12x.
Apple must remain number 1 or number 2 in the smart phone and tablet industries. This is a reasonable assumption at the present time. The ecosystem, Apple apps and accessories, favors Apple's iPhone and iPad2 to retain their leadership positions.
Balance Sheet
Apple's balance sheet has zero debt. The cash flow grew in the past quarter to $14 billion from $6.2 billion. This is a in the year over year quarter comparison. The balance sheet has cash per share of approximately $110 per share.
Synthetic Covered Call
Retired investors can potentially receive covered call income if Apple shares stagnate or move upward. The strategy is called a synthetic covered call strategy. The trade has a zero cost basis and positive net income if Apple shares stay at $605 per share or higher. There are 3 key steps to this process.
1. Establish Synthetic Cover Call
Apple closed at $605 on July 6th. A retiree would require $60,500 for 100 shares of Apple. An alternative route is the synthetic covered call trade.

In the above image, the reader can see I am buying a January 2014 $610 call. This call provides the right to buy 100 shares of Apple at $610 through January 17th, 2014. Secondly, I am selling a January 2014 $610 put. This means I am obligated to buy 100 shares of Apple at $610 through January 17th, 2014.
The net result is a $1,040 credit to my brokerage account. I have funded the synthetic ownership of 100 Apple shares via this trade.
2. Sell and Hedge Short Term Positions
In this trade, I will sell an August $620 covered call and buy an August $570 protective put. The net result is a credit of $715 to my brokerage account.

At this point I have received $1,755 in income (credit) to my brokerage account.
3. Continuation of Covered Calls
I will continue to sell covered calls for income through January 2014. As long as Apple remains at its current price or higher, the net result will be a positive monthly income stream.
Goal
A retiree must be bullish on establishing a synthetic covered call position. I am very bullish on Apple. The company has zero debt, $110 net cash per share, industry leader, and is trading at a 14x price to earnings multiple.
One has to fully understand options to establish a synthetic covered call position by selling and buying a January 2014 options. Selling covered calls also has risk versus reward awareness requirements. If this risk versus reward awareness is acceptable, then the investor can sell covered calls against the position as long as Apple's stock price remains in the current $570 or higher range.
Disclosure: I am long AAPL.