In 1995 1 in 17 US households used self-storage facilities to store things and today 1 in 10 customers utilize the facilities rented from many of the evolutionary storage brands (source: Self Storage Association fact sheet). This growing demand is driven by the enhanced use of technology that has transformed the way in which self-storage operators learn about, respond to, attract, engage and ultimately, capture and retain customers.
The evolution of the self-storage sector is driven by technological advances that allow operators to capture customers from a variety of e-commerce points and sales centers. Accordingly, the larger storage operators continue to grow critical scale that allows them to build a more robust platform of marketing and information management.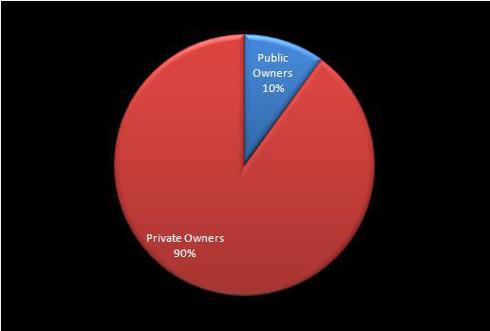 In an industry that remains widely fragmented, the self-storage sector consists of around 46,500 U.S. facilities (source: Self Storage Association fact sheet) and the publicly owned REITs control around ten percent of the sector. The four publicly-listed REITs include Public Storage (NYSE:PSA), Extra Space Storage (NYSE:EXR), CubeSmart (NYSE:CUBE), and Sovran Self Storage (SSS).

Self-storage demand is driven by mobility and US consumers are being increasingly exposed to brand differentiation. In an age driven by internet commerce, many of the leading storage REITs have developed sophisticated technological capabilities that enhance tangible competitive advantages that enable consistent customer engagement.
Accordingly, the more sophisticated operators have created strategic operational platforms that enable consumers to choose a relevant brand based upon unique services or facilities. One such REIT that is gaining broad recognition as a differentiated storage brand as well as a unique investment alternative is CubeSmart.
Based in Wayne, PA and operating around 478 facilities (March 31, 2012) across the US, CubeSmart is the fourth largest self-storage REIT. With around $1.94 billion in assets, CubeSmart owns around 376 facilities and manages (for third-parties) another 102 facilities. The portfolio is coast-to-coast and the largest concentration of facilities is in Florida (16.6 percent).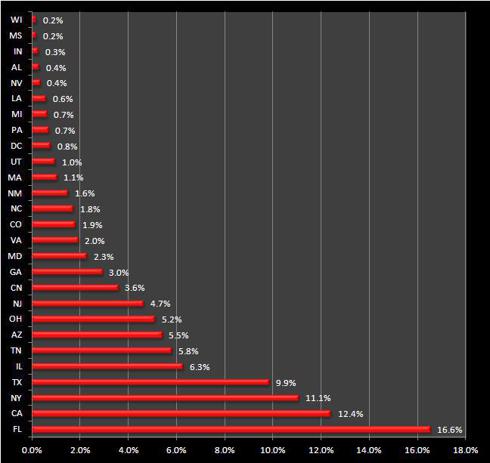 CubeSmart: Intelligently Repositioning Assets
Since 2008 CubeSmart has disposed of around $234 million in lower-growth (tertiary markets) assets and the proceeds have been strategically deployed into more attractive higher-growth "core" market facilities. Since 2008, CubeSmart has acquired around $265 million of "core" properties. In addition, CubeSmart closed (first pool closed on November 3, 2011) on a large portfolio (Storage Deluxe Portfolio) of around 22 assets (1.6 million square feet) predominantly located in the Greater New York City area.
The Storage Deluxe transaction established CubeSmart as the largest owner of self-storage assets in New York City and the properties were financed with a combination of publicly issued common and preferred equity, assumed debt, and new unsecured debt. All but one of the 22 assets have closed and the transformation of the $560 million portfolio should provide CubeSmart investors with increased revenue diversification, enhanced FFO and added brand enhancement.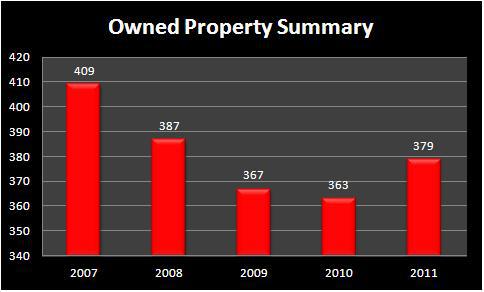 As of March 31, 2012 CubeSmart has closed on one asset in Houston and one in Atlanta for a total of $12 million. Acquisition guidance for 2012 is from $75 to $125 million and targeted dispositions range from $35 to $50 million.
CubeSmart: Conservative Capital Structure
CubeSmart was recently (December 20, 2011) rated BBB- (investment grade) by S&P and Baa3 by Moody's. CubeSmart has improved its balance sheet considerably as the company's debt/gross assets have gone from 51 percent in 2008 (December 31, 2008) to 37 percent in 2012 (March 31, 2012). Here is a snapshot of CubeSmart's encumbered assets (51 percent) in 2008: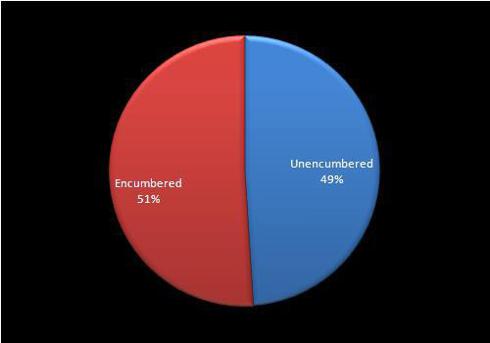 And today (as of March 31, 2012) CubeSmart has around 32 percent in encumbered assets: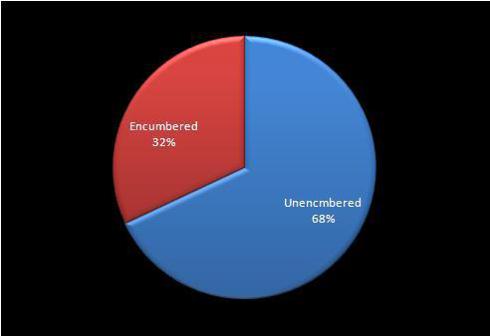 CubeSmart maintains a flexible balance sheet strategy consisting of secured debt (16 percent), unsecured debt (19 percent), preferred equity (3 percent), and equity (62 percent). With a broad array of capital sources, CubeSmart is able to execute peak performance on its diverse portfolio consisting of smaller individual assets (not conducive to collateralization).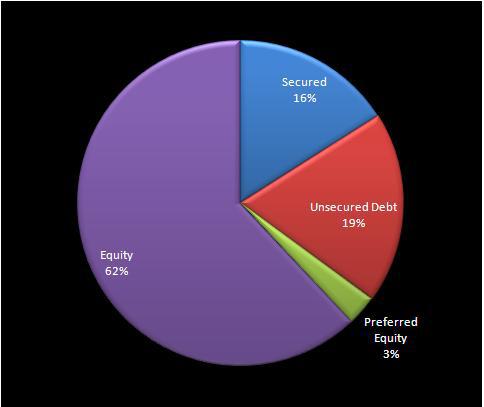 CubeSmart: Robust Revenue Maximization
By developing a scalable self-storage brand, CubeSmart is able to maximize operational efficiencies and provide a differentiated model of revenue and profitability. As a measure of performance, CubeSmart has improved its rent per square foot profile from around $11.00 psf (in January 2008) to around $12.75 psf currently. This increased revenue is directly correlated to the improved population fundamentals and the repositioning of certain assets and focus on "core" densely populated markets.
In 2008 (January), CubeSmart operated facilities in trade areas with around 100,000 people in a 3-mile radius and currently (March 31, 2012) CubeSmart owns facilities where the average 3-mile population is closer to 225,000 people. Today roughly 60 percent of CubeSmart's portfolio NOI is generated from "core" markets - up from 42 percent in early 2008. Here is a snapshot of CubeSmart's historical revenues from 2007-2011: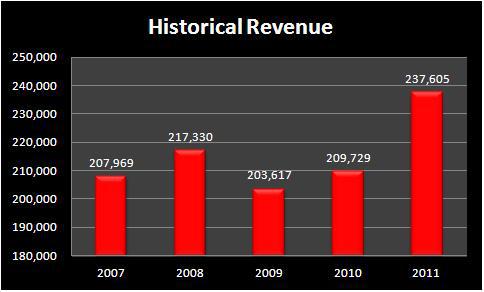 Analysts project CubeSmart revenue to top $275 million this year and, as noted above, the REIT's strategic asset repositioning initiatives and the company's increased third party management platform should enhance funds from operations. Analysts suggest 2012 FFO estimates of between $.70 to $.73 per share: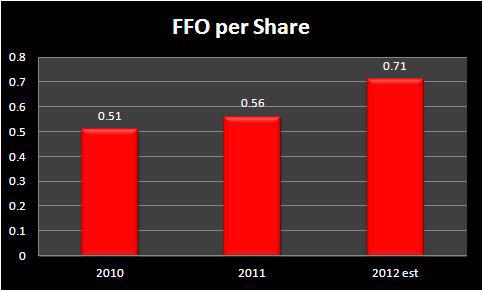 The current dividend yield is 2.69 percent and the current price is $11.91 per share (52-week high was $12.93 on May 1, 2012). Analysts' NAV estimates range from $10.16 - $12.50 per share and BOA Merrill Lynch and KeyBanc Capital Markets both recommend BUY ratings while BMO Capital Markets recommend OUTPERFORM ratings. Robert Baird recommends a NEUTRAL rating.
According to NAREIT, the self-storage sector consists of four REITs with a combined market capitalization of $30.611 billion (as of June 29, 2012) and the average dividend yield for the sector is 3.01 percent (compared with 3.29 percent for the entire equity REIT sector). Here is a snapshot of the CubeSmart's recent dividend payout history and its YTD 2012 payments:
Pick an Intelligent Preferred Paying 7.75%
Oftentimes the preferred shares fly under the radar and in the case of CubeSmart, the preferred CUBE-A shares (CUBEPrA) are perhaps the smartest option. CubeSmart, 7.75% Series A Cumulative Redeemable shares are rated Ba2 and callable on November 2, 2016. The current price is $26.20 and the current yield is 7.4 percent (yield to call 6.51 percent).
Comparable shares include Public Storage (Series U) or (PSAPrU) 5.625% rated Baa1/BBB+. Shares are callable on June 15, 2017 with a current price of $26.00 and a current yield of 5.4 percent.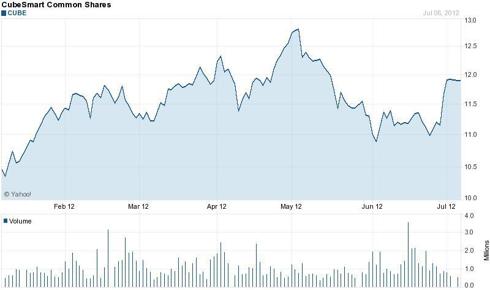 Disclosure: I have no positions in any stocks mentioned, and no plans to initiate any positions within the next 72 hours.