Instead of coming up with some quasi-catchy theme and story line to introduce a company I think should be considered for investment by you, the reader, I have decided to just cut to the chase and do what I seem to do best - serve up an investment idea and my rationale for the recommendation. Jack London is an author, I am merely a portfolio manager and analyst. Let's get to it.
Today's special on the investment menu is Kite Realty Group. Kite Realty Group Trust (NYSE:KRG), is a full-service, vertically integrated real estate company engaged in the ownership, operation, management, leasing, acquisition, construction, expansion, and development and redevelopment of neighborhood and community shopping centers in selected markets in the United States. The company owns interests in a portfolio of 63 operating and redevelopment properties totaling 9.3 million square feet and an additional two properties currently under development which, upon completion, are anticipated to have 0.4 million square feet of gross leasable area (including non-owned anchor space).
Why Retail?
People invest in REITs for two primary reasons, stability and income with capital appreciation as a secondary consideration.
Retail is typically a stable sector which grows with the economy and provides for some of the basic needs of consumers. While we are not currently in a "growth phase" of the economy (more of a sideways, almost flat real growth), people are still shopping for the core goods: food, clothing, and shelter related purchases (throw in a couple trinkets and pizza as well) - all of which are provided by the retail sector. As a result of this, and the relative underperformance over the past year, the retail REIT sector has produced the highest total returns of any broad based REIT sector this year - 21.15% versus the 14.91% turned in by the FTSE NAREIT All Equity REITs index. The shopping center subsector has produced total returns of 19.26%, outperforming all but regional malls and mixed use office/industrial. Stability, income and growth - this is why the retail sector is attractive.
Why Kite?
Operating Profile:
In order to create stable, consistent dividends, a REIT should have a diverse tenant roster with the top tenants being strong and stable anchors in order to attract and keep smaller tenants. Kite's top ten tenants are: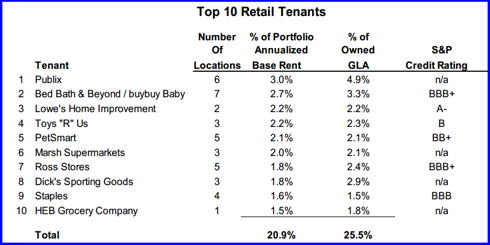 Kite's top ten tenants are strong anchors and there is not an elevated risk exposure to any of their top tenants.
Stability and growth also depend on occupancy. Kite's occupancy has stabilized at just north of 93%.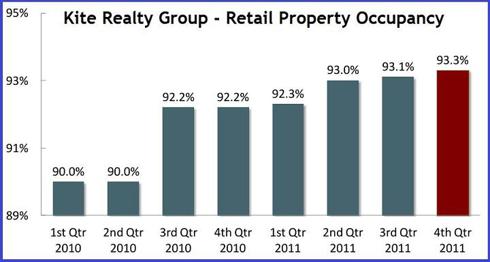 In the retail sector, 93% occupancy is strong as there is always tenant turnover. Compare this to the industry:

Importantly, the company has been growing net operating income at these higher levels of occupancy, indicating they have not been "buying" occupancy: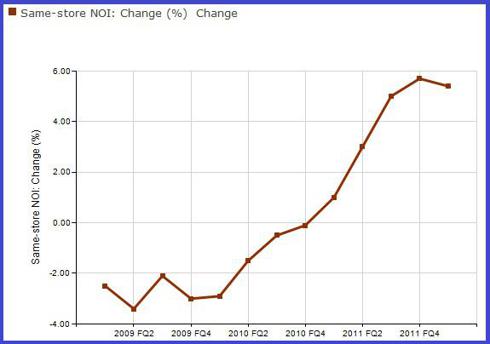 Source: Company data
Same store net operating income was used as it accounts for the majority of their operating properties. The 2009-2010 period were obviously difficult (as was the rest of the REIT world at that point), but since then, NOI growth has been strong. While down from its high of +5.7% to its current +5.4%, above 5% is a decent growth rate and can sustain their development pipeline and their distributions.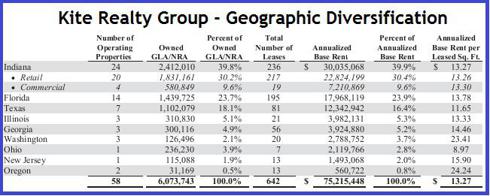 Kite's geographic profile is interesting, instead of focusing on contiguous areas, the company has operations concentrated in three disparate locations: Indiana (40%), Florida (24%) and Texas (18%) and six other states. While interesting, this does provide the REIT with regional diversity.
Financial Profile:
Kite Realty's capital structure is comprised of the following: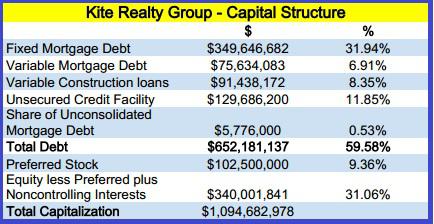 I would make the following observations on the capital structure:
Secured debt at approximately 48% of capitalization and and 80% of total debt is somewhat high (investment grade REITs are usually bound by secured debt to total debt of 40%) in my opinion.
Debt to undepreciated real estate assets is 50%, a little high but manageable.
Kite Realty's funds from operations has been volatile over the last few years and has resulted in a reduction of the common dividend while the payout ratio has dropped to a more conservative level:

The severe drop in FFO from 2008 to 2009 was due to a $9MM drop in net income, no sales within the portfolio (2008 had a $3MM loss on sale) and a reduction in depreciation.
As well, construction and service fee revenue was nearly halved (2008 the line item produced approximately $40MM in revenue or 27% of total revenues while in 2011 the line item was only $373M, or 37bps of revenues). While the reduction in the construction line item has dropped revenues, income and FFO considerably, I believe it leads to a higher quality earnings stream.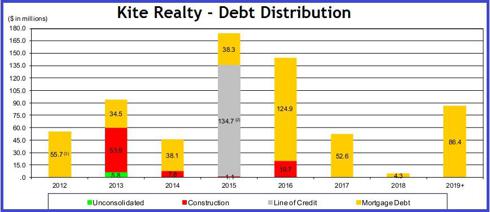 Kite Realty has a well distributed debt maturity schedule, with 2015 having the largest maturity and that is due to the maturity of their line of credit. The company should have adequate means of repaying their debt and renewing their credit lines.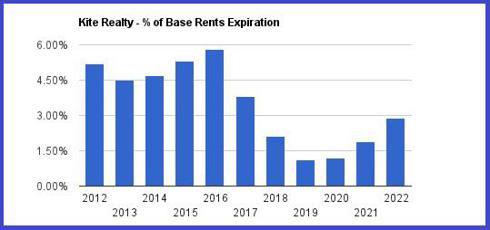 Kite's lease expiration schedule (as % of base rent) is front-end loaded, which overlaps their debt maturity schedule in a negative way. The REIT has been able to renew their leases at favorable rates in the last year, and they will have to continue to roll their leases at favorable rates while dealing with their maturing debt. This is always a challenge, but Kite seems to have managed both well historically.
Peer Comparison:
In order to see how the REIT is being valued, and how it stacks up within its industry, it will be compared to:

A couple things stand out in the comparison:
Kite has significantly more leverage than their peers, a concern noted earlier,
Kite trades at a discount to its peers on an FFO multiple basis, a discount to NAV basis and a price to book basis.
Investment Alternatives
As Kite Realty has no public debt, an investor's options are limited to equity and preferred stock.
The equity, as discussed earlier, trades at a discount to its peer group and has an attractive dividend yield of 4.74%.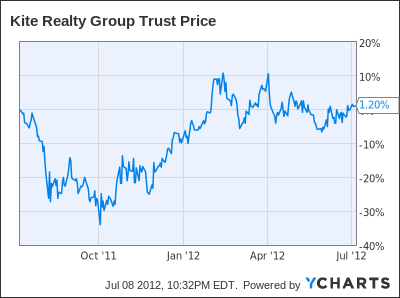 In the last year, the equity of the REIT is just above flat, YTD it is up only 7.89% and in the five year timeframe the equity is down a whopping 74%. This does not detract from the fundamental recovery and refocus story.
There is a preferred stock, the 8.250% Series A Cumulative Redeem Perp Preferred which was issued in 2010, has a redemption date of 12/7/2015 and at $25.60 has a current yield of 8.05%.
Bottom Line: Kite Realty Group Trust is a REIT getting refocused on their circle of competence and becoming a true operating REIT (winding down their construction business) in the shopping center space. The REIT is over-levered at 9.5x EBITDA and the secured debt is a bit high, but the company seems to be aware of this and has stated that reducing their leverage is a goal. The company has been growing NOI and same store results are strong. While not out of the leverage woods just yet, the common stock trades at a discount enough to offset this risk. The preferred stock is very attractive within their sector and from a yield standpoint. Both parts of the capital structure are attractive and should be considered for inclusion in an investor's portfolio.
Disclosure: I have no positions in any stocks mentioned, and no plans to initiate any positions within the next 72 hours.