As a long-term value investor, I generally don't trade a lot of options, but I do find that put writing is often an effective dual strategy that can be used either to generate current income or to acquire stock at reasonable valuations. I've found such an opportunity with Procter & Gamble Co. (NYSE:PG) options expiring in January '13.
The Jan '13 Procter and Gamble $60 put currently trades for $3.00 a share. With $5700 of cash required to cover ($6000 - $300 credit), writing this put yields 5.26% over the duration of the put - or just over 10% annualized, as 01/19/13 is a little more than six months away. This put option has gained in value recently due to P&G's dip.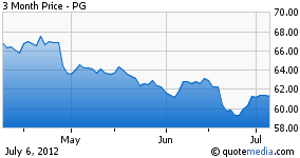 The factor that makes this an attractive income play is that Procter & Gamble has long-term support in the $59-$60 range. As you can see in the chart below, it has bounced off that line every time it has hit it, with the exception of Aug '11, right after the US credit downgrade - but it bounced back up within days. The chance of assignment is slim based on this long-term support line.
Click to enlarge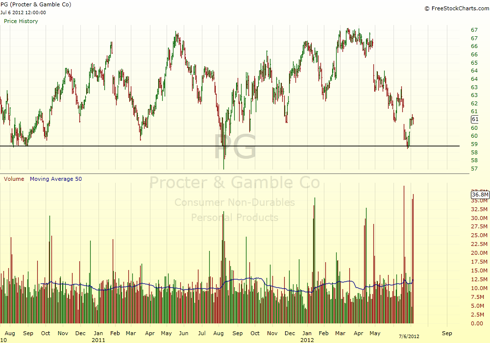 Source: FreeStockCharts.com
Even if assignment does occur, investors should be pleased with the position. Assignment would occur at a cost basis of $57.00, which would represent a P/E of 17.7 and a dividend yield of 3.93%. This is an attractive entry point to a quality stock that has increased dividends for 55 consecutive years.
In conclusion, writing the $60.00 Jan '13 puts is a win-win trade. Investors either get shares of P&G at a very attractive price, or they get a 5.26% cash "interest" payment for their trouble.
Investors may also wish to consider the $57.50 Jan '13 puts, which can be written for a $2.00 credit. This works out to a 6.8% annualized yield, and the $55.50 entry point is even more attractive. As I personally believe P&G is unlikely to breach the $59 support line, I prefer the $60 put - but both provide decent yield.

Disclosure: I have no positions in any stocks mentioned, and no plans to initiate any positions within the next 72 hours.
Additional disclosure: I may initiate either of the trades mentioned in the next 72 hours.
Disclaimer: I am an individual investor, not a licensed investment advisor or broker dealer. Investors are cautioned to perform their own due diligence. All information contained within this report is presented as-is and has been derived from public sources & management. Always contact a financial professional before making any major financial decisions. All investments have an inherent degree of risk. The future is uncertain, and actual results may be materially different from those expected. Past performance is no guarantee of future results. All views expressed herein are my own, and cannot be interpreted as the views of my employer(s) or any organizations I am affiliated with. Presentation of information does not necessarily constitute a recommendation to buy or sell. Never make any investment without conducting your own research and reading multiple points of view.