Over the past few years, the solar market has undergone dramatic upheavals. Several companies have filed for bankruptcy, such as Evergreen Solar and Q-Cells. And with subsidies around the world under pressure, many are skeptical of solar's potential to be profitable in the long-run. We, however, do not share such skepticism, and believe that the best way to invest in the solar energy market for the long-term is through First Solar (FSLR).
We last wrote about First Solar in December and since then have traded in and out of First Solar, buying and selling when we felt the time was right. But recently, we have come back to the company, and now, we plan on holding our shares for some time. There are several reasons for our belief that now is an ideal time to invest in First Solar for the long-term. There are several things happening in the industry, and with First Solar, that make us believe that things are looking up for the leading American solar company. We delve into our bullish thesis below, with a focus on two things: the bankruptcies and financial woes of the First Solar's competitors, and its financial strength.
Solar Bankruptcies: This is Just the Beginning
Industry analysts have long said that given the pricing dynamics and trends within the solar industry, there are simply too many companies trying to compete, and that bankruptcies and mergers are among the things necessary to restore some semblance of order to the solar industry. In the past 2 years, there have been multiple solar bankruptcies, including those of Evergreen Solar, Abound Solar, Solyndra, and Q-Cells. There are simply too many solar companies in the market, and these American and European companies could not compete. So far, Chinese solar companies, seen by many as a core cause of the supply & demand imbalance in the industry, have avoided bankruptcy.
However, we think that this is something that Chinese companies will soon be unable to avoid. Their finances are far too precarious to be able to continue operating in this kind of industry. LDK Solar (LDK), one of China's leading solar companies, is a prime example. Given the state that is it in, bankruptcy is becoming more and more of a possibility. LDK recently reported its Q1 2012 results, and as expected, the company posted a steep loss of $1.46 per share, or $185.169 million. On its own, that says little. After all every solar company is mired in red ink. Even First Solar posted a loss in its last quarter of 8 cents per share after backing out restructuring charges. What makes LDK Solar different is its financial position.
LDK ended its last quarter with $739.045 million in cash and pledged bank deposits. Its debt burden, however, rose to $3.393574 billion, including over $2.2 billion that is due within the year. Given the company's outlook and expected losses for the remainder of 2012, the company's balance sheet is only set to worsen as the company continues to bleed cash. The financial strain LDK is in has already begun to show. JYT Corporation, on of LDK's equipment suppliers, has sued LDK for terminating its contract with the company. And according to observers within China, customers are already suspending orders with LDK due to worries over its financial ability to deliver product. In addition, yields on LDK's three-year (maturing in December 2014) yuan-denominated debt reached a record, rising to 7.48% on July 5.
It is important to note just what kind of debt LDK has on its balance sheet, something that analysts at Maxim Group think investors should be aware of. LDK's debt is not to some development agency at of the Chinese government. It is to China's publicly traded banks, which despite the fact that they are controlled by the government, are for-profit institutions. As analyst Aaron Chew stated, "the money LDK owes isn't to the government, it's to publicly traded Chinese banks. They totally expect to get their money back. They're not just going to eat $3 billion." Given the fact that LDK is supposed to pay over $2 billion within the year, the company's fate will likely be determined within the next 12 months. Auriga believes that LDK is living in "fantasy land" and that its debt will only continue to hamper the company's ability to do business. The firm writes that, "the company [LDK] is representative of all that is wrong with the Chinese solar PV manufacturing base, which serves as a large-scale employment welfare scheme subsidized and fully underwritten by the government."
LDK is by no means alone in its debt and balance sheet issues. As the entire industry bleeds cash, debt is piling up across Chinese solar companies. Suntech's (STP) net debt stood at $1.5998 billion in its latest quarter, and like LDK, its current debts were far more than its cash and investments of $663.8 million. Yingli Green Energy (YGE) and Trina Solar (TSL) are caught up in the same predicament, according to their latest balance sheets. Yingli has net debt of $1.645625 billion. Trina Solar is the strongest of the Chinese solar companies, relatively speaking. Its net debt is just $390.17 million, and the company's cash and investments are actually enough to cover its debts due in the next 12 months (our calculations of net debt for these companies includes restricted cash and pledged bank deposits).
We believe that within the next year, the Chinese solar market will transform. The debts carried on the books of Chinese solar companies are unsustainable, and sooner or later they will have to be resolved. Critics of our view may argue that the Chinese government will simply bail them out. We, however, do not think that such a rescue will be doable. Why? The answer is optics. China already has a reputation for unfairly subsidizing its businesses, especially the solar industry. The American government has already imposed anti-dumping duties on Chinese solar panels imported into the United States for this very reason.
Let us be clear, a certain level of solar (and green energy in general) subsidies is acceptable. The United States has demonstrated that and China has as well. But rescuing a solar company from bankruptcy is an action that goes beyond mere subsidies. It is something that interferes in the function of the market. Though the American government has helped the solar industry with loan guarantees, subsidies, and tax credits, it has never stepped in to stave off a bankruptcy (for the record, we do not wish for this article to become a forum in the debate over whether or not such solar subsidies are proper; that is a political, not financial discussion). Given China's desires to become a respected international trading partner and economic power, it would be impossible for the Chinese government to justify stepping in with an outright rescue of LDK, or any other Chinese solar company from bankruptcy. The government would be unable to provide a political justification on the world stage for doing so. The Chinese solar industry will likely be whittled down to somewhere between 1-3 companies that will then be able to bring some rationality to the solar market. Though China plans to quadruple its solar installations by 2015, we do not think that such a move will be able to save all the Chinese solar companies currently operating in the market. In any case, China's move will have an indirect benefit for First Solar.
First Solar's cadmium telluride technology has allowed the company to become one of the largest (and depending on the quarter, the largest) solar companies in the world by trading efficiency for cost. And in the past few years, First Solar has diligently worked on reducing cost and increasing the efficiency of its panels. One root of First Solar's present problems is that the collapse in the price of polysilicon has eroded a good deal of the company's pricing advantage. Given that China's plan to quadruple solar installations by 2015 will use Chinese companies, polysilicon prices will likely rise as the excess capacity in the market shrinks. In turn, that will help First Solar with its cost advantage, as its panels are developed with cadmium telluride.
First Solar's Financials: Long-Term Strength is Intact
First Solar has long been seen as the financial leader of the solar industry, and even with its recent issues, we think that the company still warrants that designation. We turn now to First Solar's balance sheet (unless otherwise noted, all figures below are derived from the company's latest 10-Q filing).
First Solar ended its last quarter with net debt of $114.584 million, excluding the company's restricted cash and investments, which is used for several purposes, including debt and interest payments, as well as the company's panel recycling program. Were this cash to be included, First Solar would have net cash of $167.942 million on its balance sheet. Critics may argue that First Solar is not financially strong, for it has net debt, just like all the Chinese solar companies we criticized above as being in a precarious financial position. There is a difference between First Solar and its Chinese peers, however. Unlike its Chinese peers, First Solar is set to be both profitable and cash flow positive in 2012 and 2013. In fact, in its last quarterly earnings release, First Solar raised its non-GAAP earnings (which exclude restructuring costs and abnormal warranty costs) and cash flow forecasts for 2012. First Solar now expects diluted EPS of $4-$4.50 for 2012, up from previous expectations of $3.75-$4.25. Operating cash flow guidance was raised to $850-$950 million, up from $800-$900 million. Based on analyst estimates for 2012 and 2013 earnings, First Solar is set to be one of only a few major public solar companies to post a profit in either of those 2 years (both SunPower and Trina Solar are set to return to profitability in 2013). We break down analyst forecasts for the major solar companies below.
Solar Industry Earnings Estimates (Reuters)

| | | | |
| --- | --- | --- | --- |
| Company | Ticker Symbol | 2012 EPS Estimate | 2013 EPS Estimate |
| First Solar | FSLR | $4.06 | $3.93 |
| SunPower | SPWR | -$0.13 | $0.46 |
| LDK Solar | LDK | -$3.49 | -$2.45 |
| Suntech | STP | -$1.85 | -$1.07 |
| Trina Solar | TSL | -$1.05 | $0.15 |
| Yingli Green Energy | YGE | -$0.97 | -$0.25 |
| Jinko Solar | JKS | -$5.20 | -$2.53 |
| Canadian Solar | CSIQ | -$0.97 | -$0.07 |
| Renesola | | -$1.86 | -$0.81 |
| JA Solar | JASO | -$0.48 | -$0.16 |
First Solar is the only company set to boost profits in 2012 and 2013, and given the slide the stock has seen, it is now trading at 3.697x 2012 earnings and 3.819x 2013 earnings (as of this writing). Why the drop in 2013 earnings? Given the current project pipeline First Solar has, timing the exact quarter earnings for a particular project will come in somewhat difficult. Income set for Q4 2012 may in fact be posted in Q1 2013. In our opinion, it is more important to think of 2012-2013 earnings as a transition. Though First Solar has net debt on the balance sheet, 2012 and 2013 will allow the company to strengthen itself ahead of its future transition. The company is set to post $7.99 in EPS in those 2 years, and will likely post operating cash flow of over $1.5 billion.
Beyond 2012 and 2013: Sustainable Markets, Sustainable Profits
The bigger question investors must answer is what happens after 2013? First Solar's restructuring plan calls for the company to transition to a utility-focused company by 2014. First Solar has largely abandoned the rooftop solar market, given the pricing dynamics of rooftop solar. We think that First Solar will be able to become a sustainably profitable solar company, and that 2012 and 2013 will give the company the financial strength it needs to survive and thrive.
As Merrill Lynch noted in its latest research report on First Solar (which it rates as a buy with a $30 target), the solar market is now at a point where no one country (even European markets such as Germany) is able to significantly impact the market. And First Solar has essentially abandoned markets where the only way it can compete is with government subsidies. Its 5-year plan targets what the company calls sustainable markets, with fundamental aspects that support solar.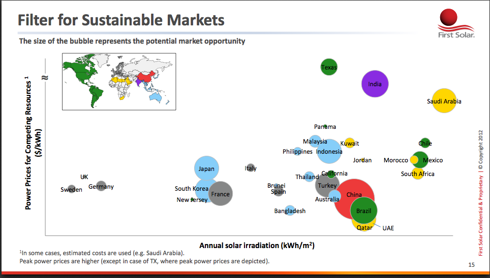 First Solar is becoming less and less reliant on "traditional" solar markets such as Germany and Italy, and the company's future will be in different countries, such as India and Saudi Arabia. We expect the company to provide more color on its long-term plans in its Q2 2012 conference call. On its last earnings call, the company was challenged by analysts as to how the utility-scale market (now First Solar's core market) will be able to avoid the "insanity" of the traditional market. First Solar chairman Michael Ahearn replied that in his view, utilities will not want to do business with companies that may not be doing business in a way that is financially sound from their end. These are long-term projects, and utilities need to have confidence that their partner will be around to manage these solar plants with them. First Solar's track record in the utility-scale business shows that the company has won such credibility. The company has done deals with GE (GE), NextEra (NEE), Sempra (SRE), PG&E (PGE), and Exelon (EXC), as well as a variety of other utilities.
Conclusions
With over 41% of First Solar's float sold short (and 28.378% of its outstanding shares shorted), we think that investors are being far too pessimistic on First Solar. With its stock at around $15, we think that the market is wrong in thinking that First Solar's future will be grim. In our view, the company is in good financial shape, and that 2012 and 2013 will allow its balance sheet to strengthen to meet its long-term goals. Given the fact that First Solar's competitors are in precarious financial shape, we think that there will soon be less of them. The company's long-term strengths, in both its financials and its business, are intact, and we think that the company is poised for long-term success in solar.
Disclosure: I am long FSLR.