We previously wrote a five part research analysis report series articulating our thesis as to why we disagree with Berkshire Hathaway (NYSE:BRK.B) with regard to investing in Ford (NYSE:F) versus General Motors (NYSE:GM). We applaud the results than Alan Mulally and his team at Ford have achieved in turning around that automaker. Mulally left The Boeing Company (NYSE:BA) in 2006 after he was passed over as CEO of Boeing when Phil Condit and later Harry Stonecipher resigned in disgrace in the wake of corporate and personal scandals. While we can only wonder what could have been for Boeing, we noticed that Boeing has seen a 67% cumulative growth in EPS since 2005 when Jim McNerney became CEO.
Despite Boeing's overall increase in EPS during McNerney's tenure, including 2011 EPS of $5.34 exceeding the 2007 pre-crisis peak of $5.28, we are not ready to rate McNerney at the same level as Mulally. Boeing had seen a number of delays with the 747-8 and 787 Dreamliner planes. Because Boeing had seen weak sales growth from 2005-2011, we are not surprised that Boeing's stock has only generated a 31% total return since McNerney has been CEO, which was comparable to the S&P 500. Despite the fact that Boeing's top international rival European Aeronautic Defence and Space Company (OTCPK:EADSY) has generated faster and more consistent revenue growth since 2002, Boeing's profitability has significantly exceeded EADS's profitability during this time period. EADS's operating income and EPS peaked in 2005 and has not reached that level since. That probably explains why the total return on Boeing has at least been better than the total return on EADS.
Click to enlarge:
We have taken note of the rise of EADS and its Airbus subsidiary over the last 12 years. Airbus was founded in 1970 as Airbus Industrie. It began as a government-sponsored economic interest group of European aerospace companies as part of a government initiative between France, the U.K. and Germany.
Due to the European integration efforts of the European Union as well as consolidation of defense companies worldwide, including in Europe, the leading shareholders in Airbus Industrie decided to merge. DaimlerChrysler Aerospace merged with CASA and Aérospatiale-Matra, which created the European Aeronautic Defense and Space Company. EADS owned 80% of Airbus and BAE Systems owned the remaining 20% of Airbus, which it sold to EADS in 2006. While Boeing's stock is 100% publicly floated on the stock exchange, the majority of EADS's stock is held by a "Contractual Partnership" consisting of Daimler AG (OTCPK:DDAIF) and a couple of state owned investment holding companies representing Spain and France. We think that Boeing's ownership structure enables it to perform better and to respond to the market quicker than EADS's structure. We see EADS's structure as a liability because it subjects the company to political meddling by European politicians and technocrats.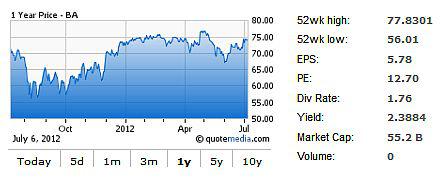 Despite the faster growth by EADS versus Boeing since its July 2000 formation, this has yet to translate into greater or more consistent profits for EADS shareholders. Granted, two of EADS's shareholders are government entities not necessarily concerned about profits, but still we would think that EADS's shareholders would be concerned that EADS has lost money in 6 out of the last 15 years. Moreover, from 1997 to 2011, EADS earned a collective €4.267B in profits for those 15 years. In light of the $178B in subsidies that EADS and Airbus have received over its collective corporate lifetime, we think that is absolutely, utterly pathetic. We believe that compares unfavorably to the $4.355B in profits earned by Boeing in the four quarters ending as of March 31, 2012. While we concede that the euro is worth $1.229, we still note that EADS's last 15 years of combined profits were only 20% more than Boeing's last 12 months of profits. We also noted that Boeing earned more net income in the trailing twelve months than EADS earned while Jim McNerney has been CEO of Boeing since 2005.
Click to enlarge: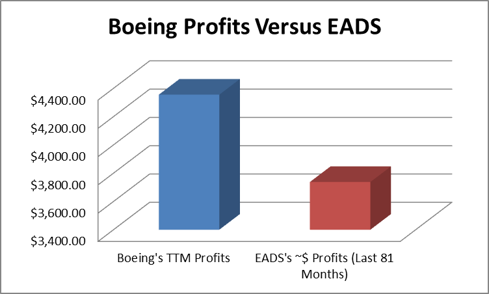 Sources: FactSet and Morningstar Direct
In conclusion, while we believe that Boeing faced some turbulent skies in the first few years of McNerney's leadership, we believe that Boeing is ready to soar above EADS and its Airbus subsidiary. We were especially pleased to see that Boeing's Q1 revenues were the third straight quarter that Boeing has grown its revenues faster than EADS.
While the U.S. budget sequestration will serve as a headwind to growth to the defense segment, we believe that Boeing's commercial segment will be able to enjoy strong growth, which will offset the weakness in the defense segment. We also see the expected reductions in defense spending resulting in potential consolidation of the defense contractor industry and since Boeing is one of the largest defense contractors in the U.S., it can potentially grow through add-on acquisitions or even from a major deal, much like the McDonnell Douglas purchase in 1997. We also see Boeing growing faster than EADS in the future because we see the European debt crisis resulting in weaker economic growth in the European market versus the U.S. market. We believe that EADS should be embarrassed with its pathetic and inconsistent level of profitability in spite of the $178B in subsidies bestowed upon it by European governments. We believe that while Boeing may not be Apple or even Ford, at least it isn't EADS. Our last reason why we prefer Boeing over EADS is that not only does Boeing pay a bigger dividend, but that it hasn't been cut since 1970, whereas EADS has had to cut or skip dividends since its 2006 dividend peak.
Click to enlarge:
Disclosure: I have no positions in any stocks mentioned, and no plans to initiate any positions within the next 72 hours.
Additional disclosure: Saibus Research has not received compensation directly or indirectly for expressing the recommendation in this report. Under no circumstances must this report be considered an offer to buy, sell, subscribe for or trade securities or other instruments.