The frantic selling of Uranium One Inc. (OTC:SXRZF) shares continued yesterday after the beleaguered company reported a surprising loss of C$0.01 per share in the fourth quarter. Analysts responded by slashing their targets yet again on a stock that has already plunged more than 70% in the last six months as the company faces power shortages in South Africa, and sulphuric acid shortages in Kazakhstan.
Analyst Ian Parkinson at Versant Partners summed it up in a note to clients:
We expect investors will be looking for a turning point - delivered results - before wading back into this stock.
Canaccord Adams analyst Scott Finlay, who has a target of C$6.58 a share, noted that while production guidance is unchanged, higher than expected operating and capital costs are projected to reduce underlying earnings by 45% in 2008. He wrote:
Assuming the sale of the Aflease Gold investment takes place in May, the resulting $90-million writedown would produce a loss of $58-million for the year.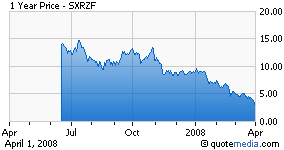 Over at UBS Securities, analyst Brian MacArthur suggested that the quarterly earnings are "largely irrelevant" for a development-stage company like Uranium One, but also cautions that there "continue to be challenges" in most of the jurisdictions the company is in. He cut his target to C$5.00 a share from C$8.00.
But some of the harshest words came from RBC Capital Markets analyst Adam Schatzker, who wrote that Uranium One's written and verbal guidance "is lacking and needs to be improved." He suggests the Kazakh assets "bear significant riisk" for shareholders, including forced asset sales, reduced ownership of expansion projects, and excessively high tax rates.
He wrote:
We think that the Kazakh government may require Uranium One to hold a substantially reduced stake in future growth projects beyond its current licensed level, especially since its 70% ownership level stands out as quite high relative to other Kazatoprom joint ventures.
He also said the operating problems at the Dominion mine in South Africa may continue "and we believe that some of these may be more permanent than others." He lowered his target to C$4.00 a share from C$6.00.