We are bullish on CenturyLink Inc. (CTL) for the following reasons:
CTL has been able to expand its Prism TV subscriber base by over 20% in 1Q2012, from the same quarter of the previous year, increasing penetration of available homes to more than 8%. Furthermore, 55% of Prism TV customers added in the first quarter were new to CenturyLink, up from approximately 50% in the previous quarter.
CTL has raised the annual operating expense synergy target for Qwest to $650 million, achieving annual run-rate synergies of $340 million.
An attractive and sustainable dividend yield of 7.3%, covered well by its free cash flow yield of 11%.
Company Description
CenturyLink, Inc. operates as a telecom company in the United States. The company provides local and long-distance network access, broadband, data and video services to consumers and businesses. It also offers entertainment services through its PrismTV and DirecTV (DTV) brands. As of March 31, 2012, CTL operated 14.4 million access lines in 37 states, and served 5.6 million broadband subscribers.
Quarterly Results
The company's operating revenues were $4.61 billion, up 170%, largely due to contributions from its Qwest and Savvis acquisitions. Moreover, strong demand for high bandwidth data services and a growth in the subscriber base for Prism TV also led to this increase. The chart below indicates that revenues declined from the prior year quarter, however, this decline has slowed down and is showing continuous improvement.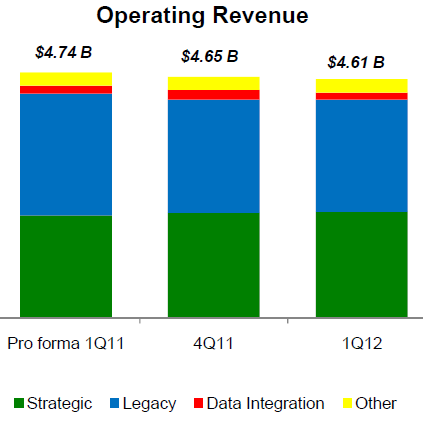 Net earnings for 1Q2012 declined by 5% from the same quarter of the previous year. Severance costs with regards to CTL's recent acquisitions (Savvis and Qwest) contributed to this decline.
CTL's acquisitions of Savvis and Qwest added on to its expenses, however, the acquisitions are likely to produce cost synergies for the company going forward.
Growing Subscriber Base for Prism TV
The company's Prism TV subscriber base has shown an improvement over the years and continues to expand due to high demand for its triple savings bundle package. The package includes Prism TV, high speed internet and nationwide calling at a competitive price. Moreover, features like warp speed channel change and caller ID on TV are especially popular among users and are getting good reviews. Overall, customer satisfaction with Prism features and after sale services is high, and has translated into an increase in the subscriber base (up 20% from 1Q2011 in 1Q2012).
Broadband
The company added almost 90,000 high speed internet subscribers during the first quarter, ending with almost 6 million broadband customers. Moreover, it was able to bring an improvement in its line loss trend as well, declining by almost 1% from the prior year quarter. It has also enhanced its broadband speeds YoY.
Achieving Synergy Targets
CenturyLink has recently raised its synergy target related to the Qwest acquisition by $75 million, which it expects to achieve in the next couple of years. In 1Q2012, the company was able to achieve an operating expense synergy of over $300 million.
Dividends
CTL's dividend yield is currently at 7.3%, which is very attractive from an income perspective, as well as higher than AT&T (T) (4.9%) and Verizon (VZ) (4.4%). The company currently pays a quarterly dividend of $0.725 and has not increased its dividends since 2010. The chart below indicates that there was a significant increase in the company's dividends back in 2008, which was due to a special cash dividend by the company ($0.6325 per share). Since then, the company's dividends have not grown by much, however, the company continues to return money to its shareholders in the form of dividends and share repurchases.


(Click to enlarge)
CTL has a high payout ratio of 330%, paying an annualized dividend of $1.6 billion in the year ended 2011, well supported by its operating cash flows for the year of over $4 billion. The company's free cash flow yield of 11% compares well to its yield of 7.30% and the high payout ratio.
Financial Position
The company has sufficient financial strength to meet its liquidity and capital requirements going forward, which is evident in its rising cash flows from operations (2-yr CAGR of over 60%) and cash balance of almost $2 billion, as of the most recent quarter. CTL has a high debt-to-equity ratio and a total debt of almost $30 billion as of the most recent quarter, largely due to the various acquisitions it made last year.
Bullish Thesis
The company has been able to successfully increase its internet subscriber base. Moreover, its line losses trend has showed a gradual improvement as well. Prism TV subscriptions are on the rise and we expect the acquisitions that the company has made over the past years to provide good results in the form of improved line loss trends and cost synergies.
Valuation
According to a forward P/E of 16.5x for the company, CTL is trading at a 17% premium to AT&T and a 2% premium to Verizon.
Recommendation
We believe that CTL has strength in its operations, which is evident in its robust revenue growth. Moreover, its recent acquisition of Savvis, an industry leader in cloud computing, has further enhanced the company's capabilities. The company has a track record of providing healthy earnings surprises, the biggest one of almost 80% coming in the quarter ended September, 2011. Moreover, CTL's earnings are expected to grow by 12% in the next five years, higher than the average growth of the industry. Going forward, we believe that increased internet usage and network requirements from both consumers and corporate customers will be the growth driver for the company, and it will do well to keep up with the high speeds offered by other carriers. Its broadband speeds have shown improvement as well, which is reflecting in the increase in its broadband subscription base. Furthermore, we expect the demand for its Prism TV triple savings bundle to stay strong. In summary, a high dividend yield and a higher free cash flow yield coupled with great growth prospects for the company, and the synergies expected from its acquisitions, make this stock a buy.
Disclosure: I have no positions in any stocks mentioned, and no plans to initiate any positions within the next 72 hours.