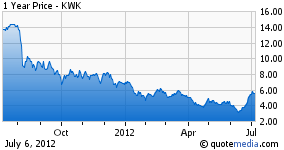 Quicksilver Resources (KWK) is an independent oil and gas company with properties in the U.S. and Canada. KWK, along with the rest of the natural gas industry, has seen its shares dive over the past 2 years. A glut of natural gas was created when the fracking of shale gas became more prevalent along with warm winters over the last 2 years, sapping demand for natural gas. However, record heat in the Midwest and Northeast unexpectedly increased the demand for natural gas in June, spiking prices and sending shares of KWK up 100%. The recent spike gives investors a second chance to exit KWK and other weak natural gas players before shares head back to their recent lows.
KWK is stuck in a difficult situation as natural gas prices have been in a prolonged bear market. The company is now reporting losses and piling up debt.
The company trades below current book value of $7.33/share as investors worry that assets might have to be sold at fire sale prices if the company needs to raise cash. KWK currently has $2B in debt on the balance sheet and is racking up new debt each quarter. In Q1 2012, the company reported operating cash flow of just $27M while at the same time investing $174M in Capex. Free cash flow was negative $147M for the most recent quarter and will most certainly be negative all year, just as it was in each of the prior 5 years. (Cashflow data from 2011 10-K)
| | | | |
| --- | --- | --- | --- |
| Fiscal Year | Oper. Cash Flow | Capex | FCF |
| 2011 | $253.0M | $690.6M | ($437.6M) |
| 2010 | $397.7M | $695.1M | ($297.4M) |
| 2009 | $612.2M | $693.8M | ($81.6M) |
| 2008 | $456.6M | $1,286.7M | ($830.1M) |
| 2007 | $319.1M | $1,020.7M | ($701.6M) |
To make matters worse, KWK has 65% of their natural gas hedged at an average price of $6.02 per Mcfe. The best-priced hedges expire at the end of 2012, making the current losses the company is posting likely to get worse. Also, the company has guided costs (per Mcfe) higher each of the last 4 quarters. KWK guided their Q2 2012 cost per Mcfe to $4.34-$4.49, up from $3.89-4.09 in Q2 2011. With higher production costs and weaker realized pricing for KWK, the outlook remains bleak.
The company has made attempts to pay down debt. They sold their stake in BreitBurn Energy Partners (BBEP) and raised $273M in 2011 and no longer own any shares. Now they have been attempting an IPO of Quicksilver Production Partners (QPP). There is no timeline for the IPO, however, they are hoping to raise $250M to further pay down debt. Either way, if the IPO does come to market it'll be a futile attempt to right the ship. The cash will pay down some of the debt, but in the long run KWK is still in trouble.
KWK hit a low on June 14th, 2012, and spiked 100% as it rose 14 consecutive days. This move higher can be attributed to natural gas prices rising off multi-year lows combined with a massive short squeeze. Currently, as of June 15th, 36M shares were sold short in the market place. The squeeze was exacerbated because 3 institutional holders own 35% of the stock, allowing for wild swings up and down. Now with KWK near its 200 day moving average, the stock will likely stumble because the moving average appears to be a major technical resistance.
Bottom line: You should sell KWK if you're long and invest elsewhere. The company has struggled to be free cash flow positive over the last 5 years, and it'll likely get worse. There is a distinct possibility that KWK will need to raise cash in the form of a secondary offering in the coming years as debt maturities come due. Also, in the future the banks may not re-affirm KWK's credit agreement and demand repayment as the company's prospects become more and more bleak.
If you feel like you need to have exposure to natural gas stocks, I suggest larger players including Devon Energy (DVN) and EOG Resources (EOG), which are profitable and pay a small dividend. In fact, I'd rather see investors trade into Chesapeake Energy (CHK) even with all the problems the company has come under scrutiny for in the prior 3 months. I believe you can look to buy these natural gas companies at lower prices when the summer heat wave subsides this week throughout the country.
Disclosure: I have no positions in any stocks mentioned, and no plans to initiate any positions within the next 72 hours.
Disclaimer: This article is intended for informational and entertainment use only and should not be construed as professional investment advice, but rather my opinions as a writer only. Always do you own complete due diligence before buying and selling any stock.