Alexco Resource Corp. (AMEX: AXU) recently provided an update of its activities to advance several initiatives at its Keno Hill project in the Yukon. We believe the Keno Hill district is among one of the highest grade silver and base metal districts in the world. Alexco acquired the district, which is roughly 20 miles in length and ten miles in width, for purposes of environmental remediation, but bears no environmental liability for earlier mining activities.
Keno Hill Silver District, Past Production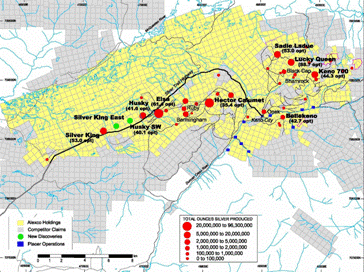 Source: Alexco
The Keno Hill silver district has produced over 200 million ounces of silver, most of which was found within a couple hundred meters below the surface. As Alexco believes only 5% of the district has been explored, and as Alexco is only now completing the first comprehensive and districtwide exploration program, we consider the opportunity for building a pipeline of attractive projects to be very high.
Development of Bellekeno Accelerates
Recognizing the value investors place on mine operations moving into production, Alexco management has focused on bringing the Bellekeno mine into operation. It is working to make a construction decision at Bellekeno in early 2009. In the meanwhile, we anticipate that they should receive a Preliminary Assessment (Scoping Study) in 2Q08 which should provide additional visibility of the potential at Bellekeno. Alexco also expects to receive permits for a 660 meter decline and to complete 2,300 meters of underground rehabilitation, essential to initiate its underground drill program. Alexco has already taken the important step in retaining Procon Mining and Tunneling Ltd. for redevelopment of underground workings. Remaining surface drilling at Bellekeno will be for geotechnical purposes to complete the proposed decline.
Bellekeno Project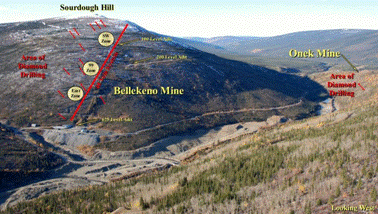 Source: Alexco
Alexco is planning to complete 10,000 meters of underground drilling at Bellekeno in 2008, focusing on definition and exploration of the Southwest and 99 zones. Considering Alexco's success from drilling these areas at a distance from the surface, we anticipate improved opportunities for success as mineralized zones are drilled from underground platforms in closer proximity to targets. To date, since June 2006, Alexco has drilled 46 holes at 14,730 meters at Bellekeno. In addition to opportunities to further define and expand resources at Bellekeno, Alexco plans additional drilling at the nearby Onek deposit to complete a NI 43-101 resource estimate, which may provide additional ore for processing at a potential facility at Bellekeno. Considering the high grades, it would appear that even a modest facility could be economically attractive compared to larger lower grade projects absorbing additional capital at greater risk.
Districtwide Exploration Moves into Full Swing
Alexco has consolidated its exploration team in order to consistently prioritize a pipeline of attractive projects from a comprehensive and districtwide orientation. Alexco has enjoyed the benefit of utilizing exploration resources of NovaGold Resources Inc. (AMEX: NG). Alexco has formalized activities of several executive level and staff geologists as full time employees. This will insure the necessary consistency of intellectual talent and focus to ensure optimal project selection and prioritization, effectively accelerating development of the district.
Alexco intends to complete an additional 10,000 to 13,000 meters of surface drilling at the Keno Hill district. To date, the Company has drilled a total of 126 holes, including 33,000 meters (including Bellekeno). In addition, they have completed 2,106 line kilometers of airborne geophysics and compiled 35,000 historic documents into a 300 gigabyte data base. This first ever district-wide orientation, including Alexco's responsibility for environmental remediation and management of the district, provides the Company with a one-of-a-kind position to accelerate the process of exploration through permitting and feasibility.
We anticipate that following development of Bellekeno and Onek, the Lucky Queen will increase in priority as a developable asset. The Lucky Queen benefits from being in relative close proximity to Bellekeno and Onek. As seen in the table below, recent step out drilling (DDH K07-0114) has identified significant potential for discovery and expansion of a high-grade silver resource. Alexco estimates past production of silver in the Lucky Queen area of over 12.6 million ounces. Alexco expects to complete 4,000 meters of surface drilling at Lucky Queen in 2008.
image

While the latest drill results at Lucky Queen have been among the best in the history of the district, Alexco has been successful at intercepting high-grade mineralized zones across the district. These results appear remarkable when compared to other single-asset companies. Alexco has indicated that it plans to test targets in the vicinity of Hector Calumet (with past production of 96 million ounces of silver) as well as the Silver King, the Husky SW areas, as well as Keno 700. Following these targets we suspect that Alexco may locate multiple targets in untouched areas below the valley floors.
Platform for Growth in Place
We remain very positive regarding the potential for Alexco to advance its lead projects and build a pipeline of projects. While the district has more than demonstrated its production potential, it remains early in development relative to its size and opportunity. Alexco continues to benefit from operating its environmental activities at Keno Hill and elsewhere, providing additional business development opportunities. The environmental business, plus $20 million in cash, should allow Alexco financial and operating flexibility to accelerate development at Keno Hill, which should become clearer throughout 2008.
Disclosure: The author is long AXU. An affiliate of the author's employer provides corporate advisory services to AXU.