Recommendation: We suggest a long position in LinkedIn (LNKD) and a short position in Monster.com (NYSE:MWW). Our portfolio recommendation is based on the following investment thesis.
Monster.com is one of the largest jobs posting websites in the world, with a presence in more than 55 countries. It derives more than half of its revenue from outside of the U.S., and offers a full range of recruitment services. The company derives approximately 10% of total revenue from online advertising & other fees, and 90% of total revenue from career services. Monster.com has more than a 23% share in an estimated $5 billion online recruitment market. The company is falling behind Careerbuilder.com, which has a share of 32%, but is still way ahead of LinkedIn's 16%.
Monster.com exceeded the street's expectations in 1Q2012 by posting $246 million in revenue and 4 cents EPS, as compared with the street's estimations of $240 million of revenue and 2 cents EPS for 1Q2012. However, earnings for next quarter are expected to fall due to the strong expected growth of LinkedIn, and a poor worldwide job market outlook.
Monster.com is a victim of the changing dynamics of the Social Media Industry, as companies like LinkedIn have jumped into career services by capitalizing on their large professional user bases. On top of that, the deteriorating economic outlook, the worsening job market, and high worldwide unemployment rates have aggravated the situation for Monster.com. As a result, Monster.com has announced that it will slash more than 400 jobs to reduce operating costs and improve margins. Furthermore, the company expects the current weak operating performance to continue in the future, as the company expects the global job market situation to improve sluggishly.
Monster.com's shares have lost more than 40% of their value in the past one year, as players such as LinkedIn, emerging from the social media boom, are expected to give a tough time to established players like Monster.com. LinkedIn, with the right set of policies and decisions, is posting more than 90% year-over-year growth in revenue from recruitment services, and companies in the current economic downturn are expected to either maintain or slash online advertising budgets. Therefore, it can be easily analyzed that LinkedIn is snatching revenue from job posting companies such as Monster.com and DICE Holdings (NYSE:DHX). Companies and headhunters can directly target the large professional user base of LinkedIn for jobs. Moreover, LinkedIn recruitment services are found to be more cost effective than those offered by Monster.com and others. Users can now search for jobs on LinkedIn, follow companies' activities, discuss jobs on public and private forums, read news, network with other professionals, and stay up to date on changes in their professional networks. In other words, LinkedIn now delivers a complete professional networking package for an ordinary user. Companies are also reported to have increased their usage of LinkedIn services, by subscribing to LinkedIn's premium services, and increasingly use LinkedIn as a medium to post jobs and target potential candidates for employment. Revenue from hiring solutions has more than doubled for LinkedIn in a span of one year, and is expected to further expand in the coming years, as the company is investing heavily in the development of a skilled sales force.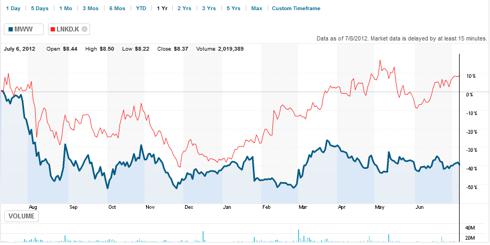 In the light of a deteriorating operating outlook, Monster.com announced that it is looking for strategic buyers willing to buy full or part of the company. Reuters broke the news recently that LinkedIn, after its initial assessment, is not interested in buying Monster.com. Monster.com is still in talks with PE firm Silver Lake Partners about a possible sellout. Careerbuilder.com may not have enough cash to buy Monster.com but DICE holdings could be a possible buyout candidate. However, looking at the slim growth prospects of Monster.com, we believe that it will be very difficult for the management to find a suitable buyer.
We believe that Monster.com will face a declining growth trajectory, with LinkedIn taking away most of the online recruitment spending by companies. Therefore, we expect the growth in earnings to decline in the near future and recommend selling Monster.com in the short run. However, we expect the shares to jump up in the case of Monster.com successfully finding a strategic buyer. The company's shares closed at $8.37 on Friday July 6, on the NYSE, and are still trading at high earnings multiples of 18.60x. LinkedIn, we believe, is the beneficiary of the decline in Monster.com's growth trajectory, and we expect to see further growth for the company in the near future. Therefore, we recommend buying LinkedIn. Shares of LinkedIn are trading near $108.
Disclosure: I have no positions in any stocks mentioned, and no plans to initiate any positions within the next 72 hours.