Real estate fundamentals are solid. New homebuilding is causing a surge in construction-related spending. The Case-Shiller index is showing stabilizing or increasing home prices. For investors who've been hesitant to get back into real estate, now's the time.
Thinking About Real Estate
After the housing bubble, investors had good reason to be fairly wary of the entire real estate industry. But it's important to make a few key distinctions.
First, a solid real estate investing strategy will deliver returns regardless of what happens in the housing market. Why? Well, stocks of homebuilders like Toll Brothers (NYSE:TOL), MDC Holdings (NYSE:MDC), Standard Pacific (SPF), NVR Inc (NYSE:NVR), Hovnanian (NYSE:HOV), Meritage Homes Corporation (NYSE:MTH), and The Ryland Group (NYSE:RYL) are obviously strongly linked to new home construction, which can be highly volatile. But it's important these aren't your only options.
A good real estate strategy for the retail investor, then, is one that avoids the pitfall of being linked too strongly to any one factor. It's self evident that homebuilders are linked to homebuilding, but it's also important to be cautious of leaning too heavily towards mREITs, which face risks from interest rates and other factors.
In the long term, a well-constructed real estate investment will actually capture fairly predictable returns. Why? It's linked to a growing population. One of the reasons consumer products stocks like Procter and Gamble (NYSE:PG) are widely seen as a good defensive investment is because over time, they're essentially guaranteed slow but steady growth. People use household items like detergent, toothpaste, and toilet paper at a fairly consistent level regardless of prevailing economic conditions. Thus, over the long term, as the population grows, so will profits for PG.
The same argument applies to real estate. In a country like the United States (the world's fastest-growing industrialized nation, by population), predicting that people will continue to take up more space for homes and offices and shopping malls is the equivalent of shooting fish in a barrel:
Adam Koos, a financial planner who owns Libertas Wealth Management Group Inc. in Columbus, Ohio, is bullish on real estate because as a sector it "is correlated to population growth." Whether retailers need warehouses to store goods this population buys, or urban areas need more office space for future workers, or seniors need places to retire or seek medical care, the demand for such space likely won't stall, he says.
ETF Allocation Strategy
Since most experts recommend a real estate allocation of 5% or less for conservative investors, and 10-15% for aggressive investors, holding a well-diversified selection of individual REITs can be difficult for those with smaller portfolios. Thus, REIT index ETFs can be used to construct a diversified portfolio of holdings.
A good starting point is the Vanguard REIT Index ETF (NYSEARCA:VNQ). It holds 112 REITs across the industrial, specialty, retail, residential, office, and diversified REIT sectors. Click here to see a complete summary of holdings.
Another similar ETF is the iShares Cohen & Steers Realty Majors Index Fund (BATS:ICF), which holds many of the same REITs.
Yield and Capital Appreciation
Somewhat like dividend stocks, REITs provide investors with current income as well as the potential for capital appreciation. REITs typically have strong dividend yields because they are legally required to pay over 90% of their earnings to shareholders in the form of dividends. As you can see from the charts below, they also have the potential for capital appreciation over time as the value of real estate increases. The capital appreciation during the last few years has been mostly the result of the sector rebounding from being "priced for bankruptcy" -- but now, fundamentals are beginning to change, as real estate prices are rebounding.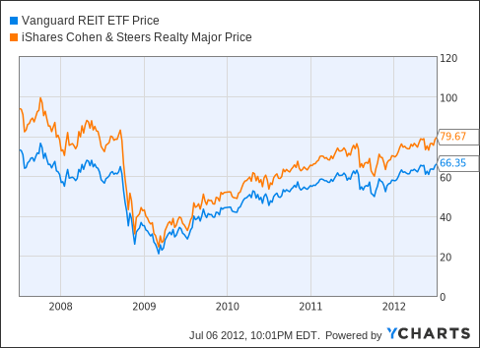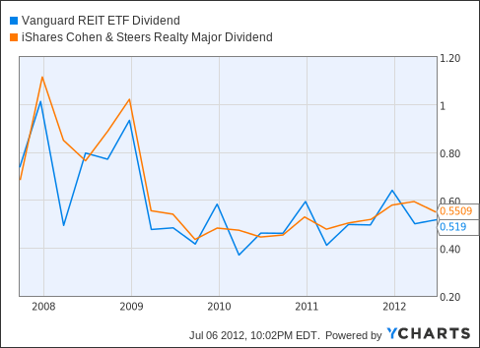 VNQ Dividend data by YCharts
Conclusion
Even with the sharp decline in REIT prices after the housing bubble and the financial crisis, they still represent a good long-term investment, with the potential for strong returns:
"The REIT industry overall has turned in very strong long-term returns, averaging more than 10% per year over the past 10, 20, and 30 years, so there isn't much that needs to be done to make them more attractive," says Craig Leupold, president of Green Street Advisors in Newport Beach, Calif.
This consistent growth over the long term can provide a boost to any portfolio. If you don't already own REITs, you may want to give them a look.
Disclosure: I am long VNQ.
Disclaimer: I am an individual investor, not a licensed investment advisor or broker dealer. Investors are cautioned to perform their own due diligence. All information contained within this report is presented as-is and has been derived from public sources & management. Always contact a financial professional before making any major financial decisions. All investments have an inherent degree of risk. The future is uncertain, and actual results may be materially different from those expected. Past performance is no guarantee of future results. All views expressed herein are my own, and cannot be interpreted as the views of my employer(s) or any organizations I am affiliated with. Presentation of information does not necessarily constitute a recommendation to buy or sell. Never make any investment without conducting your own research and reading multiple points of view.