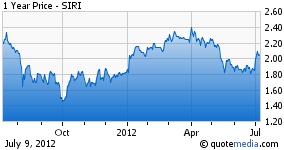 In a move that investors love to see, Sirius XM (SIRI) has taken some of the uncertainty out o the market by announcing subscriber numbers, raising subscriber guidance, as well as upping the ante on revenue. The move should add fuel to the run in the stock that we have witnessed over the past few trading sessions.
The company added an impressive 622,042 subscribers to the roles in Q2. This is well above what many anticipated and served to force the company hand in adjusting 2012 subscriber guidance to 1.6 million, up modestly from the previous guidance of 1.5 million, and 300,000 above initial 2012 guidance of 1.3 million.
The subscriber growth picture took final shape when June auto sales offered up a surprise and came in high enough to belay fears that auto sales were slowing.
Sirius XM also added a modest increase to the revenue line by moving 2012 revenue guidance from $3.3 billion to $3.4 billion.
While the adjustments in guidance may seem small at this point, the bigger story is that the company is proving that the business model will be a producer and can deliver impressive numbers. This is additional confirmation that the satellite radio story has legs!
Sirius XM now has 22.9 million subscribers and has added 1,026,000 through 6 months. This means that to meet current guidance the company needs less than 600,000 in the second half of the year. Certainly CEO Mel Karmazin is being very conservative. One reason may be that the promotional subscription line likely grew substantially during the quarter. Until the company reports its quarterly results on August 7th, we will not know the mix of promotional and self paying subscribers. Either way, coming in over 600,000 in Q2 is an impressive feat.
The news, announced by Sirius XM today, comes at an interesting time. Sirius XM stock has seen an impressive run in the last few trading sessions and it was approaching a period where it may settle down with no news. The run seemed to be losing a bit of steam on Friday, and with some uncertainty regarding the FCC and Liberty Media (LMCA) we could have been in a position where some modest consolidation happened. Sirius XM management just provided the fuel to continue the run.
The next big items on the agenda are any news from the Liberty Media forward purchase contract that is supposed to close this week, or any news from the FCC regarding Liberty Media's request for de facto control of the licenses held by Sirius XM.
The FCC
Liberty Media has requested, through appeal, de facto control of the licenses Sirius XM holds with the FCC. While the FCC granting said approval is not cast in stone, the overall outcome remains the same. Liberty Media will gain control. It is simply a matter of whether it is de facto or de jure.
The reason investors are eying the current FCC decision is that it will provide more certainty on the time-frame of events and simply remove a cloud of speculation. With de facto control Liberty Media may be able to make its next move without adding more shares to the equation or converting up to half of its preferred stake.
In essence, it is possible that Liberty could combine its current stake in Sirius XM with another stake, such as Live Nation, to form an entity larger than the remaining Sirius XM. With this accomplished Liberty could move forward with a Reverse Morris Trust negotiated with the current board and management.
Should the FCC deny Liberty Media, the company will proceed with plans for de jure control. This would entail converting half of its preferred shares into common, finding large stakeholders to vote in conjunction with the Liberty agenda, and possibly installing its own slate of Directors.
With the conversion of half of its preferred stake Liberty would maintain the various "veto" type rights it holds, but would lose preferred board seats. This would then necessitate Liberty gaining enough votes via agreement or by buying shares to bring in its own slate.
Essentially it is possible that Liberty Media can do a Reverse Morris trust and install its own Board slate without ever really going over 50% of the company. Gaining de facto control makes the Liberty path somewhat easier. This is exactly why Sirius XM investors are eager to know the FCC stance.
Forward Purchase
Late in 2011 Liberty Media entered into a forward purchase contract to buy up to 315 million shares at a price of $2.15. In March the third party had completed its hedge and the number of shares was set at 302 million. That is when the street found out about the forward purchase contract.
What is known is that Liberty Media has already shelled out hundreds of millions in cash regarding this deal. While Liberty does have the option of settling the contract in cash or by taking possession of shares, it has been publicly stated that Liberty intends to take shares. The closing of this transaction is scheduled to happen this week. Once this happens, another cloud of uncertainty will be lifted.
Between the preferred shares, the forward purchase, and an open market purchase of another 62 million shares, Liberty Media will have what equates to a 46.2% stake in Sirius XM. The FCC is aware of this percentage.
Once Liberty media settles the forward contract, one might think that events may happen quite quickly. This is certainly possible, but a lot depends on what is happening in negotiations between Liberty and Sirius XM. If the two parties can work out a deal then the speed of transactions will accelerate. If not, we may see a new Board of Directors, fairness tests, and a deal that will win over the majority of the minority.
Summary
Sirius XM has seen a nice run on a technical basis. It can now continue that run on a fundamental basis. Once we have more detail on the FCC and Liberty, this equity could push higher still. Time will tell.