As most of my colleagues know, when it comes to investing one of my interests lie in speculative biotech holdings. Conquering the world's most debilitating diseases can be one of the most noble and profitable ventures for the companies and their investors. The problem is that many investors have yet to develop strategies on how to play this sector. It's easy to find tickers and companies, but how does one implement a possible winning strategy?
First, one must accept that fact that speculative biotech will be risky, and there is no guarantee of success. But it is these attributes that we must use to our advantage. Now there are many strategies that can be employed, but for this article let's focus on three basic investing strategies that are heavily used in speculative biotech. Let's explore each and give some real life examples using up and coming companies, as well as past historical examples.
The Run Up
There is a famous quote once uttered by Baron Rothschild on how he made his fortune in the stock market. He said, "I always sold too soon." This theme comes close to describing the Run Up philosophy of biotech investing. The concept in itself is simple and easy to understand. Oftentimes biotech stocks trade around specific, defined points in time. Those points revolve around critical events like trials updates, FDA meetings, and even conferences. If these events are pinpointed on a calendar, then often times the "Run Up" phenomenon for the stock will occur as the date approaches. The closer the dates get the rumor mills start to swirl. Bloggers, bulletin boards, and media outlets add to the frenzy until it hits a fever pitch.
This is where the perfect storm hits the stock price. Investors not wanting to miss the next big thing jump into the stock. People shorting the stock start to feel the squeeze, and some are forced out while momentum traders are drawn in by the volatility. It is right here where Mr. Rothschild's theory takes hold, where one should sell into the run up. One might miss further profits if the drug or therapy is approved, but by selling now one locks in the gain. The real trick here is to be holding the stock long before the "Run Up" phenomenon takes hold. This can be tougher than it sounds. One has to be disciplined enough to buy a stock that no one is currently excited about, find a support level for the price, and keep a vigil watch over future upcoming events. There is no guarantee for success, but if one is willing to take the chance this strategy is often times very profitable. Let's look at some recent examples.
Arena Pharmaceuticals (ARNA)
Arena Pharmaceuticals is a great example for using the "Run Up" strategy. ARNA a clinical-stage biopharmaceutical company engaged in discovering, developing, and commercializing oral drugs for the treatment of cardiovascular, central nervous system, inflammatory, and metabolic diseases. The company's recent claim to fame is the drug candidate Lorcaserin for weight management and weight loss. Let's see how the strategy would have worked with ARNA.
In December 2009 ARNA submitted the Lorcaserin application to the FDA. This was a big deal for the company and the healthcare community. Lorcaserin, at that time, was thought to have a bright future as weight loss is big business. If approved the market for such a drug would be huge. Then in October 2010, the FDA issued a Complete Response Letter with respect to the application. It seemed that the FDA determined that it could not approve the application in its present form. The drug was not outright rejected, but it was not going to see approval anytime soon. As a result the stock price crashed and shares traded much lower.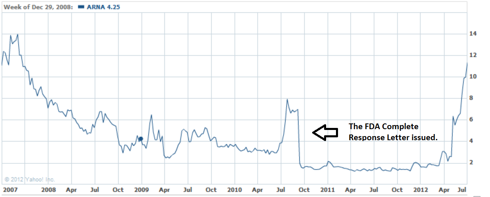 ARNA was not done though. The company compiled new data in response to the FDA letter, and in December 2011, they resubmitted the application. In turn the FDA accepted the resubmission and assigned a new Prescription Drug User Fee Act, or PDUFA, with a target date of June 27, 2012. At this point all the elements for a potential stock price Run Up strategy have come into play. We have the critical date of June 27, 2012 established and stock price that shows a fairly solid base.
Anyone playing this strategy would have simply purchased shares as they traded for less than $2 at that point. Time and a little bit of luck was all that was needed. As the fateful date approached the stock started to climb. Since in this strategy we would sell our stock prior to the announcement, our transaction would have us out on June 26, 2012 where the stock closed at $8.85. This would have been a 440% return on our $2 per share investment.
Keryx (KERX)
Another great example comes from the company named Keryx. KERX in conjunction with its partners were working hard to bring their drug Perifosine to market. This drug had the potential to be big as being an oral anti-cancer drug. Things were looking so good that KERX had even inked deals with such companies as Yakult Honsha (OTC:YKLTF) for Japan, Handok for Korea, and Hikma (OTCPK:HKMPF) Pharmaceuticals for Middle East.
With KERX pushing forward with their Phase 3 trials, the Run Up was starting to materialize. Unlike ARNA that had a specific date to work with, KERX's critical date was unknown. This makes it a bit harder for the investor, but just like ARNA the Run Up materialized. In this clinical trial the ending point was when there were 360 deaths, and that was expected sometime in the first quarter of 2012. So as one would guess, the Run Up began as shown in the chart below. From January 2012 to March 2012 the stock moved from $2.50 to over $5 per share.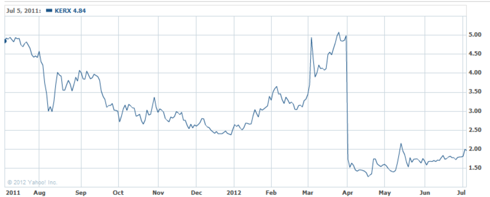 On April 2, 2012 KERX released results of the Phase 3 clinical trial evaluating Perifosine. Unfortunately for the company, the trial did not meet the primary endpoint and the stock price quickly sank to trade around $1.60. As bad as that sounds the person employing a Run Up strategy would probably have made some money. It would have been a bit tougher without a specific date to target in on, but it was still possible.
As the stock trades at much lower levels today, it would not be surprising to once again see another run up as the company moves to complete their next long-term Phase 3 study for Zerenex.
The Long Haul
The Long Haul strategy in speculative biotech investing is probably the most popular way that people invest in speculative biotech. In this strategy the investor buys the stock based upon some motive/concept and plans to hold it for an extended period of time. Here the investor wants to participate in the entire outcome of the stock and its movement. Typically investors are looking to hold the stock through the trials, FDA rulings, and all the way into commercialization. The run ups and price volatility in the stock are largely ignored as investors keep their attention on the much larger picture.
Needless to say, there are several reasons why someone would invest like this. Not every new drug being brought to the market is going to be a blockbuster. Oftentimes new drugs find themselves entering markets with stiff competition. That being the case, the volatility that drives the run ups in the stock price might not be there. The key here would be that the investor believes that the new product will slowly take the market share from existing products. This will take a longer time frame to occur, so investors will need to be in for the longer haul.
Another reason that may warrant this type of investing is related to the new products or techniques that are being developed. Sometimes these new products are so groundbreaking and revolutionary that the market is not able to grasp the concepts early on. The tests and trial are expensive and not very fluid in their execution. Biotech is extremely complex and hard to understand. This leaves Wall Street behind the curve as institutional investors will have to catch up with the latest in technological breakthroughs at some point. Needless to say this could take some time and being invested for the long haul is the best strategy here. Let's take a look at some real life examples to illustrate this strategy.
Antares Pharma Inc. (ATRS)
Antares Pharma is perfect example of a biotech company that is working with the long haul strategy. ATRS is a pharmaceutical company that is engaged in the development and marketing of self-injection pharmaceutical products/technologies, and topical gel-based products. At one point ATRS had the potential to be a high flyer when they were partnered with BioSante (BPAX) to develop the drug LibiGel. This was going to be a treatment for female sexual dysfunction and touted as a game changer. A look back into history shows that this was not the case.
Needless to say, LibiGel failed and the whole deal fell apart. The stock price suffered, but investors who did their due diligence knew the secret of ATRS and it did not depend on LibiGel. BPAX had to spend close to $100 million to conduct the trials, while ATRS did not spend a dime.
ATRS's real business opportunities lie with their topical gel-based products and self-injection technologies. One has to look back on December 8, 2011 when the Food and Drug Administration approved the company's topical gel (Anturol) for the treatment of overactive bladder. Now overactive bladder conditions are not an unmet medical need, and completion existed so a huge run up in the stock price was not predicted. What was known was that prior to the approval it was agreed upon that Watson Pharmaceuticals (WPI) would be responsible to launch the product and sell it in the United States and Canada. January 2012 the company entered into a licensing agreement with Daewoong Pharmaceuticals where they will commercialize the drug once it is approved in South Korea. ATRS has the approval in hand and the means to deliver the product. Now it will just take time to prove their product is superior to other treatments.
Also one must take into account the company's self-injection products. Under this part of the company there are some very valuable assets which have already attracted the interest of such well-known entities as Teva (TEVA) and Ferring who have signed on as partners.
Looking at the financial aspect of ATRS also gives long haul investors more confidence. For example in 2008 the total revenues were $4.6 million, but in 2009 it grew 47% to $8.3 million. The trend continues and in 2010 there was another 54% increase in revenue as the amount grew to $12.8 million. In 2011 the revenue grew to $16.5 million, and in 2012 fiscal year the company is expecting the trend to continue. Of course the rumors of Pfizer's (PFE) involvement with ATRS has also sparked speculation as to future deals for the company.
Obviously the long haul strategy in ATRS looks to be working. Much more could be said about ATRS, but the chart below sums it up nicely.

Advanced Cell Technology (ACTC.OB)
Another great example of a company where the long haul strategy might pay off is Advanced Cell Technology. This is one company that I follow very closely and find most fascinating. In the past I have personally spoken with their Chief Executive Officer Gary Rabin via the telephone and asked the tough questions as an investor. As a result of that conversation and my own investigations I think ACTC is definitely a long haul candidate.
For those who don't know ACTC here is its profile. Advanced Cell Technology is a biotechnology company focused on the development and commercialization of human embryonic and adult stem cell technology in the field of regenerative medicine. Right here in their profile is what the market and potential investors focus on. Stem cells, although they have been around for a while, are a new and untried technology. As exciting as they are, they have yet to prove themselves. This was all about to change when a company named Geron (GERN) entered the scene with a clinical trial using stem cells to treat spinal cord injuries. Since then the company has backed off the stem cell therapies and has decided to focus their assets elsewhere. Needless to say, the overall attitude of the financial markets toward stem cell companies have cooled somewhat.
This is where we find ACTC now. Wall Street is behind the curve as they cannot fully understand either the technology or the potential ground breaking therapies. Their focus lies squarely on the financial issues that ACTC faces. Being a small company in a ground breaking field is not easy. Unexpected delays, expensive trials, and lack of funding are always plaguing the company. Add to this the possibility of a reverse split to uplist to the NASDAQ and past stock dilutions to settle potential litigation, and it's easy to see why most investors and Wall Street have taken a pass on the company.
Investors have no choice but to be in the stock for the long haul, but the potential for the company is enormous. Entire articles could be written about all the potential for stem cells and ACTC, so let's just focus on their current FDA trials. As of the writing of this article ACTC has treated eight patients between the three ongoing macular degeneration trials. All of the patients are reported as doing remarkably well, and there have been no safety issues whatsoever. In more recent news, on June 29, 2012 the latest Stargardt's Disease (SMD) sufferer was treated at Moorfields Eye Hospital in London.
What it boils down to is a simple game of numbers. It is too early to get results from the most recent injection, but of the seven dry age-related macular degeneration (dry AMD) and Stargardt's patients, the company has reported both subjective and objective evidence of improved visual acuity and quality of vision. More important than that is the effects appear to be persisting. The first two patients, who are close to the one year mark of treatment, are maintaining the increases in visual acuity that was measured after their treatment.
For more specifics one should consider the following. The company reports that one of the U.S. SMD patients improved from 0 to 5 letters on the ETDRS visual acuity chart. At the nine month follow-up the visual acuity gains remain stable and the patient continues to show improvement. In Europe a similar trend continues. The SMD patient there has improved from 5 letters to 10 letters on the visual acuity chart, and has reported that his vision has significantly improved to a point where he has the ability to read text on TV. In the dry AMD patient the vision improved from 21 to 28 letters on the ETDRS visual acuity chart. Results with the newer patients are said to show similar results.
ACTC is going to fall into the long haul strategy for investors. Their cash on hand to finance the operations is limited, so they will need to attract a joint venture or partnerships in the not too distant future. At the end of 2011 ACTC had $13.1 million cash on hand, but for the year 2011 ACTC utilized $13.6 million in cash for operations. The cash burn rate could be an issue as the company moves forward. The good news is that ACTC states that another $15 million more is available and they are going to be able to self-fund both the U.S. clinical trials and EU clinical trial. Also, let's face it, no one like stocks for less than $1 per share. The company is a $134 million market cap, but few investors take time to look at that.
What it comes down to is this, investors know that macular degeneration is an unmet medical need for the world worth well over $30 billion. There is no cure. Stargardt's Disease is robbing kids daily of their vision, while dry age-related macular degeneration attacks the older generations. With ACTC's clinical trials running with a 100% success rate so far, how long will it take for the word to spread? Obviously more tests are needed, and if they all turn out the same it won't take long for this stock to reach critical mass. What parent would not beat the doors down to save their child's sight? Likewise what adult would not do whatever it took to keep from going blind from dry AMD? These basic concepts are what keeps ACTC's investors going during the long clinical testing process.
ACTC is going to take the long haul investment strategy. Many things can still go wrong, but with a little time and luck their future could be very bright.
The Short
One thing investors must know is that in speculative biotech failure is a big part of the game. Companies and their product can fail or implode at any time. Clinical trials can be outright bombs, entities can run out of operating capital, and the FDA can pull the rug out from under the companies at the last minute. The biotech sector is very well known for these types of risk. That being the case, there is also lots of profit to be made if one were to be short the right stock.
For newer investors the concept of shorting is fairly easy. The basic concept is to sell an equity you don't have and collect the proceeds. The catch is that at some point in the future you will have to buy the position back to close the transaction. The hope is you are selling at the high point, and then will buy back as the stock is much lower. This is a very basic example, and there is much more to it as investors will use options and other protective strategies to mitigate negative effects if the short position does not work. More advanced investors can simply just use options to put on the short position and avoid the stock all together.
Volatility is the name of the game for shorts. A massive move to the down side for a stock is a short's delight. A prime example was briefly mentioned above when dealing with ATRS. Remember that ATRS's exposure to the drug LibiGel was limited. Their partner BioSante had to spend close to $100 million to conduct the trials. Needless to say, the company had a large portion of their future riding on this drug. Any failure would be devastating for the company and its investors. Needless to say, the volatility and risk were running high. It was this key factor that attracted the shorts to the trade.
As LibiGel failed to deliver on its goals, BPAX's stock price was severely punished as shown in the chart below.
Shorts that entered the trade around $15 saw the stock price tumble to close to $2 before it stabilized. For us it is just another example of how investors can make money even when a biotech stock fails in its calling.
In conclusion, this article was written to simply show that speculative biotech investing is not always just a buy and hold type of play. There are just too many facets and moving parts. Investors will always need to keep on their toes and stay abreast of up to the minute news flashes. Risks are high, but there is also the potential for truly outsized gains in these types of investments.