The share price of the Sherwin-Williams Company (NYSE:SHW) has escalated by more than 40% this year, due to expectations of the rebounding Housing Market, and a decline in raw material prices, primarily natural gas and propylene. We are bullish on the Paints and Coatings Industry in general, and SHW in particular, as we expect the end markets' demand (primarily that of new construction and aerospace coatings) to increase. In addition, titanium dioxide (TiO2) prices have stopped rising, while propylene prices have also reduced, which further adds to our bullish thesis. However, the fact that SHW is already trading at 15 times EV/EBITDA and 18 times forward price-to-earnings makes us believe that the stock price is already reflecting most of the upside potential associated with the company.
We recommend a buy position, as we consider SHW to be the best play on the full-fledged recovery of the Housing Sector, but because of expensive valuations, we recommend investors to hedge their positions, possibly through a short position in the Materials ETF (NYSEARCA:XLB).
Industry Introduction
The Paints and Coatings Industry has a lot of segments, and the future performance of those segments depends on a multitude of diverse factors. Let's analyze those factors that influence each of these segments:
New housing starts in May have slightly reduced from a 3.5 year high, but are still at a very high level. Meanwhile, construction spending in the U.S. has mounted to more than a two-year high. This is a primarily due to an increase in residential construction spending, with single-family and multiple-family construction spending surging by 9.8% and 9.3% respectively on a year-to-date basis. The commercial construction spending is also following an upward incline, as is evident from the following graph. These patterns indicate that the demand for paints and coatings in the new construction market is set to improve.
Source: YCHARTS
The demand for aerospace coatings is dependent on the number of jet deliveries by the two major jet producers, Boeing (NYSE:BA) and Airbus. The following graph shows that the number of deliveries has followed an increasing trend on a YTD basis, which is a healthy sign for the demand of aerospace coatings.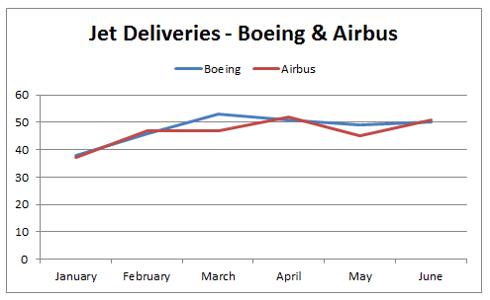 Source: Data from websites of Boeing and Airbus
Some other performance measures for the Housing Sector are good indicators for the repaint and maintenance market of this industry. In this regard, the 20-city S &P/Case-Shiller Home Price Index recently showed signs of improvement, but existing home sales dropped a bit.
Source: YCHARTS
U.S. auto production has increased by 27% in the five months through May on a YoY basis, but there was a reduction in June, which is expected to continue in 3Q2012. China s auto production was also very high this year, although some production cuts are expected later.
The high auto production, in both U.S. and China, was an indicator of good demand of auto OEM and auto refinish coatings. However, this demand might decrease following the expected cuts in auto production.
Coil and Packaging Coatings
The U.S. manufacturing orders for machinery have increased in May by 4.1% compared with April. This is a good indicator of possible improvement in coil coatings' demand. Meanwhile, the orders for non-durable consumer goods also rose by 0.2% during May, which is good for the demand for packaging coatings.
Raw Material Prices
U.S. polymer-grade propylene (PGP) contract prices dropped by 23% in June, and hit a 30-month low. Propylene is one of the most important raw materials used in the Paints and Coatings Industry, and the drop in its prices is beneficial for the entire industry.
Company Description
The Sherwin-Williams Company is a Fortune 500 company and is engaged in the "development, manufacture, distribution and sales of paints, coatings and related products."
Stock Price Drivers & Upcoming Catalysts
In addition to the industry-specific trends, SHW's share price also depends on some stock-specific factors:
Focus on Customer Retention & Operating Results
SHW's success lies in its ability to retain its customers through the provision of "extra service, price guarantees, and free job site delivery." As a result, despite the reduction in its paint demand by 20% and a surge in raw material prices of 40%, its 2011 sales increased by 12% relative to the previous year. If SHW is able to sustain this competitive advantage and is able to continuously show sound operating performance, its share price will keep inclining.
Market Performance
On a YTD basis, the share prices of almost all major companies in this sector have recorded an increase. SHW has exhibited the greatest share price increase of almost 43%, while the next best is The Valspar Corporation (VAL) with an increase of 34%. The prime reasons for this increase are the shale gas boom, along with the expected future growth potential and strong operating results of these companies.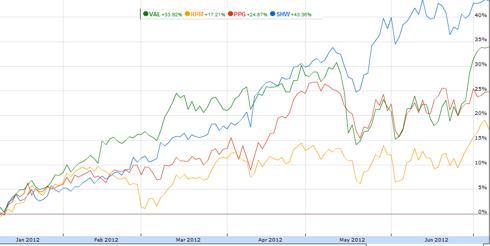 Source: Google Finance
Financial Performance Review
SHW's net sales increased by 15% to record levels of $2.14 billion in 1Q2012, relative to 1Q2011, as a result of increase in selling prices along with a higher sales volume. Its diluted income increased to 95 cents/share from 63 cents/share a year ago, showing an increase of 50.8%. The company is expecting its sales to increase by 10-15% in 2Q2012.
Valuation:
| | | | | |
| --- | --- | --- | --- | --- |
| | SHW | VAL | RPM | PPG |
| Forward P/E ( 1 year) | 17.76 | 14.62 | 15.48 | 11.96 |
| PEG Ratio (5 year expected) | 1.42 | 1.34 | 1.53 | 0.99 |
| Long-term earnings' growth rate | 14.90% | 11.40% | 11.30% | 11.56% |
| EV/EBITDA (NYSE:TTM) | 15.1 | 11.25 | 10.51 | 8.62 |
| Share price performance (YTD) | 43.36% | 33.92% | 17.21% | 24.87% |
| Dividend yield | 1.18% | 1.50% | 3.07% | 2.24% |
SHW's long-term earnings growth rate of 15% is the highest among its peers, which shows its enormous growth potential. However, its dividend yield of 1.2% is the lowest among its peers. The stock is trading at a premium to its peers and its stock price has also shown a significant appreciation of almost 44% on a YTD basis. On Friday, SHW closed at $132.82 and is trading close to its 52-week high price of $133.97.
Sell Side Expectations/Review
Most sell-side analysts believe that SHW is the "best-in-class" company, but its stock valuation already reflects that. So, it is "underweight" according to a majority of the analysts, whose median target price for its stock is $122.
Disclosure: I have no positions in any stocks mentioned, and no plans to initiate any positions within the next 72 hours.