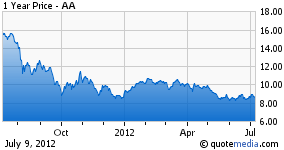 Alcoa (AA) reports earnings today after market close, and with it comes the open to another earnings season. Each quarter we hear that Alcoa is the bellwether report that will set the tone for the rest of the quarter. It's not, so don't be fooled by the media's hype and generalizations about earnings. Take Alcoa earnings for what they are - an individual company report indicative of their quarterly profits.
Alcoa: The whisper number is $0.09, three cents ahead of the analysts estimate. Alcoa has a 35% positive surprise history (having topped the whisper in 17 of the 48 earnings reports for which we have data). The average price movement (starting at next market open) within ten trading days of these forty-eight earnings reports is -1.6%. The strongest price movement of +4.6% comes within thirty trading days when the company reports earnings that beat the whisper number, and -4.8% within thirty trading days when the company reports earnings that miss the whisper number. Last quarter the company reported earnings thirteen cents ahead of the whisper number. Following that report the stock realized a 14.5% loss in thirty trading days.
Knowing how likely a stock's price will move following an earnings report will help you make better trades. Many investors believe that beating or missing the whisper number has the greatest impact on stock movement. If the number is exceeded, the stock is rewarded and prices move higher. If the number is missed, the stock is punished and prices move lower. Unlike the analysts estimate, the 'whisper number' from WhisperNumber.com has actually been proven to have a greater impact on stock movement.
************************************
Since 1998, WhisperNumber.com has been tracking and publishing 'crowd sourced estimates' for earnings. We call these earnings expectations whisper numbers. The 'crowd' that provides us with whisper numbers are primarily individual investors and traders just like you that have registered with our site.
We are an independent financial research firm. We have no affiliations with investment banks, investment management, or corporate organizations that could compromise our data or analysis. (So no relationships with the bad guys or so-called professional analysts).
As for our data collection, methodology, and price reaction accuracy: for the past 15 years we have remained consistent with data collection and methodology, and our data has proven itself over that time. We also have two independent academic studies supporting the premise that investor expectations for quarterly earnings (our whisper numbers) provide greater returns when used as an investment vehicle, and have a greater impact on stock movement than analysts consensus estimates.
A company's 'price reaction' to the whisper number expectation is the key - on average companies that exceed the whisper are 'rewarded', while companies that miss are 'punished' following an earnings report.
According to the Wall Street Journal, "positive surprises are becoming so common they are nearly universal. They are predetermined in a cynical tango-clinch between companies and the analysts who cover them. All the numbers are gamed at this point". This is why the proprietary whisper number we provide is a more useful and viable alternative to analysts estimates.
All trading involves risk and the information presented is not intended to be a recommendation of any kind.
Disclosure: I have no positions in any stocks mentioned, and no plans to initiate any positions within the next 72 hours.