Time to dust off the old tools. On June 28, 2011, I wrote an article to introduce Capital Max's proprietary short- term momentum model, based on the Dow Jones Industrials. Actually, don't get me wrong, this happens but not all the time -- this was a pretty good call. We were at 12,044, down from 12,814 on May 2:
The momentum summary are the means for MAC (not MACD) and AA (not Alcoa, but our modified RSI Oscilator ratio). As of the close on the 27th, they were respectively 1.77 and 2.30 (the means were 1.0 and 2.5, respectively). This suggested the Dow was in a bottoming phase, with a potential pickup in momentum.
We went on to 12,736 on July 7. I posted a few Instablogs throughout the period, and you can check these to see how I use the model -- it's an art, not a science. You then know what happened in July -- a fast and furious correction driven by many other things than technicals. So I put it back in the drawer.
On July 5, I thought about it and decided to rerun it. After all, things have become calmer on the European front, so we should be back to the normal vagaries. This was a strange coincidence: The last time I had run it was a year ago, to the day. Here are some observations:
The Dow is up 2.60% since then, on a price-basis only -- add 2.8% for dividends. A lot of work for nothing much.
When looking at individual components, the average relative return was 0.48%. This would suggest a pretty correlated group. Nope.
The two biggest gainers were Home Depot (NYSE:HD) at +40%, and Wal-Mart (NYSE:WMT) at +30%. The two biggest losers were Alcoa (NYSE:AA) at -48% and Hewlett-Packard (NYSE:HPQ) at -47%. There were only five stocks out of 30 that stayed in the +/- 3% range. These were McDonald's (NYSE:MCD), Johnson & Johnson (NYSE:JNJ), Boeing (NYSE:BA), Chevron (NYSE:CVX), and Exxon Mobil (NYSE:XOM).
The net results: The standard deviation of individual returns was an enormous 19.5%. If you thought this was a lot of work for nothing much, think twice -- the moral of the story, as usual, is stock picking.
The next question becomes "What's next?" Well, I hate to say it, but on Thursday evening when I ran the model it looked kind of overbought. We were at 12,897, and I had a target of 12,831, in a range of 12,544 to 13,143. For those who have followed the previous exercises, the overbought/oversold (OB/OS) ratio was 0.54 (on a scale of 0 to 1), the MAC ratio was 2.37, and the modified RSI Oscillator was also 2.37 (both on a scale of 1 to 4).
We clearly broke the target on Friday, with a close of 12,772. This is quite frequent; the question is how the individual components behave. It seems as if there was very little damage, with only General Electric (NYSE:GE), United Technologies (NYSE:UTX), and IBM (NYSE:IBM) hitting support. Of course all eyes are on earnings, in particular for companies with large European exposure, which is why I am short IBM and MMM. However, one of my favorite bellwethers of the times, the IBOXX High Yield Corporate Bond Index (NYSEARCA:HYG), is holding like a charm, down 0.13%. With the model now in oversold territory (OB/OS of 0.34), Monday will be an interesting day. What you want to focus on are the number of stocks either bouncing off support or breaking it. A model being a model, do not forecast it -- that's its job. For those of you who would like to see what it looks like, see below.
Click to enlarge image.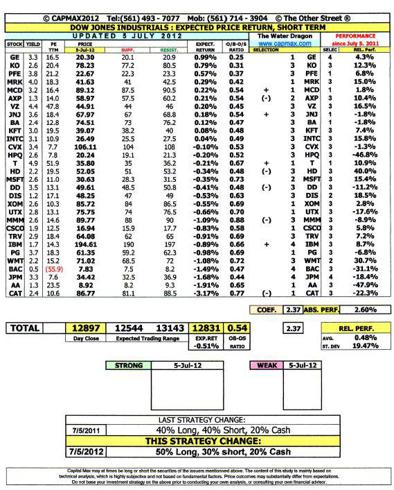 Disclosure: I am short IBM, MMM, and 20% net long going into the weekend.
Disclaimer: As a Registered Investment Advisor, there are a few things we must tell you. We at Capital Max do not know your personal financial situation or investment objectives, so this article does not constitute a solicitation to purchase or sell any of the securities mentioned, nor is it intended to provide specific investment advice. Past performance is no guarantee of future performance. We live this every day, and you should know it too. The value of the securities mentioned herein may fall or rise and are not insured by any government or private company, even if it meant something. We believe what we write, and we take your audience quite seriously. However, since we cannot be held responsible for any loss or damage caused by reliance on the information and data herein, you should consult with your own advisor and/or do your own research before acting on any of our opinions, which we change without notice.