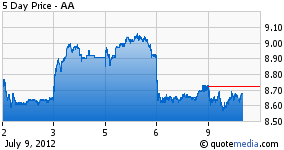 Alcoa's (NYSE:AA) earnings report will unofficially kick off the Q2 earnings season on Monday, July 9 after the market close, with a conference call scheduled for 5:00 pm ET.
Guidance
Analysts are looking for EPS of 6c on revenue of $5.81B. The consensus range is 0c-12c for EPS, and $5.58B-$6.07B for revenue, according to First Call. Alcoa posted positive results in Q1, beating EPS and revenue estimates. Management projected stable demand for aluminum and reaffirmed its forecast that global aluminum demand would grow 7% in 2012, on top of the 10% growth seen in 2011. Despite the positive trend for aluminum growth, the company noted that building and construction was still slow in developed markets. Recent sentiment on Alcoa has been mixed.
Analyst Views
On April 4, Barron's weighed in with a bullish article saying the company has strong prospects ahead and that most of the worries concerning its stock were already reflected in its price. However, both Dahlman Rose and Nomura recently lowered their Q2 EPS estimates to reflect weaker aluminum prices. Shares have traded lower since Q1 results were released, moving from around $10 to a recent $8.60. Higher commodity costs and uncertainty in Europe have contributed to the stagnation. It's worth noting that the shares are down over 50% from their 52-week high of $18.47, and are approaching their 52-week low of $8.21. As such, a wealth of bad news has been priced into the stock.