The June issue of the Option Seller Newsletter suggested that the short side of most commodities would be the more profitable place to be in the coming months as global economies once again begin to slow. For option sellers, this means selling calls.
Nowhere has the commodities downtrend been more pronounced than the energy sector. It is often said that crude oil prices are a gauge of the overall global economy. While we would not say this is 100% accurate, it does hold a ring of truth.
Perhaps a more accurate statement would be that oil prices are reflective of sentiment towards the future global economy. They call these futures contracts for a reason.
Despite the recent surge in oil prices, that sentiment remains decidedly bearish.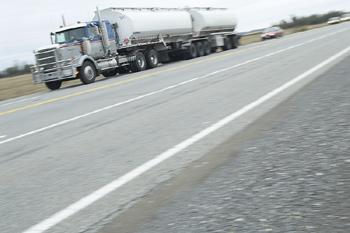 Falling demand for exports of all kinds means fewer trucks on the road.
As Europe churns on the abyss, the best case outcome seems to be a long period of stagnant growth. For the present, the European economy as a whole is in recession. And despite arguments that the US can remain above a European slowdown, it cannot. Nor can China or Russia or India. As the ripple effect from Europe washes across the world, trade continues to slow. Less exports to Europe means a smaller piece of export pie for everyone. And the fallout is now starting to be felt.
Some Key Examples:
In the US, manufacturing grew at its slowest pace in 11 months in June. US manufactures reported the second largest decline in new export orders since September of 2009.
In China, the world's second largest economy, private manufacturing numbers posted the 8th straight monthly decline in June.
On the home front, unemployment remains stubbornly above 8%. In May, US unemployment rose for the first time in nearly a year and remained stuck in June at 8.2%
Less manufacturing and slower exports mean less energy needed for factories, trains, trucks, ships and planes. Indeed, gasoline demand in the US for the 4 weeks ending June 15th was down over 5% from the same time as last year.
The result? Crude stockpiles in the US continue to pile up. Now pushing 390 million barrels, inventories are bulging to their highest levels in over 20 years.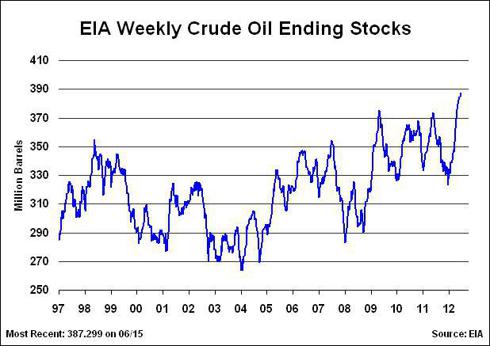 Crude oil stocks have surged to their highest levels in over 20 years.
Prices have responded by tumbling 28.4% in the 14 weeks ending June 28.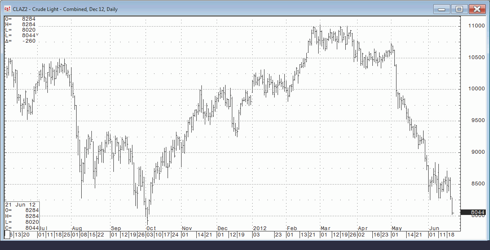 Caption: Oil prices have plummeted by over $30 per barrel since March.
The oil price rally this week had everything to do with Europe's decision to shore up Italian and Spanish banks and little to do with oil fundamentals. Like most every commodity this week, short covering fueled the rally from the lows. However, now that prices have got the initial euro giddiness out of their system, reality appears to be back. The question now becomes, how does one profit from the current set up?
Conclusion and Strategy
With Europe at the very least slowing, China, the US and the rest of the developed world will continue to feel the effects for at least the rest of 2012.
This should keep the macro picture bearish for oil for the time being.
At the same time, oil prices tend to price in a future projected scenario - one that may or may not play out. With oil already tumbling more than $30 per barrel, you have to wonder at what point the drop in demand will be priced.
We are not in the business of picking market tops or bottoms and if you are an option seller, neither should you. However, with Iran still on the table, hurricane season ramping up in the Gulf of Mexico and the US entering the heart of "driving season," there are still enough bullish cards in the deck to prevent a total wash in crude prices this summer. This week's rally made that point quite evident. However, it also may have been a gift to call sellers.
It is our opinion that barring an all out economic crash, oil prices are likely within $5-$7 of a low. Does this mean we are bullish oil prices from here?
No.
It means we feel the odds are against an additional drop of more than $5 to $7.
But for an option seller, that is more than enough. Additional weakness in oil prices should be viewed as option selling opportunities at the premium inflated puts now available in crude.
On the other hand, demand for crude oil is not going to make a miraculous recovery over the next 90 days. To that end, we also favor selling calls as the recent rally has left premiums for deep out of the money strikes attractively priced.
The objective is to establish a strangle in this market with deep out of the money puts offsetting deep out of the money calls. This gives oil prices a wide range to move, yet allows you to potentially be profitable with options on both sides of the market. In essence, double premium.
CRUDE OIL STRANGLE STRATEGY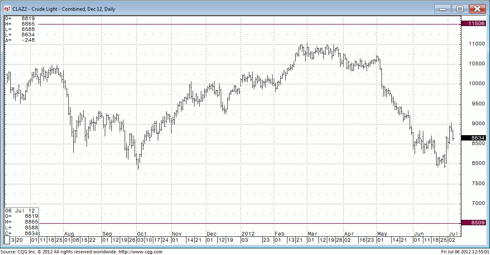 Caption: A strangle is the strategy of selling puts below the market and calls above it. If the market is anywhere between the 2 strikes at expiration, both options expire worthless in favor of the option seller. This example shows the profit zone of selling December Crude Oil 65 puts and 115 calls.
The difference is, due to the volatile nature of prices over the last several weeks, it may be beneficial to "leg on" this strangle. This means selling your puts on weakness and calls on strength - potentially capturing higher premiums for each.
Our targets? December Crude 65.00 puts and 115.00 calls. Target premium $1050. Expiration is November 13th, but look to take profits on either side as time accelerates the premium decay. If crude oil prices are anywhere between $65 per barrel and $115 per barrel at expiration, both options will expire worthless and you keep the premiums.
That should give prices plenty of room to move in almost any scenario.
We will be working closely with our private client group in timing and strike selection this month.
* Price Chart Courtesy of CQG, Inc.
** Fundamental Charts courtesy of Hightower Research
***The information in this article has been carefully compiled from sources believed to be reliable, but it's accuracy is not guaranteed. Use it at your own risk. There is risk of loss in all trading. Past performance is not necessarily indicative of future results. Traders should read The Option Disclosure Statement before trading options and should understand the risks in option trading, including the fact that any time an option is sold, there is an unlimited risk of loss, and when an option is purchased, the entire premium is at risk. In addition, any time an option is purchased or sold, transaction costs including brokerage and exchange fees are at risk. No representation is made that any account is likely to achieve profits or losses similar to those shown, or in any amount. An account may experience different results depending on factors such as timing of trades and account size. Before trading, one should be aware that with the potential for profits, there is also potential for losses, which may be very large. All opinions expressed are current opinions and are subject to change without notice.
Disclosure: I have no positions in any stocks mentioned, and no plans to initiate any positions within the next 72 hours.