Wireline Outlook
Rapidly increasing demand for wireless products and services has caused a contraction in wireline margins for quite some time now, as more and more customers are switching from the traditional landline phones towards 4G-operated wireless phones. However, major telecom carriers seem to be doing well as far as their wireline operations are concerned. Most of them are experiencing an increase in their Broadband and Internet subscription base, triggered by increased residential and corporate usage. Residential demand continues to be the growth driver for wireline. Moreover, there is a rising concern among investors regarding the wireline business, and whether or not it will be able to sustain the pressures created by the changing wireless preferences. However, we believe that wireline is here to stay. In the rest of the thesis, we will analyze AT&T (NYSE:T), Verizon (NYSE:VZ) and Sprint (NYSE:S) from a wireline standpoint to assess their operations, as well as identify the factors that are likely to offset the losses caused due to changing consumer preferences.
The following table illustrates the exposure of AT&T, Verizon and Sprint to the wireline business.
q/e 2012

q/e 2011

AT&T

Revenues(000s)

Wireline

14,928

15,051

Wireless

16,136

15,310

Verizon

Wireline

9,666

9,835

Wireless

18,250

16,860

Sprint

Wireline

781

898

Wireless

7,950

7,413
AT&T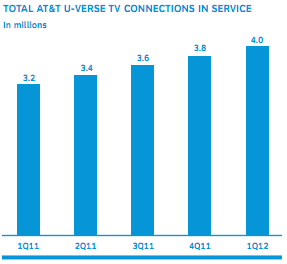 AT&T operates through four segments, namely Wireless, Wireline, Advertising and Other. The wireless segment provides voice and data services to its consumers and business customers, whereas the wireline segment provides landline voice and communication services along with high speed broadband and U-verse TV. The company derives a majority of its revenue from these two segments, and according to its recently filed quarterly report, the wireline segment contributed 47% and 33% to the company's revenue and income before taxes, respectively. The first-quarter results saw a deterioration in voice services, with revenue declining by 10% from the same quarter of the previous year. A decreased usage of its landline voice services led to this decline in revenue and we expect this slowdown to continue because of increased demand for wireless services from both consumers and corporate customers. However, offsetting the decline in voice revenue, U-verse showed strength in the first quarter and has done so consistently. U-verse video connections rose by a staggering 25% to almost 4 million video subscribers. The package provides its customers with a digital TV along with phone and internet services for a competitive price. An increase in U-verse customer subscriptions has largely offset the consistent decline in voice revenue for the company's wireline business. Moreover, the company's recent launch of the U-verse app for iPad is gaining traction. We expect that strong growth for the U-verse voice and video connections will continue going forward.
Even though the company's wireline revenue has shown a slight weakness (less than 1% decline in Q12012 versus Q12011), we expect U-verse to drive the segment's future growth. Overall, the wireline business for the telecom carrier looks healthy, and this is evident in the latest quarterly results, a summary of which is given below:
Wireline operating income margin up 12%.
Strategic Business Services revenue up 19% YoY.
Data service revenue up 9%, offsetting the slowdown in voice revenue.
U-verse TV subscribers of 4 million versus 3.2 million in Q12011 (up 25%)
U-verse broadband subscribers of 5.9 million versus 3.7 million of Q12011 (up 60%).
Sprint Nextel Corp.
Sprint Nextel Corp provides a range of voice and data communication services, and as of the quarter ended March 2012, it had more than 56 million customers. The company operates through its two segments: Wireless and Wireline.
Compared with AT&T and Verizon, Sprint's wireline segment doesn't contribute much to its revenue and earnings. In the quarter ended March 2012, only 13% of its total segment earnings came from wireline, with its earnings dropping almost 30% from 1Q2011. Moreover, the quarterly slowdown in revenue was 13% compared with AT&T's 0.82% and Verizon's 1.7%. Voice revenue declined in the quarter because of a lower price charged to the company's wireless segment. Moreover, higher churn is weighing on voice revenue. This decline in voice revenue is consistent with other major carriers as well, however, the percentage drop is higher than AT&T and VZ. Moreover, AT&T has U-verse and Verizon has FiOS and HSI to provide the customer with phone, internet and video services, as well as offset the losses in voice revenue. But Sprint doesn't have these products and services. What it does have is the data service provider, asynchronous transfer mode (ATM), which has seen a lack of demand for its services, leading to a decline in data sales. It seems like the company's management hasn't planned much on the turnaround of its wireline business, which is deteriorating, evident in its financials, a summary of which is presented below:
Voice revenue down 15%.
Data revenue down 7%.
Internet revenue down 9%.
Wireline segment earnings down 30%.
The table below shows the 30% increase in capital expenditure for the wireless segment, and an almost similar decrease for wireline.
Wireless

Wireline

(in millions)

Capital Expenditures- q/e march, 2012

$678

$47

Capital Expenditures- q/e march, 2011

$525

$64
In the absence of offsetting factors to the wireline losses, and a clear plan by the management, as well as the decrease in capital expenditures, we are led to believe that Sprint's wireline business will likely continue on its downward trend. However, as mentioned in the table in the beginning, Sprint's exposure to wireline is not significant, therefore, it should do well to focus on its wireless operations.
Verizon Communications Inc.
Verzion Communications Inc., with headquarters in New York City, is a provider of data, voice and video services to its consumers, corporate businesses, as well as government agencies. As of the year ended 2011, it had almost 200,000 employees and close to $110 million wireless connections. The company has two reportable segments: Wireless and Wireline. The wireless segment provides voice and data services, as well as equipment, whereas Verizon wireline provides services like high speed internet, broadband and long-distance calling. The company's wireless segment is the major contributor to its revenue stream (almost 65%), with the rest coming in from wireline services. Compared with AT&T, Verizon's wireline contributes very little to its operating income, as well as income before taxes. VZ's wireless segment seems to be doing well, with a decent growth in revenue of almost 10% in the first quarter from 1Q2011. However, a slight deterioration was seen in its wireline segment, which posted a slowdown in revenue of almost 2%. The culprit once again, and as is the case with AT&T, is a decline in voice revenue. The company experienced decreased MOUs in its landline voice products in the first quarter, continuing on its generally downward trend. This decrease in customer minutes is largely due to customers switching toward more efficient and advanced wireless technology.
The table below illustrates the deterioration in voice revenue that has been discussed above.

Broadband showed improvement, adding almost 300 new connections from 1Q2011. The company now has more than 9 million broadband customers and half of them are utilizing Verizon's HSI. The package is widely popular among its users, providing download speeds of 15Mbps. Reviews have come in positive, with fewer outages and complaints. Moreover, it comes with attractive features like 'no contract requirement' and 4 gigabytes of online storage. FiOS has performed exceptionally well and continues to be the growth driver for the company's wireline. In the first quarter of the year, FiOS revenue grew almost 18% year over year. Under the FiOS triple pay plan, without signing a contract and with a one year price guarantee, customers can get voice and internet services as well as the FiOS HD TV for a reasonable price. And now with Verizon's FiOS Quantum, customers can enjoy download speeds of up to 300Mbps. Going forward, we expect the strong demand for FiOS to continue and offset the losses in voice revenue for the wireline segment.
Overall, Verizon's wireline seems to be on the right track, of course, with the exception of voice, which has been on a consistent decline. However, FiOS and broadband are hard at work to offset those declines. Going forward, we expect the strong demand for FiOS to continue and reflect positively in wireline's financials.
Disclosure: I have no positions in any stocks mentioned, and no plans to initiate any positions within the next 72 hours.