After conscientious back-testing of stocks from the small-cap universe we have created a screening method that has proven to perform much better than the main indexes of the U.S. stock markets.
The screen, that will be called S-2, requires all stocks to comply with all following demands:
The stock is included in the S&P 600 index. S&P Custom Indices Fact Sheet explanation: "Introduced in 1994, the S&P SmallCap 600® is fast becoming the preferred small cap index in the U.S., covering approximately 3% of the domestic equities market. Measuring a segment of the market that is typically renowned for poor trading liquidity and financial instability, the index is designed to be an efficient portfolio of companies that meet specific inclusion criteria to ensure that they are investable and financially viable.".
Earnings growth past 5 years (per annum) is greater than 10 %.
Earnings growth estimates next 5 years (per annum) is greater than 10 %.
Sales growth past 5 years (per annum) is greater than 10 %.
The company has shown a profit in every year in the last 5 years.
Price/sales Ratio (last 12 months) is less or equal 1.
5 stocks with the lowest Market Value among all the stocks that passed the first 5 demands.
After running this screen on July 08, 2012, we obtained as results the 5 following stocks:

Data: Yahoo Finance
Calavo Growers Inc. (NASDAQ:CVGW)
Calavo Growers, Inc. markets and distributes avocados, prepared avocados, and other perishable commodities, as well as manufactures and distributes processed avocado products in the United States and internationally. The company's Fresh Products segment grades, sizes, packs, cools, and ripens avocados for delivery to customers; and procures avocados grown in Chile, Mexico, and Peru, as well as various other perishable commodities, including tomatoes, papayas, and pineapples. Calavo Growers, Inc. was founded in 1924 and its headquarters is in Santa Paula, California.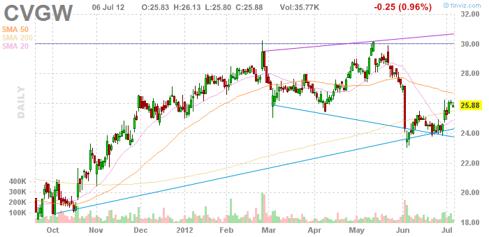 Chart: finviz.com
Digital Generation, Inc. (NASDAQ:DGIT)
Digital Generation, Inc. provides digital technology services that enable the electronic delivery of advertisements, syndicated programs, and video news releases to traditional broadcasters, online publishers, and other media outlets. The company connects approximately 11,000 global advertisers and agencies with their targeted audiences through a network of approximately 6,000 television broadcast stations and 11,500 web publishers in 75 countries. Digital Generation, Inc. was founded in 1991 and its headquarters is in Irving, Texas.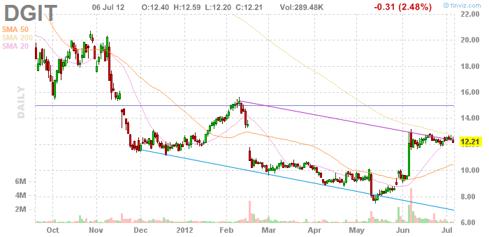 Chart: finviz.com
The Ensign Group, Inc. (NASDAQ:ENSG)
The Ensign Group, Inc., through its subsidiaries, provides nursing and rehabilitative care services in Arizona, California, Colorado, Idaho, Iowa, Nebraska, Nevada, Oregon, Texas, Utah, and Washington. The company offers nursing, assisted living, home health, and hospice services, including physical, occupational, and speech therapies, as well as other rehabilitative and healthcare services for long-term residents and short-stay rehabilitation patients. As of December 31, 2011, it operated 102 healthcare facilities. The company was founded in 1999 and it is based in Mission Viejo, California.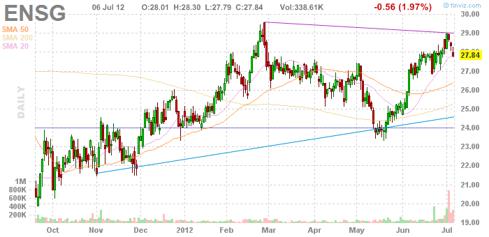 Chart: finviz.com
GT Advanced Technologies Inc. (GTAT)
GT Advanced Technologies Inc. provides polysilicon production technology and crystalline ingot growth systems, and related photovoltaic (PV) manufacturing services for the solar industry worldwide. It also offers sapphire growth systems and material for the light emitting diode (LED) and other specialty markets. The company's principal products are silicon deposition reactors and related equipment, which are used to produce polysilicon for applications in silicon-based solar wafers and cells; directional solidification (DSS) furnaces and related equipment used to cast multicrystalline and MonoCast crystalline silicon ingots, which are used to make PV solar wafers and cells; and sapphire crystallization furnaces, which are used to crystallize sapphire boules for use in the manufacture of LED devices.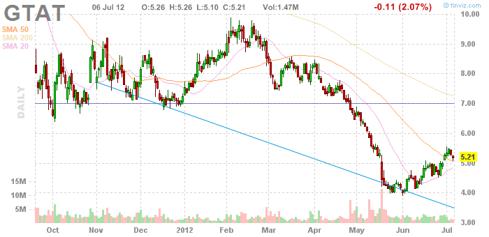 Chart: finviz.com
rue21, Inc. (NASDAQ:RUE)
rue21, inc. operates as a specialty apparel retailer in the United States. It provides fashion apparel and accessories for girls and guys, including graphic T-shirts, denim, dresses, shirts, hoodies, belts, jewelry, handbags, footwear, intimate apparel, and other accessories. The company sells its apparel and accessories under the brand names of rue21, rue21 etc!, tarea by rue21, Carbon and CJ Black, and Carbon Elements; and fragrances under several brand names. As of May 24, 2012, it operated 809 stores in 46 states. rue21, inc. was founded in 1976 and its headquarters is in Warrendale, Pennsylvania.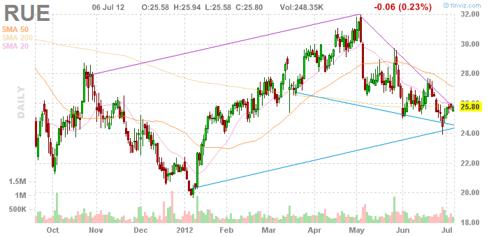 Chart: finviz.com
It is mostly recommended to run this screen each month and replace the stocks that no longer comply with the screening requirement with other stocks that have a better chance to do so.
The investor should be aware of the fact that small-cap stocks are much more volatile than the entire market, but might give a much better return over the long run.
Disclosure: I have no positions in any stocks mentioned, and no plans to initiate any positions within the next 72 hours.