AutoNation (NYSE:AN) is starting to crank up the stock buyback machine, following the successfully playbook of Eddie Lampert and AutoZone (NYSE:AZO). We have a $46 price target, which is 15x our 2013 EPS estimate. We foresee earnings growing close to 30% in 2012 and 2013 as the share count rapidly declined at AutoNation, leveraging a healthy new car replacement cycle that should keep sales running about 10% higher on an annual basis during this time period.
This chart makes the case for robust EPS growth aided by an aggressive stock buyback campaign: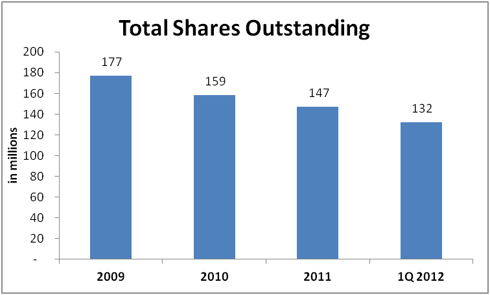 We also think that AutoNation is a Best-of-Breed in the auto dealer industry. We have meet with the management team frequently in the past and are big fans of Mike Jackson (NYSE:CEO) and Mike Maroone (NYSE:COO) since they take a long-term view and pride themselves on driving shareholder value. Only Roger Penske at Penkse Automotive (NYSE:PAG) can match up against this duo.
Below is a table that stacks AutoNation up against its peers: Asbury (NYSE:ABG), Group 1 (NYSE:GPI), Lithia (NYSE:LAD), Penske and Sonic (NYSE:SAH).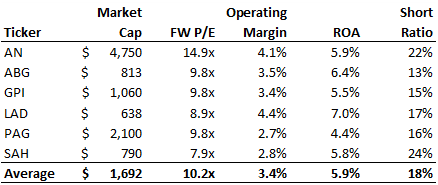 A few things jump out at us:
1) AN is the most expensive stock in the group at 15x 2013 EPS. We are fine with this as the company is also the highest-quality.
2) AN has a very high percentage of shares outstanding short at 22%. We are surprised so many investors are trying to short such a high-quality name, especially as the new car cycle is showing incredible resilience.
Risks to the Thesis:
There are risks to our bullish thesis. The first is a major slowdown in the U.S. economy due to panic from the euro crisis or sharp slowdown in China. Consumer confidence is a delicate thing, and big purchases like automobiles are dependent on consumers feeling good about their economic situation. Secondly, consumer credit could dry up, causing potential buyers to defer a purchase because they can't get credit from a bank. Presently, lending conditions are very favorable in the U.S., but this can change quickly. Lastly, AutoNation could use their cash for a large acquisition which would likely upset the current investor community and cause the stock to fall.
Bottom Line: We think new car demand will be solid over the next two years as replacement demand supports a SAAR of 14 - 15 million, AutoNation is Best-of-Breed, and they'll be aggressively buying back stock over the next two years which should drive EPS above Wall Street Expectations.
Disclosure: I am long AN.