Mortgage REITs, or mREITs, buy mortgage paper as an investment, or in order to re-sell the paper to a competing mREIT or another entity that invests in real estate loans. Most mREITs are known for their high yields. Agency mREITs buy mortgage paper that is backed by federal agencies. Non-agency mREITs hold mortgage paper without such a government agency backing, though these companies also can and do buy large positions in agency paper.
For those who aren't interested in picking a single equity, but prefer to invest broadly within mREITs in order to obtain some high-yield, there are two ETFs that offer high-yield mREIT exposure: the iShares FTSE NAREIT Mortgage REITs Index ETF (BATS:REM), and the Van Eck Market Vectors Mortgage REIT Income ETF (NYSEARCA:MORT). Below is a comparison of these two ETF options.
Both of these ETFs have investment policies that indicate highly passive and index-linked investment styles. Van Eck's Market Vectors Mortgage REIT Income ETF, MORT, has a policy to invest at least 80% of its total assets in securities that make up the fund's benchmark index. MORT uses the Market Vectors Global Mortgage REITs Index, which is made of publicly traded U.S. mortgage REITs that derive at least 50% of their revenue from mortgage-related activity. Similarly, the iShares FTSE NAREIT Mortgage Plus Capp ETF, REM, has a policy to invest at least 90% of its assets in securities of its underlying index, the FTSE NAREIT All Mortgage Capped Index.
Beyond having similar passive methodologies, both ETFs also have their largest holdings in agency mREITs, though both do have some significant non-agency and/or hybrid mREIT exposure. The vast majority of recent U.S. residential mortgage originations have been purchased, guaranteed or insured by federal agencies, and because of this, most formerly non-agency mREITs have since incorporated growing holdings of agency RMBSs. Beyond the agency and non-agency difference, which is substantial, there are many other differences between mREITs in terms of portfolio & hedging strategies, leverage rates and exposure to various other risks, including prepayments.
These two ETFs have very similar holdings. In fact, both of these companies share nine REITs in their top ten holdings, with those nine holdings comprising just under seventy percent of each respective ETF's total portfolio. See a comparison of the top holdings of REM and MORT: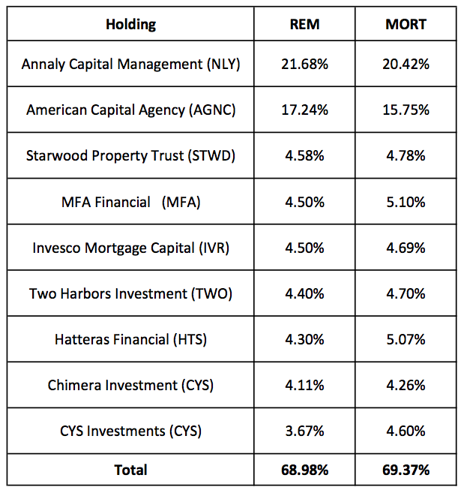 Both companies not only have similar holdings, but they also have similar position sizes within each of these holdings. Both REM and MORT have their largest position in Annaly Capital Management (NYSE:NLY), which is the largest agency mREIT, and their second largest position in American Capital Agency (NASDAQ:AGNC), which is the second largest agency mREIT. Both also have comparable smaller positions in numerous hybrid/non-agency mREITs, and both have a similar sized position in Starwood Property Trust (NYSE:STWD), a commercial mREIT.
These similar portfolios have caused these two ETFs to trade in near lock step recently, with both up around 15 percent since the start of 2012, with the only real differences in share price performance coming from differing ex-dividend dates, with REM generally going ex-div about a week before MORT.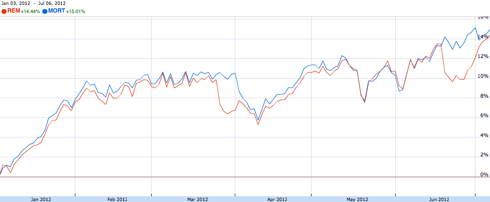 One difference between these two ETFs would be expenses. REM currently has an expense ratio of about 0.48 percent, while MORT has a slightly lower 0.40 percent expense ratio. MORT is also a newer ETF, which launched less than one year ago, and which has considerably lower trading volume than REM. Over time, MORT's volumes may increase, as might REM reduce its expense ratio.
Both mREIT ETFs also increased their dividends this last quarter, which is something that most agency mREITs did not. Agency mREITs have largely had to reduce their payouts over the last several quarters due to reduced spreads.
REM increased its quarterly payout from $0.4147 to $0.4407, a 6.2 percent increase, while MORT increased its quarterly dividend from $0.6270 to $0.7030, a 12.1 percent increase. Despite its superior recent dividend growth, MORT's present yield is still lower than REM's. MORT's annualized payout, based on its most recent dividend, is 10.7 percent, while REM's annualized payout is 12.17 percent.
Disclosure: I am long NLY.