Yelp is well over-valued at its current market capitalization of $1.6 billion.
Yelp is a Silicon Valley-based social review service that allows consumers and small businesses to advertise, exchange information and post small-business reviews. Basically, registered users sign on to the site and then post to describe their experiences at small businesses. This dedicated user base (and the advertising potential that comes along with it) is what Yelp's lofty $1.6 billion valuation is built upon.
Unfortunately, the integrity of Yelp's review service has recently come into question as many of the site's reviews have been flagged by media reports as either too negative, too positive or just plain not useful due to Yelp's questionable filtering system. Yelp has also been accused of burying good reviews in the hopes that businesses will pay more to enhance their listings.
Even if Yelp's reviews are indeed legitimate, I argue that from a fundamental perspective Yelp as a business is over-hyped. We are looking at yet another Web 2.0 company that will likely never come close to generating the earnings that the current valuation implies.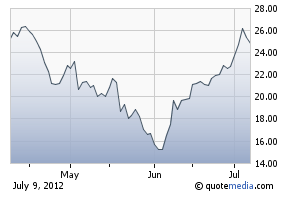 Yelp derives its revenue from selling advertising packages and banner ads to businesses hoping to catch the eye of Yelp's purported 71.4 million monthly users. Yelp's advertising packages re-direct users to the small businesses' Yelp page, where presumably the user will then discover good reviews. Last year, Yelp garnered more than 70% of its revenues from local advertising.
Yet, Rocky Agrawl at Venture Beat has observed that Yelp sells advertisement packages to small businesses at over 1,000x the standard online CPM rates they can find elsewhere on the web (i.e. Facebook). This is not a sustainable strategy. Rocky argues that despite being a labeled 'social media' company, Yelp's business model is closer to that of a standard 'Yellow Pages' style company: selling questionable advertising packages to businesses who may not fully understand the model. These are likely owners who feel the need to do something to generate positive buzz and encourage good reviews. After all, a small businesses' reputation is somewhat on the line based on Yelp reviews.
Is it possible that Yelp's packages are 1000x more effective for small business owners than other web-based advertising options? I would love to see the numbers, but that does not seem very likely. And it does not bode well for Yelp's sustainability once businesses' catch-on.
Indeed, businesses have begun to realize that Yelp may not have their best interests in mind, as several lawsuits have emerged accusing Yelp of extortion. A recent major class action law suit was thrown out in California, representing what I believe is a Pyrrhic victory for Yelp. Indeed, the suit was not thrown out because the small business' claims were baseless. Rather, it was dismissed because freedom-of-expression laws protect sites from being sued for user content. For Yelp to survive for the long haul, they need to provide better solutions for businesses.
Growing revenues, growing losses… I give Yelp's performance a 1 star review.
But this negative publicity is not Yelp's fundamental problem. Like many other over-hyped online companies before it, the high costs of expanding the site coupled with an unsustainable revenue model have resulted in years of negative earnings. Yelp will likely not be able to justify raising the prices of their advertising packages any further than the already exorbitant CPM rates offered. At today's share price, the market indicates that Yelp is worth a market capitalization of $1.67 billion. Let's try to comprehend that for a second. We are looking at a company that in 8 years has never produced positive earnings and is burning through cash at an expanding rate. In Yelp's first post-IPO reporting period in May, the company posted a net loss per share of (0.31), which was over double analyst's estimates of (0.15). While revenue was up 66% on the year, net losses nearly tripled from Q1 2011.
Proponents argue that a company like Yelp is still in "growth" or "start-up" mode. After 8 years of losses, when will this company be able to stand on its own two feet and stop burning through cash? The trends do not appear promising. And what if another service pops up that does what Yelp does better, or integrates more fluidly with existing social networks such as Google+, Facebook or LinkedIn?
The share price has recently popped due to news that Yelp's reviews will now be incorporated into Apple's new native mapping application for iOS. The new integration will allow Maps users to check into businesses directly via the Yelp service without having to open the Yelp app. Yelp's jump in share price indicates that investors believe this announcement will drive an increase in user engagement for Yelp.
Fair enough, but does this news justify a 10% jump in its already hefty valuation? I'm going to wager no, and for that reason this announcement represents a good opportunity to short a company that has a flawed business model and does not treat their core customers well (small businesses).
Don't let the recent Apple announcement fool you. While Yelp as a service may have a large user-base and be known as a go-to source for small business reviews, the fundamentals reveal that Yelp is not an investment built for the long haul.
Disclosure: I have no positions in any stocks mentioned, and no plans to initiate any positions within the next 72 hours. Additional disclosure here.