When Sun Microsystems (JAVA) acquired MySQL for $1 billion, it instantly gave Sun credibility in the open source market. But Sun isn't stopping there.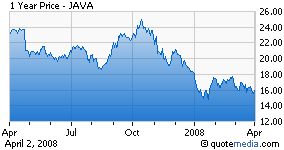 In recent weeks, Sun has quietly increased its bets on the fastest growing version of Linux in the market. And it isn't from Red Hat or Novell.
Rather, Sun is preparing to certify more of its servers for Canonical's Ubuntu Linux. The effort includes Sun's latest small and midsize business servers. In an interview with Reuters on April 2, Canonical CEO Mark Shuttleworth reinforced the growing relations between Sun and Ubuntu.
The timing couldn't be better for Sun. Canonical is scheduled to ship the latest Ubuntu release — Hardy Heron — in late April. (Here's an early review of Hardy Heron.) It's expected to include several major server enhancements.
Great. But Sun isn't stopping there. The hardware giant also plans to sponsor Ubuntu Live, a conference for Ubuntu users scheduled for this summer.
At that event, watch for Sun to potentially describe how its core open source assets -- the MySQL database and OpenOffice desktop productivity suite -- will evolve with Ubuntu.
Profits from open source may not be immediate. But Sun's open source assets -- and growing Ubuntu Linux efforts -- have finally put the company back on the agenda with software developers and corporate customers.
Disclosure: none