The new Greek government must create a strategy to save its debt rescue program and win the favor of the International Monetary Fund auditors. The economic climate is rough with sentiment and the focused exchange traded fund coasting on reform hopes.
"We don't want to change the targets," Prime Minister Antonis Samaras told parliament. "What needs to change is that which is hampering us from attaining the targets. We want to fight the recession."
Many analysts had viewed the upcoming election as a turning point for Greece. Samaras, the newly elected Prime Minister, will do all it takes to keep Greece in the eurozone. Various growth boosting measures such as speeding up privatizations, and tax reforms to taking on the bureaucracy, will be implemented, reports Dina Kyriakidou for Reuters.
The $6 million Global X FTSE Greece 20 ETF (GREK) has reacted to the election and the near term outlook. The ETF has rallied about 8% over the past week, but with 30% allocated to the financial sector, a strong comeback is not expected. The country has been in a debt crisis for over a year.
In March, the European Commission forecast the Greek economy to contract a total of 4.7% in 2012.
The further uncertainty in Greece will affect the economies of Spain and Italy. Doubts could still arise concerning the entire eurozone and the economic stability of the countries.
Global X FTSE Greece 20 ETF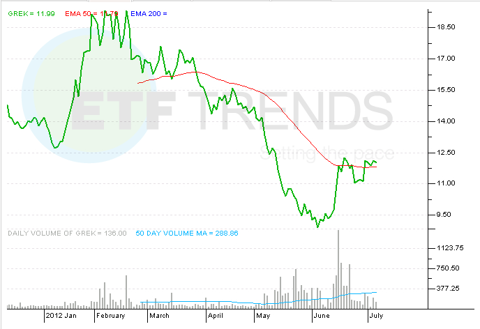 Tisha Guerrero contributed to this article.
Disclosure: I have no positions in any stocks mentioned, and no plans to initiate any positions within the next 72 hours.