REITs continue to outperform the overall markets this year, with the FTSE NAREIT All Equity REITs generating a year-to-date total return of 14.91% versus the S&P 500's 9.49% total return.
Sector returns were: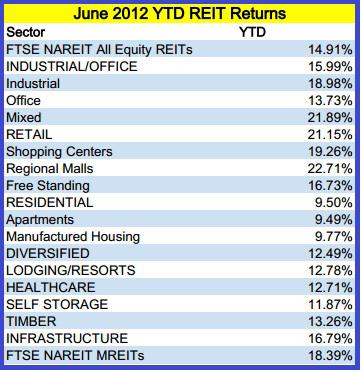 Dividends per sector were: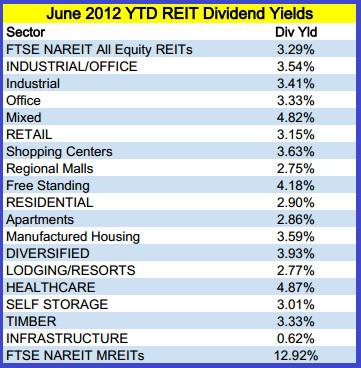 As with most dividend paying equities, the more REITs are being sought out for their safety and their yields, the lower that yield goes, we have witnessed this throughout the course of the last two years.
Investment Rationale:
Back on April 2, 2012 I looked at the REIT landscape and made the following observation:
I believe that the domestic (US) economy is recovering and that employment and corporate profits will grind higher. I also believe that housing is dead money for the near future and the demographic shifts that have taken place will not change significantly in the near future (homeowners will be homeowners, renters will be renters and the transition between the tow should be almost flat). I also believe that commercial real-estate (and its derivatives) will outperform the broader markets (or else a swap out of REITs in the entirety would be in order).
I still believe this to be the case. While global growth has been slowing (actually, near flat on a real basis), supply of new commercial real estate has been limited, creating a favorable leasing and lease renewal environment. I am cautious on the overall state of the REIT market as I believe it is nearly fully valued (on a price/FFO basis [18.5x consensus 2012 multiple] and a price/NAV basis [now at an 11% premium, largely due to healthcare]). Overall, upside - capital appreciation - from here will be a grind, but dividends should keep pace and continue to draw investors to the sector.
Within the REIT sectors, I made the following sector swap ideas:
One of my first swap ideas is coming out of malls into shopping centers. The retail shopping center was punished during the downturn and has not yet recovered, whereas malls have fared better. As I believe that the economy has bottomed and begun to rebound, retail centers stand to benefit from increased employment levels, higher discretionary income and consumer confidence generally. The performance gap between the two sectors should, therefore, narrow.
Specifically, I recommended the following:
Sell Simon Property Group (SPG) and buy Kimco (KIM) or Retail Opportunity (ROIC). During the second quarter, Simon produced an annualized total return of 30%, while Kimco and ROIC had annualized returns of -4.3% and 4.6% respectively. This swap isn't working and malls, especially Simon, seem unstoppable.
and
My second sector swap is selling apartments and redeploying that capital into office. The rationale for this is straightforward: the massive shift from owning to renting has mostly occurred. While there is certainly more to go, the bulk of the shift has happened and outperformance going forward will be harder to achieve. The office sector has not fared well due to the economic downturn and the resultant belt tightening within corporate America. As the economy grows, business should be more comfortable increasing their office space which should help stabilize and then grow rents within the sector.
Specifically, I recommended selling Avalon Bay (AVB) and buying Mack-Cali (CLI) and/or Duke Realty (DRE). During the second quarter, Avalon produced a annualized total return of 3.14% while Mack-Cali and Duke produced annualized returns of 11.15% and 11.8% respectively. This swap worked and is one I continue to recommend as I believe apartments are over-valued and office is still somewhat undervalued.
I also recommended an outright long in the industrial sector, advocating Monmouth Real Estate Investment (MNR) and DCT Industrial trust (DCT). These selections have produced annualized returns of 99.6% and 31.7% respectively.
My retail call underperformed horribly, while my office and industrial recommendations outperformed the market and the swap idea. The batting average is more than decent, but the retail call is troubling (how long and how far can malls outperform the shopping centers and what is beating Kimco to a pulp?).
Bottom Line: I still like the REIT space given its fundamentals, but outperformance within the space will be driven by some top down analysis (sector positioning), but mainly REIT specific or security selection. MREITs are still adding income, but it is getting harder to keep the income coming. A look at REIT preferred stock is warranted as common dividend yields have fallen and, as I said earlier, upside will be a grind.
Disclosure: I am long O, NNN, DDR.
Additional disclosure: This article is for informational purposes only, it is not a recommendation to buy or sell any security and is strictly the opinion of Rubicon Associates LLC. Every investor is strongly encouraged to do their own research prior to investing.