I added Mako Surgical (MAKO) to my watchlist last quarter after it plunged from 40 to 25 following a short-fall in sales of its "Robotic-Arm Interactive Orthopedic" system (NYSE:RIO). I had never really looked into this VERY expensive stock, but, having been successful with Intuitive Surgical (ISRG) over the years, I have a soft spot for robotic surgery. I added it to my watchlist in May and, thankfully, have just been watching.
Before I address the disaster of a Q2 that the company disclosed after-hours on July 9th, let me share a few points about the company. The company was founded in 2004 and had its robotic arm system approved by the FDA in late 2005. MAKO was initially focused on a minimally invasive knee resurfacing (MAKOplasty), and it added a hip procedure (Total Hip Arthroplasty, or THA) in late 2011. Over the past six years, since the first procedure was approved, there have been almost 18K combined procedures performed. Founder Dr. Maurice Ferre (51) serves as CEO and Chairman. He had founded an image-guided surgery company in 1993 that was sold to GE in 2002. His management team has been fairly stable and includes several former GE employees. Ferre owns beneficially over 1.7mm shares (4% of the company), with insiders in total owning almost 20%. One insider that gets attention is Fred Moll, a director, who is known for being a co-founder of ISRG and who bought 5K shares in May near 24, leaving him 234K shares and 40K options and warrants. For more information, here is a link to their Corporate Presentation from May. It discusses the technology, the market opportunity, the strategy and many other important issues.
Now, let's back up to Q1 before we proceed. The stock had been rocketing along to all-time highs (45.15) set in March with a rather shallow retreat along with the declining overall market before it released its Q1 earnings on May 7th. After a run from a low near 24 set in December, it had pulled back to close at 41.40 before the scheduled release. The company reported a short-fall then in the RIO, selling just six systems (all domestically), raising the installed base to 118 worldwide (116 in the U.S.). Consequently, the company lowered its previous full-year guidance of 56-62 systems by 4 units. It maintained full-year procedure guidance of 11K-13K. Total procedures grew 76% from the year-ago quarter. The slight short-fall in new systems and perhaps the lack of traction outside the U.S. knocked the stock down to about 25, with an ultimate low set below 21 in early June as the market bottomed (about a 50% drop from the close before they reported).
My thesis was that the stock could be quite interesting if this quarter was anywhere near expectations. No such luck. The company reported that system sales in Q2 were just 9 units, with one coming from outside the U.S (Hong Kong). Procedures decelerated again, growing 66% (48% for knee-only if I am doing my math right). The company reduced systems sales from 52-58 to 42-48 (compared to 48 in 2011), but it also cut the upper end of its procedures outlook, taking it to 11K-12K (compared to almost 7K in 2011).
MAKO hosted a call - here were the key points:
Hospital interest remains strong, but shift from early-adopter phase is challenging as it requires buy-in from a larger number of surgeons (longer sales process - not losing deals, just push-off)
Increasing attendance at regional training labs indicates surgeon interest remains strong
No need to raise capital
Pricing not an issue, lack of clinical data not an issue
After-hours, the stock traded below 15. One has to wonder how the shorts will react, as this is a huge decline (about 40%), and it's a crowded short at 13.7mm shares. This is the most heavily shorted the stock has been over the past year, and it represents about 8 days of trading volume and 39% of the float (and 1/3 of the outstanding shares). This area represents a 52-week low, but, as you can see in the chart, there is likely support near here (the early 2010 highs):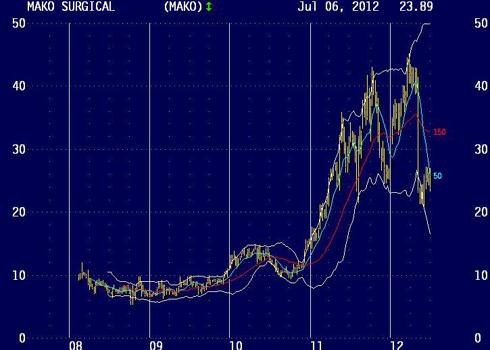 So, near 15, the stock is down a stunning 66% from its high set about 14 weeks ago. A falling knife, like this, will keep falling if the model is broken or there are financial issues, but I don't believe that either is the case at all. On the former, the procedure growth remains quite robust, just a bit slower than management had expected. It's a bit concerning that they aren't adding more systems, but they are growing and their explanation that the sales cycle is lengthening makes sense. On the latter, the company is burning cash, but it is amply funded, at least in the near-term, after signing an agreement with Deerfield Capital in May that gives them access to $50mm, though at a cost (each $10mm borrowed at 6.75% also includes 140K warrants). The company had cash and investments of $47mm at the end of Q1 (and less now). They last sold equity in 2010 (at $9.44).
Valuation is tricky on new companies like this. On a trailing basis, the Price/Sales at the 24.61 close (ttm through 3/31/12) was over 11X. I have found that companies with gross margins of 60-70%, like MAKO, trade these days near 4X or so when they are growing sales 15-20%. A great example is Volcano (VOLC), which has a similar razor/blade model. ISRG, which is truly a monopoly and a quite successful one at that, trades at 11X as well (adjusted for cash), but it's not growing procedures nearly as fast. So, it's not real clear to me that the stock is expensive for its growth. Knock 40% off, and suddenly the stock doesn't look so bad assuming it can maintain this slightly lower pace of sales growth, which is still smoking hot.
After two huge hits to shareholders over the past two months, this one will likely not bounce quickly. While I am still getting up to speed on the company, my initial impression is that this could be a good entry. For short-term traders who like the story, it might make sense to sell some puts here with the stock at very oversold levels and volatility likely spiking. Patient longer-term investors might look to build long positions over the next 3-4 months (when they report Q3). Before considering adding it to my Top 20 Model Portfolio, which has two Med-Tech holdings already, I intend to better understand the competitive dynamics. While the company denied any sort of issue there, there has been talk of Stryker (SYK) being more aggressive. Here is a starting point if you care to investigate that threat more closely.
Disclosure: I have no positions in any stocks mentioned, and no plans to initiate any positions within the next 72 hours.