The stars are all starting to align. The way we see it, a long rumored M&A development could set up a major short squeeze for those betting against Obagi Medical Products (NASDAQ:OMPI).
Despite the last two down market sessions, shares of the company have continued to push up and closed Monday's regular session trading at $15.96 +0.21 (1.33%). Shares continued higher after hours to $16.00 +0.04 (0.25%).

During the day, shares hit a 52-Wk high of $16.35 on various notes and M&A rumors. In play here is Obagi's primary and very profitable product line: The Obagi Nu-Derm System, which is the leading clinically proven, prescription-based, topical skin health system on the market and has been shown to enhance the skin's overall health by correcting photodamage at the cellular level, resulting in a reduction of the visible signs of aging.
On Monday, OMPI)+Could+Soon+See+Offers+from+Multiple+Suitors/7567220.html" rel="nofollow">Cantor Fitzgerald's Irina Rivkind confirmed what others had been buzzing about when she said the company could be attractive to "multiple suitors." In a note to clients, she also called Obagi attractive given its "brand recognition" and reputation for efficacy. The analyst also pointed to the company's pristine balance sheet and "healthy" growth.
Rivkind is not the first analyst to point out the company as an acquisition candidate. There has been plenty of talk about a pending acquisition and the stock can certainly stand on its own merit as a good investment.
Simply put, however, a lot of bears aren't buying into the "pending news." According to Shortsqueeze.com, 63.08% of the activity on the stock Monday involved traders taking a short position in the company. The evening after each trading day, Shortsqueeze.com lets subscribers see its Short Sale Volume percentage and it now appears that 5.5% of the float isn't buying the acquisition rumors.
This Short Sale Volume percentage is calculated using the daily aggregate reported share volume of executed short sale trades during regular trading hours and the daily aggregate reported share volume of all executed trades during regular trading hours. The site also notes a short percentage Increase of 8.10%. OMPI has an aggregate total of nearly 1 million shares playing to the downside.
After weeks of speculation and "Monday Merger" trading, there is now more credible Street chatter from various sources pointing to a hefty tender offer which could be announced this week. Speculation of a buyout has become stronger based on the poison pill being voted down by shareholders by over a 2 to 1 margin at the recent annual shareholders meeting.
Even without those rumors, OMPI is the last stock we would be shorting right now, especially if one is paying attention to the explosive volume and momentum interest in the shares? The loudest chatter (some based on previously published analyst data and filings) indicates that an offer could be coming from one of these two companies this week:
Avon Products Inc. (NYSE:AVP) -- who may want Obagi's popular skin care line and could benefit from OMPI's strong numbers and revenues. This morning, it was revealed that Avon (NYSE:AVP) has filed a form 8k in regards to taking out a line of credit for up to $750 million dollars, with access to $500 million immediately. To OMPI longs, this looks like a line of credit to acquire the company because Avon has plenty of cash on hand for day to day corporate operations.
Allergan Inc. (NYSE:AGN) already offers market-leading aesthetic products like BOTOX and others. By rolling Obagi's own products to its marketing and direct-to-physician sales team efforts, the company could become an even stronger player in the cosmetic pharma field. As we know, OMPI spends a great deal of money marketing all of its products through its own direct sales force in the United States, primarily to those same plastic surgeons, dermatologists and other physicians who are focused on aesthetic skin care. A marriage here may make sense both financially and strategically. Both of these "most likely suitors" are sitting on billions which could easily be used to acquire the company as part of an all cash offer.
From a technical perspective, shares are very close to breaking out past 52 week highs (established during Monday's session). Prices have now run into some historic (2008) price resistance, but if speculator buys manage to break it, the next level up takes shares to approximately the $19 mark.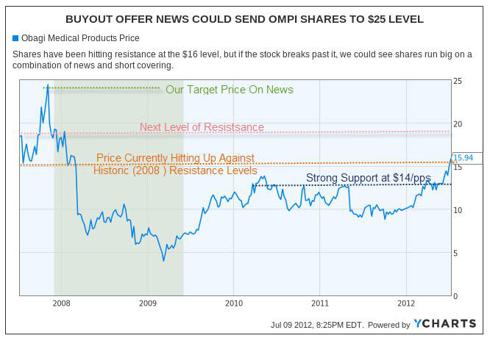 The most persistent rumors place a buy-out offer at the $23 level on average, but we note that shares could very easily hit previous highs around the $25 mark, especially when one considers the heavy short covering that may take place here.
The downside risk here is minimal compared to the huge upside potential. First, we see some strong technical support at the $14 and $10 marks. Fundamentally, we know that the firm's future growth will be driven by increased direct sales coverage, penetration and that ongoing marketing efforts to create increased awareness of the Obagi brand and the benefits of skin health and new product offerings are well under way. There is little reason to believe that shares could drop below these levels given the strong guidance and price targets we've seen from the analysts who follow the stock most closely.
In addition, we note that OMPI's biggest price per share declines came during the U.S. recession (highlighted in gray on the chart).
As recent company filings show,
"there may be opportunities that present themselves and the firm is planning to look towards the commercialization of new applications of our current products, the continuing development of our pipeline of products and the in-licensing or acquisition of new product opportunities." At present, the firm believes "that ongoing profitability is primarily dependent upon the continued success of our current product offerings and certain other strategic marketing initiatives."
To us, it all adds up to one thing: See you at $25 sooner than expected, either way.
Disclosure: I have no positions in any stocks mentioned, and no plans to initiate any positions within the next 72 hours.