It would be hard to find another restaurant that was hit harder by the "stealth recession" that recently submerged the U.S. economy than Ruby Tuesday (NYSE:RT) [$7.88]. Plunging from a high of $30 a year ago, the stock finally bottomed around $6.00 back in January.
The past few months has seen the company management stage a valiant effort to prop up the stock price and right the ship. Heavy insider stock buys by officers and management in January were coupled with an intense focus on corporate branding to improve store image, service and product quality. During the company's earnings call last evening, the major branding effort underway was highlighted.
The management also pointed out that in addition to renovating both the restaurant's physical locations and reputation it was in cost-cutting mode. In fact, it told Wall Street analysts that because of management's fiscal prudence the company projects to be cash flow positive starting in 2009. It was a pretty daring call considering the current economic malaise that is plaguing all retail restaurants right now starving for a confident consumer.
After all, that is the big question facing the entire restaurant industry. When consumers really start to have, and more importantly, feel like that they have more money back in their pockets, where will they spend it, and which establishments will be best positioned to profit?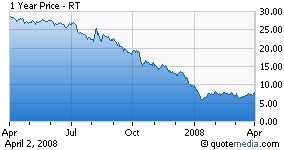 Judging by the earnings call, Ruby Tuesday may be able to pull it off and complete the turnaround. To succeed, the company only plans to open two new stores in 2009, while trying to continue posting solid check totals and maintaining restaurant margin levels at 18% or better in same store sales.
I still remain leery of this stock. I see no reason to rush in until the cash flow positive outlook becomes gospel. After all, the restaurant industry could continue to see consumer fallout as the economy slows further, which would be capped with a sharp rise in unemployment. This usually is one of the final realities recorded at the end of a noteworthy recession.
It is also important to note that Ruby Tuesday competes in numerous smaller regional markets with an average of $3.5 million in sales for those locations, and a deeper recession could adversely impact these smaller markets. Labor and food costs from now going forward will also have a gigantic negative impact on all restaurant margins. These concerns were touched upon in the conference call, with the company pointing out that its beef costs are locked in through February 2009.
So with all these intangibles weighing on the future of this company, to buy now would prove to be a bit of a gamble. I would wait for that first quarter in 2009 to see what is cooking over at Ruby Tuesday as the stock could see retest of its lows before things actually start to improve.