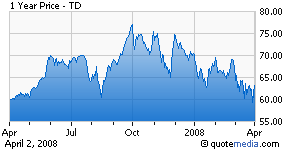 On Wednesday I initiated a full position in Toronto-Dominion Bank (NYSE:TD). TD will now make up about 10% of my non-registered portfolio. Since TD is such a widely held stock in a widely followed industry in Canada, instead of a detailed post describing my thoughts on TD, and rationale behind the purchase, and valuation, I thought I would briefly list the most important factors that went into this decision.
My decision to invest in TD for the long-term right now was based on the following considerations:
It is the industry leading retail bank in Canada, operating within an oligopoly. I am attracted to retail banking as it tends to lend itself more towards consistency, loyalty, brands, and repeatable revenue and earnings.
The credit crisis has improved the valuation of all banks. To a certain degree the babies were thrown out with the bathwater, TD has little exposure and is 15% off it's 52 week high.
The above point is true to a large extent with U.S. banks. I'd like to entrust TD to acquire for me skillfully, and take advantage of good value in U.S. institutions.
TD has a great history of earnings and dividend growth, and currently sports a dividend pay out ratio of only 38%, and a solid yield of 3.7%.
As always, opinions and comments are appreciated.