Five years of boom time for iShares Dow Jones U.S. Energy ETF (NYSEARCA:IYE) turned around recently, as IYE's NAV dropped 16.4% from Jan. 3 to Feb. 6, falling from record highs along with oil prices, long the ETF's driving force.
The fund posted fresh gains last week as crude spiked. West Texas Intermediate crude prices fell 12.5% from Jan. 2 ($99.63) to Feb. 6 ($87.15), before rising more than 20% through March 28, when it closed out the week at $105.63, according to the Energy Information Administration.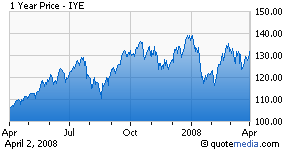 Continued strong global demand for oil, even with a U.S. slowdown, combined with tight supply and geopolitical tensions to keep oil prices near all-time, inflation-adjusted highs. Still, most analysts agreed that $100-plus oil is largely a product of speculation; investors poured money into commodities as a hedge against inflation and a still-weak U.S. dollar and as a shelter from highly volatile stock markets.
That may be why IYE has not kept pace with oil prices. Last week, the fund's NAV jumped 3.9%, making up for some recent losses. But the fund remains off 6.4% year to date, beating the S&P 500 by 3.6% (through March 28). IYE has held a top-10 ranking on our ETF Momentum Tracker Sector Momentum Table since May 1, 2007, spending the last nine weeks in the seventh or eighth slot after opening 2008 at No. 3.
"High oil prices have resulted in record profits for [oil and gas] companies but have not benefited stocks," Oppenheimer oil analyst Fadel Gheit told The Washington Post. Why? With a U.S. recession under way or on the horizon, demand is likely to fall, at least at home, which could lead to a slip in prices. "Nobody," Gheit said, "believes that oil prices are sustainable at the current level."
IYE invests in more than 80 stocks, tracking energy stocks of the Dow Jones U.S. Total Market Index. Market-cap weighted, it's heavily concentrated toward the biggest names, with 70% of assets in the top-10 holdings. Further, IYE focuses on the largest of the large caps, integrated oil and gas firms. Exxon Mobil (NYSE:XOM) shares account for nearly 25% of assets, and stocks of the three largest integrated holdings—including No. 2 holding Chevron (NYSE:CVX) and No. 5 Conoco Phillips (NYSE:COP)—add up to more than 42%.
Oil services stocks, topped by No. 3 holding Schlumberger (NYSE:SLB), make up about a quarter of the portfolio, according to Morningstar. With oil and gas growing more difficult to find, Schlumberger and other firms with cutting-edge technology have truly cashed in of late.
Still, IYE's results tend to follow oil prices, which jumped more than 230% from the end of 2002 to last week. Over the same period, IYE's NAV leapt 224%, giving the fund a five-year annualized gain of 27.62%, among the top 20% of natural resources funds tracked by Morningstar.
A hard drop in oil prices would be bad news for the ETF, and that's a possibility with slower global economic growth and new supplies from Saudi Arabia, Canada and the Gulf of Mexico. The jury remains out: Many analysts foresee continued demand from developing countries, regardless of what happens to the U.S. economy or the dollar.
S&P forecasts WTI crude to average $91.33 per barrel in 2008 and just $76.75 in 2009, but it's worth noting that analysts have repeatedly been wrong, to the low side, on commodity prices in recent years.
What's more, IYE has a few things going for it, including some potentially intriguing plays on natural gas. Morningstar's Justin Perucki said last week that 60% of revenues for large independent producers such as the fund's sixth-through eighth-largest holdings—Devon Energy (NYSE:DVN), Apache (NYSE:APA) and EOG Resources (NYSE:EOG)—come from natural gas, with EOG at 80%.
Those three have kept the fund afloat in 2008, with year-to-date returns of 16.7%, 11.5% and 33.2%, respectively.
Natural gas prices sat between $9 and $10 per thousand cubic feet recently but have ranged as far south as $5 and as high as $13 since 2006. Current estimates from Morningstar and S&P are in the range of $8.90 for 2008, falling lower in 2009 and beyond. On the other hand, last week marked the 18th consecutive decrease in U.S. natural gas inventories, according to the EIA, thanks to the cold winter. Some analysts see potential in the industry, though it may take more than one cold season to lift prices over the longer haul.
Bottom line: IYE could go either way. Whatever happens, the ETF isn't likely to provide a safe play, especially in roiled markets. Morningstar's Kelly called it "one of the most volatile" ETFs his company tracks, with a standard deviation of 19.34 that's 2.2 times that of the S&P 500. While worth keeping an eye on as a potential niche play, IYE may be a bit risky right now.